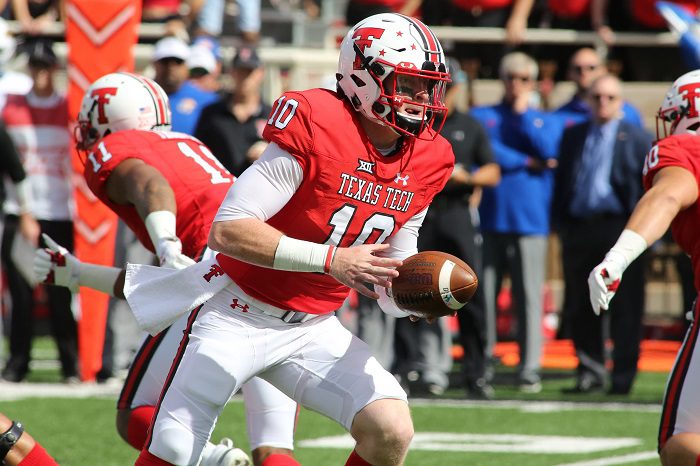 As we get closer to kicking off the 2019 college football season, teams from around the country, but more specifically in the Big 12, are dreaming as to how they can either meet expectations (Texas, Oklahoma), exceed them (Baylor, Iowa State) or absolutely shock the world (Kansas State, Texas Tech). But July is the time for every program and every fan to dream of hoisting that conference championship on the first Saturday in early December.
So let's look at the Big 12 conference and expand on how every team can have that magical season. We'll start this conversation with the Texas Tech Red Raiders.
How can Texas Tech win the Big 12?
Obviously for several teams in the conference, it will take more than a minor miracle for this to happen and Texas Tech is on that list. There are pieces there that new head coach Matt Wells should like and believe he can build on, but are there pieces there to push for a conference title? Not yet, unless things break in their favor in incredible fashion.
First off, quarterback Alan Bowman has to be healthy. But not just that, he has to prove that he's not simply a product of Kliff Kingsbury and he has to become the best quarterback in the Big 12 Conference. Maybe for some this seems nuts, and it's definitely a stretch, but what if Jalen Hurts doesn't live up to the hype and Spencer Rattler isn't ready at OU, plus Sam Ehlinger doesn't take the next step as a passer and continues to take a beating behind his mediocre offensive line? And what if Charlie Brewer and Brock Purdy slump a bit? If Bowman takes that leap, and it's a lot of "what ifs", then Tech would certainly be in a great place offensively to make things happen. Also, T.J. Vasher replacing Antoine Wesley as the most productive WR in the Big 12 would be a big help, with Seth Collins becoming option #2. At running back, Ta'Zhawn Henry taking the next step would be a nice complement for Wells and Co.
Defensively, new coordinator Keith Patterson has to get the team back to turning the ball over like it did in 2017 (2.2 per game vs. 1.5 per game last year). Linebackers Jordyn Brooks and Riko Jeffers lead the way and Eli Howard is the disrupter on the defensive line with Broderick Washington, helping the Red Raiders get to the quarterback in a way they haven't in recent memory.
As for Tech's schedule, it is admittedly tougher in odd years, with OU and Texas both on the road. For Tech, they need to pick off OU in Norman in their Big 12 opener in late September. Maybe Jalen Hurts is still learning Lincoln Riley's system and Tech gets a big turnover or two that leads to the upset win. That will give this team tremendous confidence as the conference schedule moves along. The season is actually book ended with OU and Texas. How about that? Does a big win over OU propel the Red Raiders to a shockingly good season and could a spot in the Big 12 title game be on the line November 29th (Friday) in Austin? Boy would that be fun! Hey, now is the time of year to dream, Tech fans!
**We now have FREE Big 12 Forums here at Heartland College Sports. Go sign up here and join our conversation! **