Big 12 News
Kansas RB receives Pooka Williams gets one-game suspension following domestic battery charge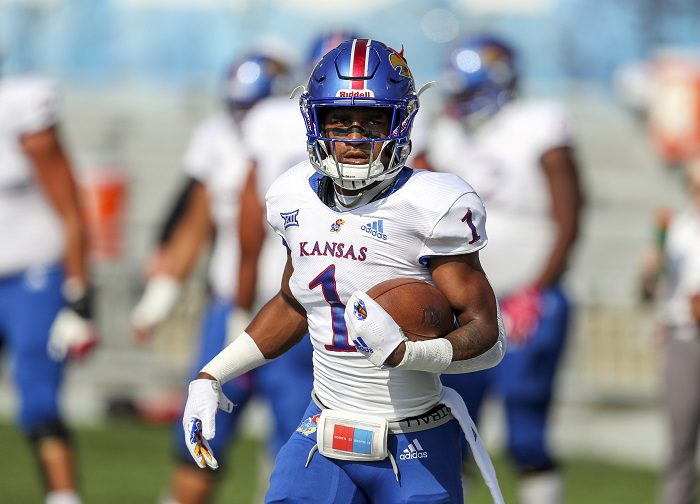 Kansas' star running back Pooka Williams will rejoin the program this week, but will end up serving a one-game suspension following a domestic battery charge in December.
Williams has been suspended from the program for seven months and previously signed a 12-month diversion agreement with the Douglas County District Attorney's office in March. This agreement is a step that will drop his misdemeanor domestic battery charge if he completes the program.
KU admitted to an internal investigation into Williams as well, and the running back allowed the university to share those punishments with the publish. This included the standout to be subject to probation until he graduates, and he'll also have to attend monthly meetings with a university conduct officer. Plus, Williams is required to complete 40 hours of community service and take a sexual violence accountability course.
The encounter stems from a situation on December 5th where Williams was involved in an altercation with an 18-year old woman he was intimately involved with. According to the police report, the woman stated "she was punched in the stomach, as well as grabbed by the throat". She had bruises on her arms and side and there were text messages from Williams "where he admitted to punching (her) in the arms."
In a statement from Jeff Long, the athletic director said, "Pooka's behavior last December was unacceptable as a member of any community, especially our university community. As a result, Kansas Athletics suspended Pooka from the football program in December when serious allegations were first brought forward, and he has remained suspended until now. … While suspended, Pooka has done all that has been required of him by the courts, the university and Kansas Athletics, and most importantly, has accepted responsibility for his actions."
New head coach Les Miles added, "Pooka has taken responsibility for his actions and we are happy he is back with the team. This young man has learned much throughout this process and we will support him as he continues working through the required educational and accountability steps."
Williams said in his statement, "My behavior was unacceptable, and I'm very sorry to those who were impacted by my poor choices. I am disappointed in myself, not just as a man, but as a student-athlete looked up to by younger kids. My suspension from football has been hard, but I have learned from it."
**We now have FREE Big 12 Forums here at Heartland College Sports. Go sign up here and join our conversation! **