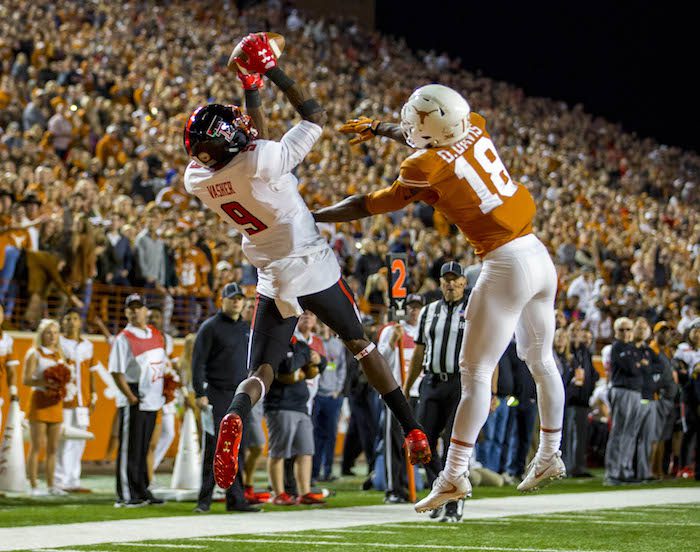 Welcome to the HCS Big 12 mailbag. This mailbag is for all you football junkies out there who root for a Big 12 school who not only have questions about your team, but other teams in the conference as well. So, join me, grab a cold brew or your favorite drink and relax as I answer all your Big 12 questions in my mailbag. For those interested, I will send out a tweet (@Derekduke25) every Monday at noon until last call (No, not 2 AM) at 8 PM CT for you to send in your questions to be answered every Tuesday right here at Heartland College Sports.
I will pick the best question for each mailbag and label it as my question of the week. The winner gets a free HCS Koozie to keep your beer cold (Unless you like it warm, but that's just plain wrong). I want to thank each one of you who submitted a question this week and for those reading, I am glad you could join me. I am doing this on Monday evening and of course this mailbag wouldn't be nearly as fun without a cold beverage right next to me. Today's drink of choice? My personal favorite, an old fashioned!
@Cylights asks: Which receiver this year will burst onto the scene out of nowhere? Like Hakeem Butler last year and Hollywood Brown, the year before.
Duke: Back in 2016, I was all over Kansas State wide receiver Byron Pringle. It turned out that I was a year too earlier then because 2017 was his breakout year. This past season I said it would be Texas Tech wide receiver T.J. Vasher and while he had a nice year with 687 yards and 7 scores, it was Antoine Wesley who stole the show for Texas Tech. Now with Wesley gone, I am still sticking with T.J. Vasher. At 6'6, this guy is an absolute monster and I have seen his catch radius and trust me, it is huge. He is a freak on the outside and I am putting all my eggs in this basket. I think T.J. goes for over 1,000 yards this season and hits double digit touchdowns as well. Keep an eye out for him if you just so happen to stumble across some Texas Tech games.
@OKTXARPoke asks: OSU and TCU are the only Big 12 schools not to go through a coaching change in a long while. When Gundy and Patterson step down, which school will have a better chance to ream successful at a higher level?
Duke: This one is tough, but I do have an answer. When comparing the two schools since TCU joined the Big 12 (2012 season) both schools have had three seasons in which they at least won ten games. It's kind of funny when you look at it because it's like if they don't win ten games then they win like 6 or 7. But it also will depend on how these coaches leave the program. There is no doubt that they would each leave them better than what they started with but in this case, I would have to lean TCU for one reason. They are in DFW and that should give them the slight edge in recruiting. Although most (Including myself) thinks that Mike should be recruiting at a higher level, the talent in Oklahoma isn't nearly as rich as it is in Texas. No matter what both schools should be recruiting at a top 25 level year in and year out, but it appears that TCU is the only one out of the two that is actually doing that. Both coaches are the faces of their programs and both have been the guys to build their programs up to where some may have never thought it could get too. Either way, I'll lean TCU only because of the recruiting base. It's very close right now though.
@jebonsports asks: Is the Texas Longhorn defense stout enough to contain Big 12 offense and be taken seriously?
Duke: I remember a question about Texas possibly being a team that cracks the top 50 in total defense for 2019. I said that Iowa State and TCU would be up there, and Texas would be right on the edge there. Up front, I think Keondre Coburn and Malcom Roach will be studs up front which will be great. I have some concerns on the edge and linebacker though. LB Joseph Ossai must be someone who has a presence off the edge and if he can do that, then this defense will be a lot better than without. Linebacker is still a bit of a concern for me when you lose someone like Gary Johnson who made play after play, so who will be that guy at linebacker? The secondary may be young but man there is a TON of talent there. Caden Sterns, BJ Foster, Jalen Green and Anthony Cook all are talented guys (Although BJ and Caden have already proven themselves). Not to mention, Brandon Jones as well who is also pretty darn good. Overall, this defense has the talent and the good news is, unlike previous staffs, this staff knows how to get the most from their talent. This defense should be taken seriously in the Big 12.
@cychas asks: What game will you be at in Ames?
Duke: Right now, I am still planning on going to the Texas game up there on November 16th. I plan on going up Friday to relax and enjoy myself and then come back home Sunday. I have off that Monday off, so I don't have to rush back home too which is good because I hate being in a rush when traveling. I still want to cover that game but also enjoy myself during my time in Ames. Again, it is a ways out so who knows what can happen until then but as of now, I am marked down for the Texas game.
Editor's note: HCS owner Pete Mundo is still strongly considering an HCS tailgate for Iowa State vs. Iowa. Decision to be made in mid-August.
@tracks182 asks: What would a hypothetical star athlete for Kansas have to do in order to warrant more than a one games suspension? Stab someone? Murder?
Duke: Wow, a little extreme but that's ok because it is the mailbag and you can do whatever the hell you want. Kansas RB Pooka Williams Jr. put his hands on a woman. According to the report he punched her and put his hands on her throat. THAT IS UNACCEPTABLE. Man, to man, that is something a coward would do. Pooka still has a LONG way to go in my book to earn any sort of trust back. To me, he should have been gone for the season at the very least. Instead this appears to be a joke to Les Miles, or he put football ahead of anything else. ONE GAME? Are you freaking kidding me? Not only has this shown you don't care about the victim here but what does this say to the women on campus? Les had a chance to make a statement here and put his foot down and instead he dropped the ball entirely. I could go on and on about this, but my bottom line is that this was disappointing. I hope Pooka has changed and turns things around. You bet your ass I am going to ask about this at Media Days next week.
**We now have FREE Big 12 Forums here at Heartland College Sports. Go sign up here and join our conversation! **