Big 12 Sports Articles
Big 12 Commissioner Bob Bowlsby Doubles Down on His Disappointment with NCAA Transfer Portal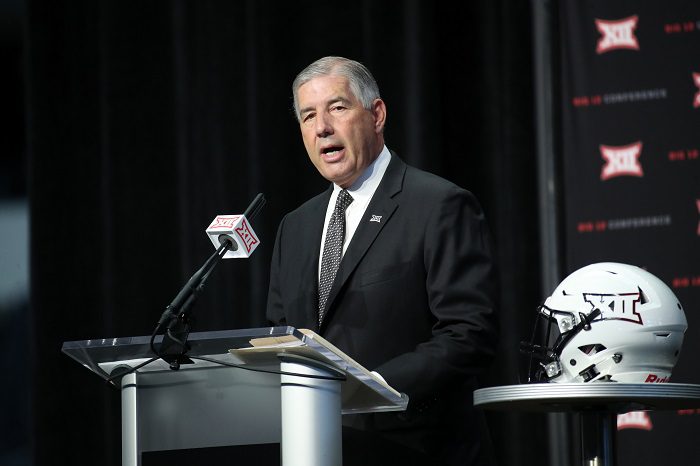 ARLINGTON, Texas — A year after the transfer portal altered the face of college sports, the rules that govern those transfers are still being adjusted.
If Big 12 commissioner Bob Bowlsby had his way, he would make all players who transfer sit out a year before playing. Bowlsby made that comment last month at a commissioners' forum and he reiterated it during his opening address at Big 12 Media Days on Monday.
"If I were the benevolent dictator and had an opportunity to wave my hand and make this environment the way it should be, the data could not be any clearer: After a transfer, sitting out is good academically," Bowlsby said. "There isn't any question."
Last year the NCAA changed transfer rules to allow players in several sports, including football and men's and women's basketball, to get a transfer waiver if the player could provide "documented mitigating circumstances outside of the student-athlete's control and directly impacts the health, safety or well-being of the student-athlete."
But what was a mitigating circumstance? The NCAA left that up to the committee hearing the transfer application. And that led to what looked like a wave of immediate-eligibility transfers in both college football and basketball. The "transfer portal" became part of the game's parlance, as players like quarterbacks Kelly Bryant, Tate Martell and Justin Fields transferred from their schools to new ones for the 2019 season. The transfers had the appearance of those players losing a starting job or expected playing time, even though transfers are supposed to be reserved for mitigating circumstances. Because those transfer applications are governed under privacy regulations, few are privy to the circumstances the players and their representatives outlined.
Additionally, according to Stadium.com's Jeff Goodman, 750 to 800 men's basketball players submitted their name to the transfer portal during or after the 2018-19 season.
Bowlsby is not saying players shouldn't transfer. But he wants the rules to be the same for all sports and there is no question in his mind what works for student-athletes.
"I think we have made a mistake saying we're going to do this in some sports and not in others," Bowlsby said. "I would advocate for it in all sports."
He also knows that part of the problem are coaches who were making transfer decisions without guidelines and basing their approvals and rejections, at times, on personal preference. Some of those cases have occurred in the Big 12 Conference, most notably Texas Tech's move to block Baker Mayfield's transfer to Oklahoma.
"We wouldn't be in this situation if we hadn't had coaches that were saying, 'Well, you can transfer to this institution A, but you can't go to B or C, and you can't go to D or they embargo it all together," Bowlsby said. "So I think it probably was avoidable, but that's where we are now.
The NCAA has already made some adjustments, updating its language this summer to require "documented extenuating, extraordinary and mitigating circumstances outside of the student-athlete's control that directly impacts the health, safety or well-being of the student-athlete."
What does that mean? Like last year, only time will tell.
Bowlsby stated that the data provided by the NCAA tells commissioners like him that the numbers of transfers really didn't go up by that much year over year. But the transfer portal did create problems for athletes who submitted their name and found themselves with nowhere to go.
"It's a combination of kids looking for scholarships that previously had them and one of the things that's happening is kids are putting their names in the portal and finding they don't have a scholarship home or they don't have a home at a place they thought they could go," Bowlsby said.
The issue is expected to remain front and center as players continue to test the transfer market, with Bowlsby saying there is plenty of work to be done.
And before you think Bowlsby's pronouncement of asking athletes to sit out a year is rather draconican, he's open to giving that year back to the athlete.
"I would advocate that you get that (transfer) year back," Bowlsby said. "So if you stay there and go through the process, you would be able to not forfeit that year, but sit a year, get acclimated, move through your career and if you want that year back, either as a graduate transfer or as a fifth-year player you can stay on scholarship and participate. I think that's the model that works."
**We now have FREE Big 12 Forums here at Heartland College Sports. Go sign up here and join our conversation! **