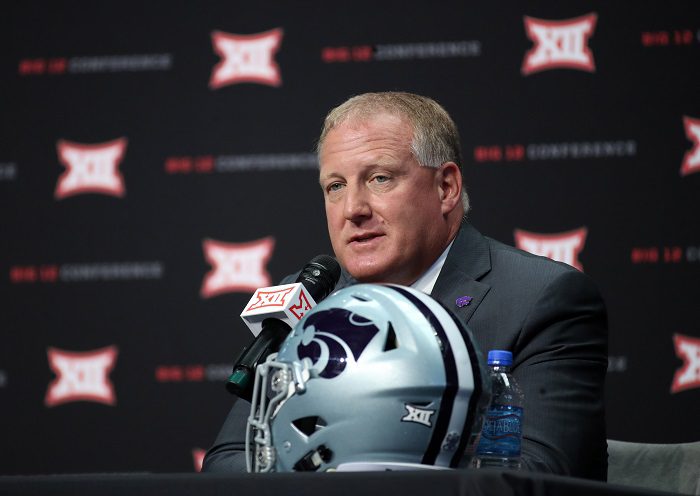 ARLINGTON, Texas — Chris Klieman knows a little something about replacing a head coach who has set a high standard.
Before Klieman agreed to take on the monumental task of replacing Bill Snyder at Kansas State, he took over a North Dakota State program that had won three FCS national championships under Craig Bohl. In 2013 season Bohl wrapped up his third straight national title for the Bison. He then moved on to take over the Wyoming Cowboys, where he's gone 28-35 in five seasons, led the Cowboys to two bowl games and developed a first-round NFL starting quarterback in Josh Allen.
Klieman was Bohl's defensive coordinator at NDSU and took over as head coach in 2014. Many expected a drop-off for the Bison. That didn't happen. In fact, the Bison never came close to a drop-off under Klieman.
In five seasons under Klieman the Bison went 69-6, won four FCS national championships and never had a final national ranking lower than No. 3.
At some point Klieman was going to leave the Bison for an FBS program, and the Wildcats looked smart to tap him as Snyder's replacement.
Of course, Snyder didn't win any national titles in Manhattan. But that's about the only thing he didn't do in his Hall-of-Fame career.
Snyder's resurrection of Wildcats football might stand as the greatest turnaround in college football history. Before he arrived the program had more losses than any Division I program. After two stints with the Wildcats they were 215-117-1, went to 19 bowl games, won 2 Big 12 Conference titles and Snyder won several national coach of the year awards.
Beloved in Manhanttan and considered a legend throughout the game, Klieman knows exactly what he's waking into.
"I know I'm not going to fill his shoes," Klieman said. "I'm just trying to continue his legacy, but doing it our own way."
Klieman's own way is a hybrid of the types of things he did in Fargo, N.D., and tapping into the wealth of goodwill Snyder built up in Manhattan. Klieman considers himself a "relationship guy," and he built that up with NDSU by working in the community to talk up the program. He also had three national titles to build on. At KSU, Klieman inherits a Power 5 marketing program and an energized fan base among the best in college sports, and one that travels incredibly well to both conference road games and bowl games.
It's that interest that has blown Klieman away this offseason.
"We have a great fan base and they want to know what going on with the coaches," Klieman said. "They want to know what's going on with the players. They want to know what's going on at a workout or at a paintball that we went to or whatever it may be, and those are the fun things that our fans really appreciate."
Klieman built his coaching staff in a similar fashion. Naturally, he imported some of his NDSU assistants, including offensive coordinator Courtney Messingham, wide receivers coach Jason Ray, offensive line coach Conor Riley and safeties coach Jeff Klanderman. He also brought in fresh blood with Big 12 or Kansas ties, like defensive line coach Buddy Wyatt, who is on his seventh stint in the Big 12, and running backs coach Brian Anderson, who worked at both Highland Community College and Coffeyville Community College in Kansas.
But, perhaps no hire was more crucial for Klieman in winning the hearts and minds of Wildcats fans than keeping quarterbacks coach Collin Klein, the former Johnny Unitas winner who led the Wildcats to 21 wins as a starter and a 12-0 start in 2012.
"I have so much respect for Collin and I'm going to lean on him for some tradition things," Klieman said.
But tradition will only get the Wildcats so far this season. KSU missed a bowl game last season and the media picked the Wildcats to finish ninth in the Big 12 this summer. Klieman says he doesn't care about the polls. Right now, he cares about what he sees in the eyes of his players going into fall workouts and what it could lead to in 2019.
"I know that a number of guys, there's a bunch of them that are returning from last year, that felt that they probably left a couple of games out there, and they left a couple of plays out there," Kllieman said. "Having the hunger that those guys (have), I can see it in their eyes, (and) I look forward to getting started and not really worrying about where the rankings are."
**We now have FREE Big 12 Forums here at Heartland College Sports. Go sign up here and join our conversation! **