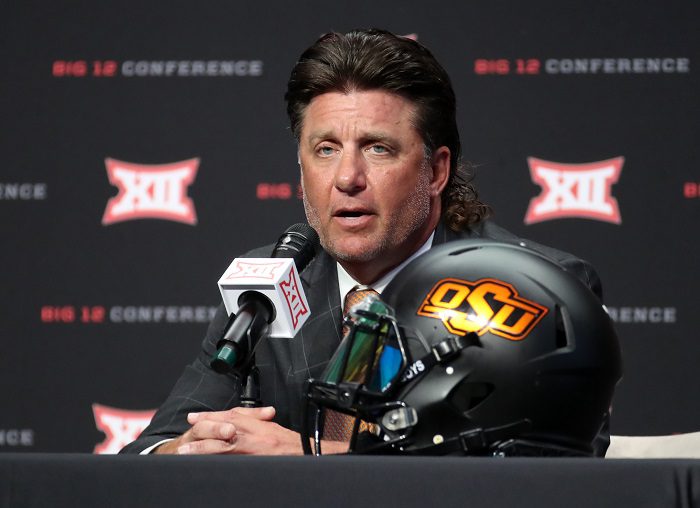 ARLINGTON, Texas — The Oklahoma State Cowboys fell below Mike Gundy's expectations last season. Sure, the Cowboys won a bowl game in Memphis. But at 7-6 overall, and 3-6 in league action, Gundy had higher aspirations for his group. Although that prime-time win over Texas was a nice touch.
Gundy was bluntly honest about why the Sooners fell below expectations last season — discipline and toughness. He took the blame, and not just for his team's lack of discipline, either.
"I'm now currently raising my third child and the first two have said to me multiple times (that) if we did what you allow him to do, we would have never made it through the night," Gundy said. "I think that's what happened to last year in my 14th year."
Gundy wouldn't be the first dad with multiple kids to give the youngest a pass. But that doesn't work for an 85-scholarship football team. There's a reason why coaches preach taking care of the "little things." The Cowboys didn't do that in 2018, and that's why it's an emphasis in 2019.
"As the head coach my responsibility is to make sure we do everything perfect all the time," Gundy said. "I didn't do a good job of that."
Before you see it as the typical head coach cop-out, there is some data to back up Gundy's claim.
First, the Cowboys tied the Oklahoma Sooners for the worst defensive scoring average in Big 12 games at 37.6 points per game. OSU's rush defense was the worst in Big 12 action, giving up 213.8 yards per game (the only Big 12 team to give up more than 200 yards rushing in Big 12 action).
But we're used to the Cowboys having trouble on defense. No, Gundy was most riled up about the Cowboys' lack of discipline when it came to penalties. In Big 12 action the Cowboys gave up 72 yards to penalties per game, with Baylor (75.3) the only team worse off in that department.
"I don't think anybody would question that there was a chance we could have had double-digit wins last year," Gundy said. "Teams we beat they probably look at themselves and say, 'How did we let that team beat us?' That goes on forever. So just being a more focused and disciplined head coach should make us a better football team this fall."
Some of Gundy's new hires on his coaching staff. Gundy finally got an offensive line coach he'd coveted for a while, Charlie Dickey, who spent a stretch with Bill Snyder at Kansas State. Once Snyder retired and Chris Klieman took over, the timing worked out perfectly for Gundy to bring Dickey on board.
Plus, he lured Sean Gleeson away from the Ivy League. Gleeson, OSU's new offensive coordinator, was the offensive coordinator and quarterbacks coach at Princeton in 2017 and 2018. The Tigers won the Ivy League with a perfect 10-0 record last season.
"We're going to run the same system (on offense)," Gundy said. "(Gleeson's) had success (with) pure drop-back quarterbacks, guys that could run around a little bit, he's been in 10-personnel, 11-personnel and 12 personnel. He's played with speed at times. He's young. He's a good technician with quarterbacks."
Gundy likes the creativity that Gleeson could bring to his offensive system. And if that system can help the Cowboys avoid a few penalties this season, all the better.
But as for Gundy's youngest? Well, coach is on his own there.
**We now have FREE Big 12 Forums here at Heartland College Sports. Go sign up here and join our conversation! **