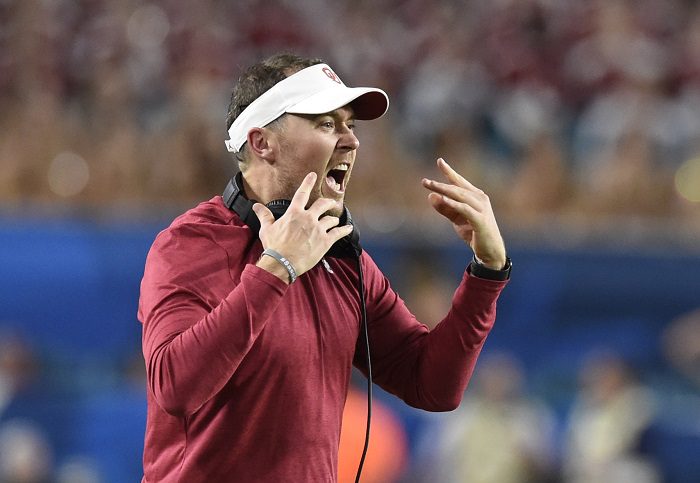 ARLINGTON, Texas — Lincoln Riley wants you to know he cares about defense, too. Even if it doesn't look that way.
From 2015 to 2018 the Sooners have gone from first in scoring defense in the Big 12 to last in scoring defense in the Big 12. Despite that inability to stop teams from scoring in 2018 — the Sooners gave up 37.6 points per Big 12 game, tying them with the Oklahoma State Cowboys — the Sooners still won the Big 12 Championship Game over Texas and earned a berth in the College Football Playoff for the third time in four years.
But defense matters, even in the Big 12. Commissioner Bob Bowlsby pointed out on Monday that six of the Big 12's seven bowl teams held their bowl opponent below their season scoring average, trying to lend some heft to that argument.
But the national perception is that the league doesn't play defense, and it doesn't help when the program that earned the Big 12's playoff berth last season gave up 45 points to Alabama in the College Football Playoff Semifinal game.
"It's a huge part of your football team," Sooners head coach Lincoln Riley said on Monday. "We haven't played our best defensively consistently through the years, but in a lot of big games, including the last one we won here (at AT&T Stadium, the Big 12 Championship game) we've played pretty darned good."
In that Big 12 Championship Game, the Sooners gave up 27 points to Texas. But that broke a streak of four straight games in which the Sooners gave up at least 40 points, including a whopping 56 to West Virginia. The Sooners managed to win all of those games, thanks to their exceptional offense led by quarterback Kyler Murray.
The Sooners' defense was so bad last year that Riley ultimately fired defensive coordinator Mike Stoops and elevated Ruffin McNeill to replace him. McNeill returned to coaching linebackers this season.
Well, Murray is gone now, off to play for Kliff Kingsbury and the Arizona Cardinals. Riley had to field questions about an expected offensive dropoff on Monday. But he also took steps this offseason to try and improve his defense.
The most notable move to was to hire Alex Grinch as his defensive coordinator. The former defensive back won three Division III national titles at Mount Union. After that he embarked on a varied career track that saw him coach at New Hampshire, Wyoming, Missouri, Washington State and Ohio State. He was the defensive coordinator at both WSU and OSU, though he held a co-defensive coordinator title with the Buckeyes.
Once Meyer retired, Riley lured Grinch to Norman to try and turn his defense around. Grinch is changing the scheme, with one of the most notable adjustments being to move defensive lineman Neville Gallimore to more of a one-technique position, putting him closer to being under center.
So spring football was all about adjustment for the Sooners. The focus has been on the offense with transfer quarterback Jalen Hurts. But all spring, within the walls of the Sooners' facility, Grinch has had a starring role in trying to put the Sooners in a better position to stop Big 12 teams from scoring. Grinch and his staff built the foundation this spring, deploying the scheme and terminology that players will have to build on this fall.
"I think it's a hungry group," Riley said. "There are a lot of guys that have played a lot of ball and they're eager to play their very best ball."
Gallimore talked on Monday about the standard of past Sooners defenses, the stories he hears about players like Tommie Harris and Gerald McCoy. His desire in this new scheme is to reach the heights of those players. Only time will tell if the Sooners can get there this season.
At this point, Riley would settle for getting the Sooners out of the cellar when it comes to points allowed per game.
"We certainly know we have to prove it in the fall, but we're eager to play the kind of defense that we feel should be played at Oklahoma," Riley said. 
**We now have FREE Big 12 Forums here at Heartland College Sports. Go sign up here and join our conversation! **