Big 12 News
ESPN Predictably Spurns Big 12 with College GameDay Selection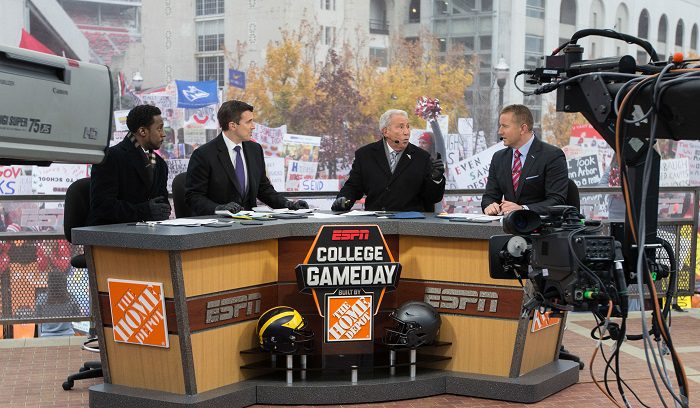 ESPN's College GameDay show is kicking off its 2019 season in Big 12 country, but of course, it's not for a Big 12 game. ESPN announced it would be starting the season in Fort Worth in Sundance Square since Oregon and Auburn will be playing on August 31st at AT&T Stadium.
Hey @AuburnFootball and @oregonfootball … SEE YOU WEEK 1! 😎 pic.twitter.com/6EaoAS83Y0

— College GameDay (@CollegeGameDay) July 18, 2019
That's OK. The Big 12 will be just fine and it doesn't have a marquee game in Week 1 anyway. But it is a kick in the groin to see GameDay, which hasn't always given the Big 12 the love of other conferences in its selections, come to the backyard of the Big 12 and not be here for a Big 12 game.
Last season, GameDay was at one Big 12 Conference game in Texas vs. Oklahoma, and one non-conference game in Ohio State vs. TCU. Historically, the Big 12 hasn't gotten much love for all-time GameDay appearances. OU has 36 GameDay appearances, which is fourth all-time, but the last one came in 2012, despite OU having made the College Football Playoff three of the past four seasons. After OU, it's Texas, which ranks 19th all-time with 16 appearances, and the last one coming in 2009. By comparison, six SEC schools rank in the top 19 of all-time appearances, five Big Ten schools, three ACC schools and two Pac-12 schools.
It's not make-or-break, but if GameDay is being fair, there are two awesome games hosted by Big 12 teams the following two weeks: Texas vs. LSU and Iowa State vs. Iowa. Will College GameDay pick either one? Well don't forget, GameDay's biggest personality, Kirk Herbstreit, retweeted our Twitter account in March when we suggested they go to Ames this fall! Let's see.
**We now have FREE Big 12 Forums here at Heartland College Sports. Go sign up here and join our conversation! **