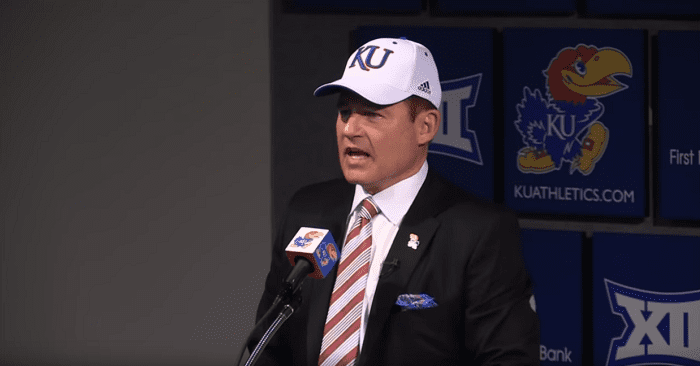 As we get closer to kicking off the 2019 college football season, teams from around the country, but more specifically in the Big 12, are dreaming as to how they can either meet expectations (Texas, Oklahoma), exceed them (Baylor, Iowa State) or absolutely shock the world (Kansas State, Texas Tech). But July is the time for every program and every fan to dream of hoisting that conference championship on the first Saturday in early December.
So let's look at the Big 12 conference and expand on how every team can have that magical season. Let's get to the Kansas Jayhawks.
Editor's note: Below are the previous teams we've discussed.
Baylor Bears
Kansas State Wildcats
Oklahoma Sooners
Oklahoma State Cowboys
TCU Horned Frogs
Texas Longhorns
Texas Tech Red Raiders
West Virginia Mountaineers
How can the Kansas Jayhawks win the Big 12 Conference in 2019?
So we've done everything in our power thus far to try and find justification for how each Big 12 team can win the conference this fall. Of course many would need a perfect storm to occur to have a chance. But hey, it's the offseason and this is a fun time of year to discuss these types of things. Well now I'm charged with the task of justifying the Kansas Jayhawks.
But there is one problem: I can't.
As I see it there are just a couple of ways for KU to win the Big 12.
The other nine Big 12 coaches magically forget how to count when playing KU and only have 10 players on the field for the entire game.
Every other Big 12 team shuts down its program sometime in the next three months, giving KU automatic wins after forfeits and a Big 12 Championship.
Les Miles eats all the grass on the field prior to each game, resulting in the game being decided on a coin flip, which KU wins each week. The odds of winning a coin toss nine times in a row are .1953125%.
That's all I've got. How about you?
**We now have FREE Big 12 Forums here at Heartland College Sports. Go sign up here and join our conversation! **