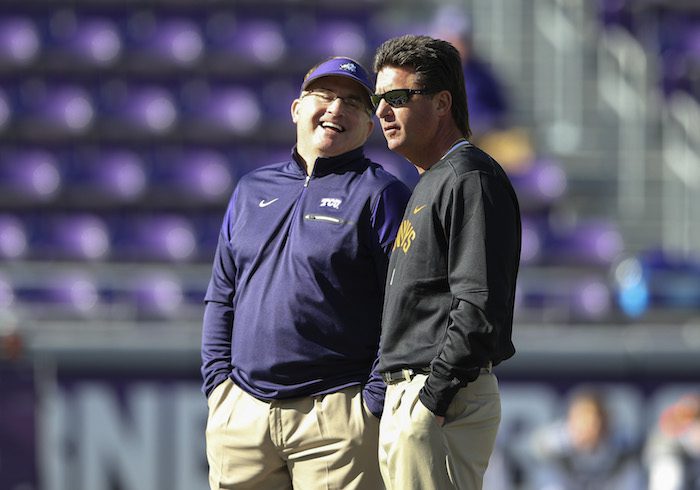 Welcome to the HCS Big 12 mailbag. This mailbag is for all you football junkies out there who root for a Big 12 school who not only have questions about your team, but other teams in the conference as well. So, join me, grab a cold brew or your favorite drink and relax as I answer all your Big 12 questions in my mailbag. For those interested, I will send out a tweet (@Derekduke25) every Monday at noon until last call (No, not 2 AM) at 8 PM CT for you to send in your questions to be answered every Tuesday right here at Heartland College Sports. 
I will pick the best question for each mailbag and label it as my question of the week. The winner gets a free HCS Koozie to keep your beer cold (Unless you like it warm, but that's just plain wrong). I want to thank each one of you who submitted a question this week and for those reading, I am glad you could join me. I am doing this on Monday evening and of course this mailbag wouldn't be nearly as fun without a cold beverage right next to me choice? An ice-cold Shiner IPA. Before I begin, I want to thank everyone who submitted a question and Cheers! Also, shout out to the folks over at Wide Right Natty Light for having me on their podcast on Monday night. Be sure to give it a listen and give them a follow.
@SethLDow asks: Name the biggest starting competition on each team.
Duke: I will keep it short and sweet here and list them. Also, since it is my mailbag I am going to cheat because nobody will stop me.
KU: QB and A lot more
KSU: RB/WR
ISU: RB/WR
WVU: WR/Safety
OSU: QB
OU: OL/Defense (Of course I couldn't name just a single group)
TEX: LB/CB
BAY: DL
TTU: DL
TCU: QB
@MNelson_ISU asks: What do you expect from Kansas State this fall?
Duke: Honestly, not much this season. I think it is going to be a full rebuild for new head coach Chris Klieman in year one. The wide out group is thin, there is no clear-cut running back, QB Skylar Thompson is average and the offensive line may be the best part about the entire offense which is good but that's not going to win you a Big 12 title. I think the offense needs to get in gear because it has been stuck in the mud the last couple of years under Snyder and maybe Klieman can help change that. I know he wants to run the ball and maybe they will, but I wouldn't expect the offense to come out and score 35 to 40 every week. Defensively, I like them a lot more especially up front with Reggie Walker and Trey Dishon and even linebackers DaQuan Patton and Elijah Sullivan are solid players too. There will be some question marks in the secondary because they have a lot to replace from last season, but Denzel Goolsby and AJ Parker will be the main guys on the back end. I fully expect the defense to carry this team while the offense tries to bleed out the clock and slow the game down. With that said, I don't think Kansas State is a bowl team this year and I have them finishing ninth in the Big 12.
@jonkev50 asks: What would be one thing you change about the Big 12?
Duke: A few years ago, I would have had a lot more to say about this but honestly, I don't really have any complaints right now. Sure, commissioner Bob Bowlsby seems like a tool but honestly, he doesn't do anything to really offend anybody. Bringing back the Big 12 title game turned out to be a great idea and now other conferences are considering adopting the same model where the best two teams play for the conference title. Bob is right when he said that the Big 12 is the only conference that guarantees that their two best teams play for it all come December. Expansion could be an issue, but I like it at ten teams at the moment and of course, that will spark a debate and people could go down a rabbit hole on the whole expansion topic. If I had one thing to knock the Big 12 on is the social media and whoever is running the marketing. I see all these great stats out there when it comes to the Big 12 against other power five conferences and at times, I feel like the Big 12 is too shy instead of bragging about themselves. If you beat the SEC head to head in bowl games, LET THE WORLD KNOW and let the Paul Finebaum tears roll. It's nitpicking but c'mon Big 12, go ahead and brag about yourself every once in a awhile to show up those other conferences. My bottom line: Just be glad the Big 12 isn't in the Pac-12's shoes right now.
@ankorleski asks: Is Iowa State the real deal?
Duke: Well, I picked them third in my Big 12 preseason poll, so I hope so. I hopped on the Wide Right Natty Lite podcast on Monday night and we talked about this for a bit. Defensively, Iowa State is solid. In fact, I think they have the best defense in the Big 12 so I wouldn't worry to much about that side of the ball. Offensively is where I have the only real concerns. Who will replace David Montgomery and Hakeem Butler? The Cyclones relied heavily on those two guys last season. I think QB Brock Purdy will take another step up but who will be those go to guys at running back and wide receiver? If someone can step up there at running back, then I will feel even better about the Cyclones. Also, I think the addition of wide out La'Michael Pettway is huge because he could be a breakout star that they desperately need on the outside. Right now, I have Iowa State on the outside looking in when it comes to the Big 12 title game but that can certainly change if they can get the running back and wide receiver position solidified.
@Vectoze asks: Which is better, South Park or Family Guy?
Duke: I don't really watch either one of those shows anymore but if I had to go with one, I will go South Park. So, RESPECT MY AUTHORITAH!
**We now have FREE Big 12 Forums here at Heartland College Sports. Go sign up here and join our conversation! **