Big 12 News
Texas DB DeMarvion Overshown Calls Out LeBron James Haters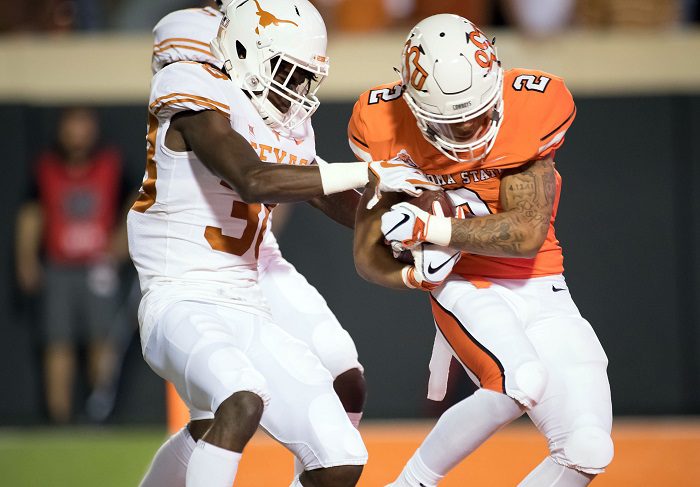 It's July and it's a slow time of year for the sports talk folks around the country. They're dying for a story to latch onto and they seemingly found one in LeBron James' reaction to a great play by his son at a recent AAU game. LeBron jumped on the court and was high fiving and chest bumping players.

Check it out here for a closer look.
LeBron celebrated too hard and lost his damn shoe 😂😂😂 @KingJames @TipHoops pic.twitter.com/F6yJ15wGKX

— Ballislife.com (@Ballislife) July 28, 2019
For his reaction, many of the hot-take media folks are saying LeBron is the prime example of the parent no coach wants to deal with at the AAU level. Hey, I guess this stuff sells.
Anyway, Texas DB DeMarvion Overshown jumped in the debate and had one of the more mature takes, which is saying something considering he's a college student and most of the people arguing in the spotlight are grown men.
The fact that LeBron gets bashed for wanting to be around his son just shows how crazy this world is. I would've done anything to have my dad show up to the game….let alone warm up with me. #lebronhaterskillme

— DeMarvion Overshown (@dee_overshown6) July 30, 2019
Y'all say he's trying to take the spotlight from the kids but I guarantee those kids are enjoying that. He's the best basketball player in the world. If I had Kam Chancellor warming up with me…it would be one of the greatest experiences ever.

— DeMarvion Overshown (@dee_overshown6) July 30, 2019
Overshown is making total sense and he's coming at it from a personal experience angle. Too many kids today are coming from homes without fathers. There's nothing a son wants more than his father to be there to cheer him on. Maybe you can argue it was a bit overboard, but to use that argument, you're also leaving out a pretty big factor… the dude is LeBron James, he's not Average Joe Dad!
**We now have FREE Big 12 Forums here at Heartland College Sports. Go sign up here and join our conversation! **