Baylor Bears
Top 25 Big 12 Football Players in 2019: No. 20 to No. 16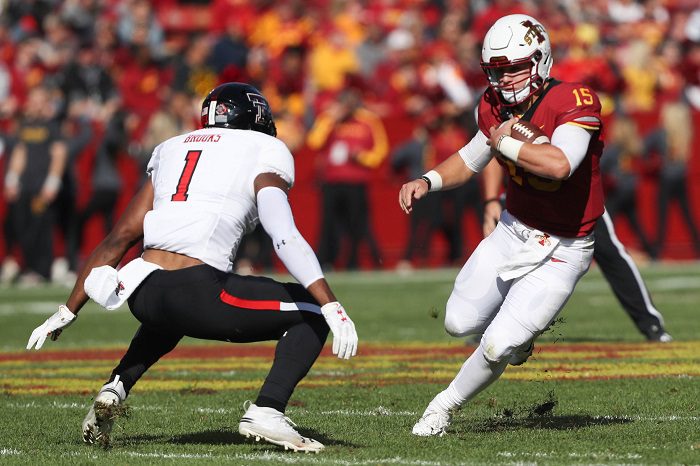 The college football season is almost here and it is time to begin ranking the Top 25 players in the Big 12 Conference. A reminder for all fans: This is not a "returning" Top 25 list. It is who we think will be the Top 25 players in the Big 12 this upcoming season. It's a razor-thin margin between 25 and 15 and there is plenty to debate. This list was put together by Pete Mundo and Derek Duke. So let's get right to it.
Previously ranked:
No. 25 through No. 21
No. 20: Clay Johnston, Baylor LB
Johnston has been one of the bright spots for a Baylor defense that has struggled during Matt Rhule's two years at the helm of the Bears. He was a 2018 Second-Team All-Big 12 selection and finished last season ranked fifth in the Big 12 with 99 total tackles. He's a fifth-year senior with basically three full seasons under his belt. If the Bears are going to start improving defensively, a large part of that will be because of the on-field play and leadership of Clay Johnston.
No. 19: Jordyn Brooks, Texas Tech LB
Speaking of linebackers with experience, Brooks is back for the 2019 season and has recorded at least 80 tackles in each of his three seasons in Lubbock. He ranked ninth in the Big 12 last season with 7.0 tackles per game and was named an Honorable Mention All-Big 12 selection. Brooks was steady the entire 2018 season and played some of his best games against the toughest competition, racking up nine tackles against OU and a season-high 15 tackles and 1.5 sacks the next week against Texas. Brooks will be a tough match up for every team in the Big 12.
No. 18: Reggie Walker, Kansas State DE
Walker was a bright spot in an otherwise lackluster season in Manhattan last year. He finished with 12.5 tackles for loss and 7.5 sacks, along with a Big 12-best four forced fumbles, which also ranked in the top 10 in the nation. He's one shy of the school record for forced fumbles. He's also a fifth-year senior who has started in over 30 games since arriving on campus. There will be some competition around the conference, but if he reaches his potential, Walker should end up in the top 3 in the Big 12 for sacks and tackles for loss.
No. 17: Greg Eisworth, Iowa State S
Eisworth was a top JUCO recruit for Matt Campbell in the Class of 2018 and he certainly lived up to the hype last season earning Big 12 Defensive Newcomer of the Year and First-Team All-Big 12. He led the Cyclones in tackles per game, which also ranked in the top 10 in the Big 12. He also stepped to the plate against the best competition, with his best game against Oklahoma, finishing with a career-high 14 tackles and a forced fumble. With Iowa State projected to have the top defensive in the conference, Eisworth will be a huge part of that, and with both starting cornerbacks gone from last season, Eisworth's role in the secondary will loom even larger.
No. 16: Brock Purdy, Iowa State QB
You want to talk about living up to the hype? That was Brock Purdy. Actually, he exceeded the hype, especially for a true freshman. Purdy went from true freshman off the bench to an Honorable Mention All-Big 12 selection after posting the best season by a rookie quarterback in school history. He took over as Iowa State's QB in the fifth game of the season and never looked back, finishing in the top 15 in the nation in completion percentage (66.4%) and threw 16 touchdowns to seven interceptions. Iowa State fans, and Big 12 fans for that matter, are in for a treat watching him on Saturdays in Ames for the next three seasons. Also, by season's end Purdy could end up much higher on this list.
**We now have FREE Big 12 Forums here at Heartland College Sports. Go sign up here and join our conversation! **