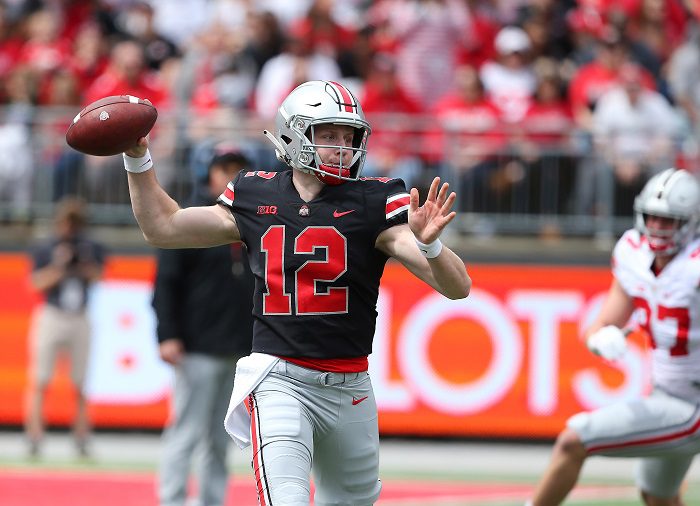 Sometimes the NCAA just can't help but live up to it's own standard of absurd hypocrisy. Matthew Baldwin is the Ohio State quarterback transfer who now finds himself in Fort Worth with Gary Patterson and the Horned Frogs. Baldwin figured he had a great shot at being eligible to play immediately with the Frogs, and maybe even have a shot at winning the quarterback battle that is currently a six-man race.
Why did Baldwin figure he had a good shot of eligibility? Well, because two of the guys closest to him had no problems getting eligible. Justin Fields, the former Georgia quarterback who was stuck behind Jake Fromm, transferred to Ohio State and became eligible. Then, that created a domino effect, which saw Tate Martell, a former five-star recruit, transfer from Ohio State to Miami, where he became eligible and is competing for the starting quarterback job. So understandably, Baldwin had to be saying to himself, "Why not me?"
Well, the NCAA didn't see it that way, announcing this weekend that Baldwin would not be eligible immediately, denying the request. TCU is expected to file an appeal on Baldwin's behalf later this week.
Now the NCAA rule on this is very vague. Transfer rules require student-athletes to sit out a season, if they haven't graduated, unless they can prove "extenuating circumstances" as a reason to obtain waiver.
Per the Star-Telegram, "The NCAA Division I council approved a package of updated guidelines in late June that made it more difficult for players to obtain immediate eligibility waivers. Baldwin's waiver fell under the updated guidelines, while others such as former Ohio State quarterback Tate Martell received a waiver under less strict guidelines earlier this summer."
If the NCAA's goal was to make it more difficult for guys to transfer and become eligible immediately, that's fine and their prerogative. But don't kid yourself, the "extenuating circumstances" line was always BS. Justin Fields' extenuating circumstances were about alleged racism he dealt with at Georgia. However, his sister was still electing to go play softball at the University. So was that really it? Did it happen? Or was it about not being stuck behind Fromm for at least one more season?
As for Tate Martell, it's still not clear how he became eligible immediately, outside of the fact that Ohio State did not put up a fight in his transfer. Per this article at SB Nation, under the previously softer rules, a waiver was likely to be approved, if:
– The transfer is due to documented mitigating circumstances that are outside the student-athlete's control and directly impact the health, safety and well-being of the student-athlete

-At the time of transfer to the certifying institution, the student-athlete would have been athletically and academically eligible and in good standing on the team had he or she remained at the previous institution;

-The certifying institution must certify that the student-athlete meets percentage-of degree requirements

-The previous institution's athletics administration does not oppose the transfer.
So, Martell didn't get much of a fight from Ohio State and had a good lawyer. Now he's vying for the starting QB job at Miami.
For Baldwin, timing was his biggest enemy. He transferred to TCU after playing in Ohio State's spring game in April, which was after the stricter rules were scheduled to be put into place. And sure it was unlikely he was going to end up winning the starting QB job in Fort Worth since he had only been with the program for a couple of months, but that doesn't change the fact that the NCAA's own incompetency and hypocrisy continues to affect the future of young men and women in collegiate athletics.
Anyone who transferred this year should have been grandfathered into the previously-weak rules the NCAA had established. Baldwin's eligibility should have been viewed under the same prism as Fields' and Martell's were. That's only fair.
Unfortunately, words like "fair", "competent" and "understandable" are not ones that show up in the vocabulary of the NCAA. And the players and fans are worse off for it.
**We now have FREE Big 12 Forums here at Heartland College Sports. Go sign up here and join our conversation! **