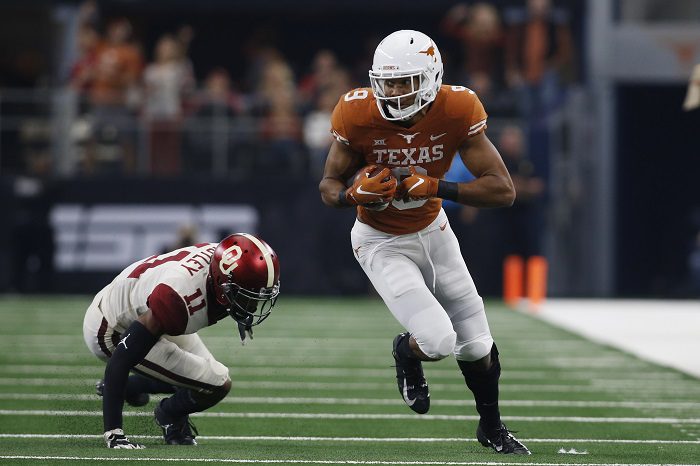 The college football season is almost here and it is time to begin ranking the Top 25 players in the Big 12 Conference. A reminder for all fans: This is not a "returning" Top 25 list. It is who we think will be the Top 25 players in the Big 12 this upcoming season. It's a razor-thin margin between 25 and 15 and there is plenty to debate. This list was put together by Pete Mundo and Derek Duke. So let's get right to it.
Previously ranked:
No. 25 through No. 21
No. 20 through No. 16
No. 15: Jeff Gladney, TCU CB
Was Gladney the most overlooked Big 12 player last season? Maybe not amongst opposing teams, but definitely amongst fan bases. Pro Football Focus rated him No. 1 in the Big 12 in lowest passer rating allowed (46.9) with a minimum of 200 coverage snaps, plus he ranked No. 1 in the conference in only surrendering a reception every 16.5 coverage snaps. Gladney has the height (6′) and length that so many NFL teams now look for in their cornerbacks. He finished last season second in the Big 12 with 13 pass break ups and his 1.15 passes defended per game were third in the conference. His two interceptions came in the final two games of the season vs. Oklahoma State and Cal when TCU was closing the season on a winning streak. He will be one of the most feared defensive players in the conference this fall.
No. 14: Collin Johnson, Texas WR
Johnson could have gone to the NFL, but instead chose to return to the Longhorns for his senior season. He has played in 38 games with 22 starts over his career. Last season, he was second on the team with 68 catches for 985 yards and seven touchdowns. Despite the loss, Johnson set a Big 12 Championship Game-record with 177 receiving yards on nine catches with a touchdown in the title game against Oklahoma. At 6'6", 220 he has NFL size that makes him one of the toughest match ups in the conference and the country. He now has another offseason to continue to grow and click with quarterback Sam Ehlinger, which if things go right, will make the Ehlinger-Johnson combo the best quarterback-wide receiver duo in the Big 12.
No. 13: Jack Anderson, Texas Tech G
Anderson came to Lubbock as a highly-touted recruit and has lived up to those expectations. After a Freshman All-American season in 2017, Anderson followed that up with a Second-Team All-Big 12 honor in 2018. As a guard, there may be no position in the game of football that gets overlooked like this position does, but that should not diminish how good a player Anderson is and how important a role he will play in the Red Raiders' offensive success this fall. The Frisco, TX native was part of a line that surrendered 25 sacks, despite protecting for 535 pass attempts, which led the Big 12 and ranked sixth nationally. A lot of that can certainly be credited to Kliff Kingsbury's play calling, but don't overlook how good Anderson is and how vital he is to the 2019 team.
No. 12: Caden Sterns, Texas S
When you talk about living up to expectations, Caden Sterns certainly did that from the moment he arrived on campus last year. He was named the Big 12 Defensive Freshman of the Year and first team All-Big 12 as a true freshman in 2018. He led the team with four interceptions and became the first Longhorn true freshman defensive back to start the first 13 games of his career since Blake Gideon in 2008. Texas is losing eight starters from last season's defense and it will be interesting to see how much of a leadership role coordinator Todd Orlando puts on Sterns, who should end the season as a candidate for the Big 12 Defensive Player of the Year.
No. 11: Pooka Williams, Kansas RB
Well, it's been a tumultuous offseason for Williams, who was suspended for several months and will miss the first game of the season. His actions created a very awkward Big 12 Media Days for new head coach Les Miles. Alas, Williams is still one of the most talented players in the Big 12. Last season, he was the Freshman Big 12 Offensive Player of the Year as he rushed for a total of 1,125 yards on 161 carries, good for 102.3 yards per game, 7.0 yards per carry and seven rushing touchdowns. But he's not just a rusher, as he also had 289 yards and two scores on 33 receptions and 246 yards on 11 kick returns to lead the Big 12 and rank sixth in the FBS in all-purpose yards at 150.9 per game. He also accomplished something that was only done by one other Big 12 player, TCU's Jalen Reagor: Recording a 100-yard rushing game (4) and a 100-yard receiving game (1).
**We now have FREE Big 12 Forums here at Heartland College Sports. Go sign up here and join our conversation! **