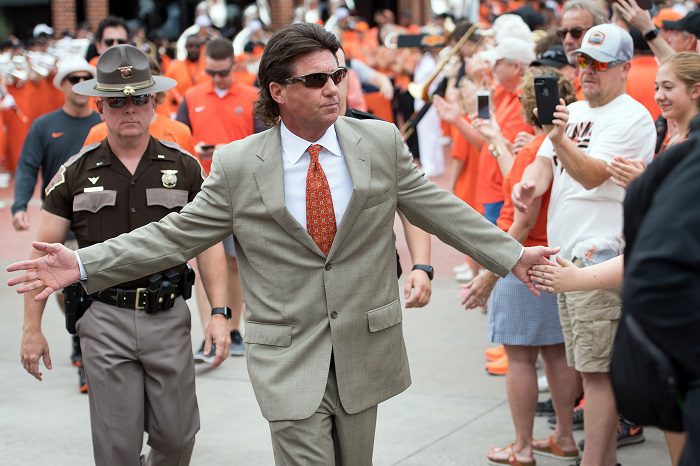 Welcome to the HCS Big 12 mailbag. This mailbag is for all you football junkies out there who root for a Big 12 school who not only have questions about your team, but other teams in the conference as well. So, join me, grab a cold brew or your favorite drink and relax as I answer all your Big 12 questions in my mailbag. For those interested, I will send out a tweet (@Derekduke25) every Monday at noon until last call (No, not 2 AM) at 8 PM CT for you to send in your questions to be answered every Tuesday right here at Heartland College Sports. 
I will pick the best question for each mailbag and label it as my question of the week. The winner gets a free HCS Koozie to keep your beer cold (Unless you like it warm, but that's just plain wrong). I want to thank each one of you who submitted a question this week and for those reading, I am glad you could join me. I am doing this on Monday evening and of course this mailbag wouldn't be nearly as fun without a cold beverage right next to me choice? An ice-cold Deep Ellum Dallas Blonde. Before I begin, I want to thank everyone who submitted a question and Cheers! Also, on a personal note, I got engaged this weekend while I was down at the Texas coast so be prepared for some wedding questions. Thanks to everyone for congratulating me.
@CamBrockHCS asks: If you were to invite one coach to be at your wedding, who would it be? You get one Big 12 coach (Assistant or head coach) and one national coach. Bonus points if the fiancé gives her picks.
Duke: If I had to pick one Big 12 coach, I would go with Mike Gundy. Gundy seems like a guy who wouldn't mind slamming a six pack (Or a 12) at a wedding and I am sure the jokes would be flying as he downs some brews. Hell, he may even have a shot or two of whiskey knowing him. I don't really think any other Big 12 head coach would come close for me. As for another head coach nationally, I would go with Lane Kiffin. We all know he has a wild side to him (*Cough* Joey Freshwater) and I think it would be fun to pair him up with Gundy after a few drinks. As for my fiancé, I don't think she would have a good answer for that. She enjoys football but not to the obsession level of a crazy person like me.
@Shroudedllama asks: How will you handle it if your fiancé wants to get married on an October Saturday?
Duke: If I am alive, THIS WILL NEVER HAPPEN. There is a zero percent chance that I will get married during football season. The way I see it, if you get married on a college football Saturday, don't be mad when people don't show up because I don't blame them. But I think I will have it in July, but I will make sure I don't miss Big 12 Media Days. I may or may not have a college football addiction problem.
@RPTexan asks: Big question, what CFB teams does she (My fiancé) follow? And she better be a fan of the Big 12!
Duke: Well she graduated from Texas State so I would say she follows Texas State and by follows Texas State I mean checks the score every now and then on her phone. But to be honest, Texas State has been a shit show in football lately. If she watches college football it is because I am watching it and of course that means Big 12 football is on my television. I am not sure if she enjoys the Big 12 or not but she doesn't really have much of a choice.Thanks!
@HarrisonWier asks: Who would you rather be? Gary Patterson's towel boy or Ed Orgeron's (LSU HC) translator?
Duke: Well, handing Gary Patterson twenty fresh towels a game wouldn't be that hard. Sure, it would be gross handling his sweaty towels, but it is doable with not much effort. It would be a hell of a lot easier than trying to figure out what in the hell Ed Orgeron is trying to say. If you can't understand Farmer Fran in the Waterboy then there is no way you will be able to understand Ed Orgeron. I am not even sure that those people on the show Swamp People would understand the LSU head coach and that is really saying something. I'll be a towel boy for Gary any day of the week over being Ed's translator.
@PaddyInTulsa asks: Chances Justin Rodgers beats out Max Duggan and Alex Delton?
Duke: With the Matthew Baldwin news of him having to sit out, that possibility goes out the window and, don't forget about Michael Collins either who started a few games last season. But I will say that the chances are slim in my book for Justin Rodgers to win the job. I am sure nobody remembers what I said back in 2017 but I really felt like Justin was a guy who could elevate the TCU program to a championship level nationally if he reached his full potential in college. Unfortunately, he had a bad knee injury and he suffers from a case of drop foot with his injury from high school. That is a scary thing because it is one of those injuries where it just may not ever heal properly. No matter how many surgeries or how much rehab, he may never be the same. We may never get to see the full potential of Justin and I really feel bad for the guy. He was the highest TCU signee ever and for that to happen, it just sucks. He played a little last season and from what I saw, he was still not 100 percent. Now he is healthy, but again, how healthy is he really and is he still having some issues with drop foot? Right now, I am hearing Alex Delton will be the starter for the opener, but I think at some point during the year, true freshman Max Duggan will be the guy for TCU going forward. Duggan is a heck of a player and when you see him throw the football, you can see why he has a ton of potential.
**We now have FREE Big 12 Forums here at Heartland College Sports. Go sign up here and join our conversation! **