Big 12 News
An Anonymous Big 12 Coach is Already Predicting Matt Campbell's Departure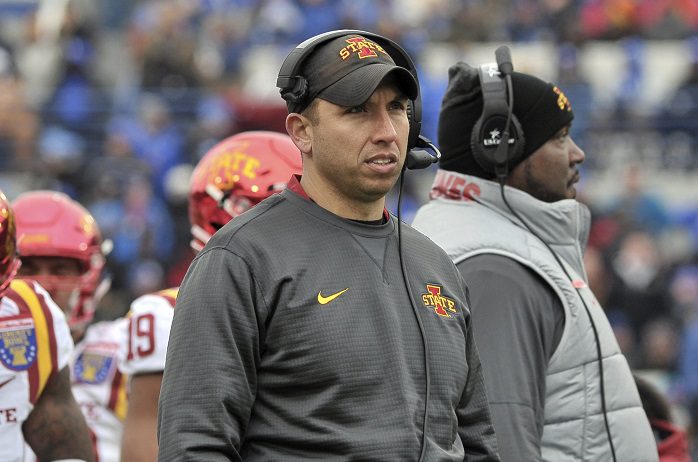 You have got to love when coaches just throw stuff against the wall without any real substance or facts to back it up. Well, that's what happened on Saturday morning as I was reading one of my favorite off-season pieces. Athlon Sports gets coaches to comment anonymously on other programs. They do a great job with it.
Well, one Big 12 coach is apparently ready for Matt Campbell to get out of the conference, telling Athlon, "Matt Campbell is going to be a star at his next job. This is just a really hard place to build a consistent winner. The best thing they've got going is that they've changed that culture totally. Those kids know the process of winning now, so they can easily upset the best teams in our league."
Matt Campbell is going to be a star? I mean, I'd argue Campbell already is a top 15 coach in the sport. Die hard Big 12 and college football fans know this. Also, this reads like a coach who is feeling threatened by Campbell potentially hanging around the Big 12 for too long, knowing he could do some serious damage if he stays within the conference long enough.
Plus, despite all our speculation, mine included, Campbell continues to put his money where his mouth is and has signed a pair of extensions the past two years. Do I think there is a very short list Campbell would consider? Yes, I do. Ohio State. Notre Dame. That's it for now. But I don't foresee it happening any time soon.
Campbell has led the Cyclones to back-to-back eight-win seasons, something that hasn't happened since the late 1970's in AMes, and is the back-to-back Big 12 coach of the year.
Clearly, Campbell does not view Ames as a stepping stone job. His words and actions have proven as much. So for the anonymous coach already planning for Campbell to be out of the Big 12 soon enough, I'd recommend something else: start game planning for him instead.
Lastly, take a guess in the comments as to who this anonymous coach was! Would love your thoughts! There is no way it's one of the four new head coaches, meaning it has to be either Matt Rhule, Lincoln Riley, Mike Gundy, Tom Herman or Gary Patterson. My money is on Herman or Gundy!
Powered by RedCircle
**We now have FREE Big 12 Forums here at Heartland College Sports. Go sign up here and join our conversation! **