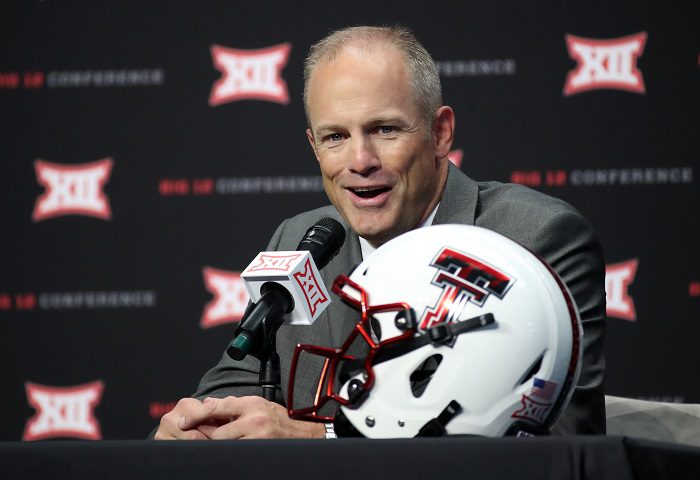 As we approach the 2019 college football season, there's so much to speculate about just in the Big 12 alone. Does Alex Grinch have the magic touch to fix the Oklahoma defense? Is Texas really back? Who might step up to compete with these two at the top of the conference? Will Les Miles go down as the guy who turned around KU or just another debacle?
But with all these questions rightfully being asked, Lubbock, Texas seems to be flying under the radar. Matt Wells takes over the program for Kliff Kingsbury, who is now the head coach of the Arizona Cardinals. And while the Big 12 has four new head coaches, Wells is in many ways getting the least attention and the over/under win total set by Las Vegas is 6 wins for Texas Tech. (You can check out our full 2019 Big 12 win total predictions here.) Les Miles is Les Miles and the intrigue is already there for the aforementioned reasons. Chris Klieman is taking over for a legend in Bill Snyder, which did not go well last time K-State tried it. And in Morgantown, WVU fans feel like they've upgraded at head coach and are hyping up Neal Brown, even if he has a solid rebuild on his hands.
But out in West Texas is a coach with a staff that had nice success at Utah State and is now trying to work their magic in Lubbock with a roster that is far better off than any of the other programs in the Big 12 with a new head coach.
For Wells, it all starts with his quarterback in Alan Bowman. He can thank Kliff Kingsbury at a later date. If you were to do a draft of quarterbacks in the Big 12, you could make a strong case that Bowman would go first or second. He has more eligibility left than Sam Ehlinger, his arm is stronger than Brock Purdy's and he got enough mobility to get by.
At Big 12 Media Days, Wells said about his new quarterback, "He's got a great attitude, first player I met there about the minute we touched down in Lubbock and was wanting to watch cut-ups of Utah State and what we were going to do on offense. Alan had a good freshman year. I think he got in seven games and won a few, won several, but I think Alan's better days are
ahead of him. He's talented."
That would be an understatement. Assuming Bowman gets a solid grip on the new offense and Wells and his offensive coordinator David Yost work to Bowman's strengths, this offense can be a juggernaut. The offensive line is all upperclassmen, T.J. Vasher, Seth Collins and KeSean Carter are nice options at wide receiver, plus Louisiana-Monroe transfer R.J. Turner is intriguing. Meantime, while the running back position isn't deep, there should be enough to get by, and keep an eye on Utah transfer Armand Shyne, who had 120 carries for over 500 yards last season, which would have been tops on Texas Tech's list of returning players from last year.
Defensively there's always been concerns for Texas Tech, but you have to give former defensive coordinator David Gibbs credit for slowly and steadily improving this unit in recent seasons. The 1-2 punch at linebacker of Jordyn Brooks and Riko Jeffers is very underrated and if Cal transfer Evan Rambo can help fill out the unit, this group should not be overlooked. The loss of safety Justus Parker for a year will hurt, but I like enough of what else remains to make some noise. Adrian Frye had a really good freshman season and the Red Raiders have a Penn State cornerback transfer in Zach McPhearson who was once a four-star prospect and ESPN Top 300 player.
Also, Wells knows he can't win by simply outscoring teams in the Big 12. Well… he can, but even he will admit it's not an ideal strategy, saying, "I think the biggest thing to consistently winning in the Big 12 for my tenure here at Texas Tech is we have to play championship caliber defense, we have to play the play great win at defense, there is not a time that is ever more challenging than to play that in the Big 12 than right now."
"Championship caliber defense" are not three words folks are used to hearing from their football hierarchy in Lubbock.
I'm just looking around the conference and I see the attention Oklahoma and Texas are understandably getting, plus the buzz surrounding Iowa State, TCU and Baylor as dark horses, and while I'm in no way predicting Texas Tech to win a Big 12 title, the more I dig the more interested I am by what can happen at Texas Tech this fall. This team played West Virginia, Oklahoma and Texas, the conference's three best teams last season to within one score. It was the letdowns at the end of the season against Kansas State and Baylor that sunk Kliff Kingsbury.
Now, it's Matt Wells' team and while I'm sure he doesn't want the attention, all I'll say is, keep a watchful eye on what's happening in Lubbock. We might all find ourselves a bit surprised by mid-season.
Powered by RedCircle
**We now have FREE Big 12 Forums here at Heartland College Sports. Go sign up here and join our conversation! **