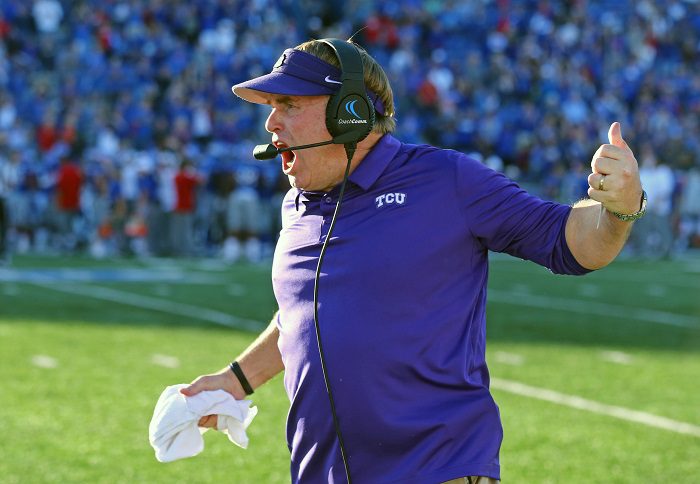 Welcome to the HCS Big 12 mailbag. This mailbag is for all you football junkies out there who root for a Big 12 school who not only have questions about your team, but other teams in the conference as well. So, join me, grab a cold brew or your favorite drink and relax as I answer all your Big 12 questions in my mailbag. For those interested, I will send out a tweet (@Derekduke25) every Monday at noon until last call (No, not 2 AM) at 8 PM CT for you to send in your questions to be answered every Tuesday right here at Heartland College Sports. 
I will pick the best question for each mailbag and label it as my question of the week. The winner gets a free HCS Koozie to keep your beer cold (Unless you like it warm, but that's just plain wrong). I want to thank each one of you who submitted a question this week and for those reading, I am glad you could join me. This week's mailbag was so full, I had to break it up into two parts. So, if you don't see your question in part one, look for it in part two on Wednesday. I am doing this on Tuesday afternoon and of course this mailbag wouldn't be nearly as fun without a cold beverage right next to me choice? An ice-cold Deep Ellum Dallas Blonde. Before I begin, I want to thank everyone who submitted a question and Cheers!
@ThatGuy_Seabass asks: Who has the best defensive coordinator in the conference this year? Not the best or most talented defensive player wise. Who employs the brightest defensive mind in the conference?
Duke: Man, there are some great defensive coordinators out there in the Big 12. From Texas DC Todd Orlando to Iowa State DC Jon Heacock. And don't forget about TCU DC Chad Glasgow. Ok, well actually you can forget about him because we ALL know who is running that defense at TCU. It's head coach Gary Patterson. While he may not be labeled as a "Defensive Coordinator", he might as well be one. I don't need to go over TCU's track record over the years because if you don't know how good they have been on defense since Gary has been there then I can't help you here. I guess if I had to go with a "labeled" DC I would probably go with Jon Heacock at Iowa State. What he had done there since arriving has been nothing short of spectacular.
@perry_stan asks: Which Big 12 team is likely to play their backup quarterback more than two games this year? Which Big 12 team has the largest drop off from their first-string quarterback to their second-string quarterback?
Duke: Well, to answer the first part of your question, I think there will be few Big 12 teams that may have the opportunity for their backup to see some playing time due to blowout games on their schedule. Also remember that players can play up to four games and still apply for a redshirt. Now most of these backups will get some time in the non-conference slate and possibly against some weaker teams in the conference. For instance, Oklahoma could easily blowout UCLA and South Dakota and maybe Kansas as well. The same could go for Baylor who has a very weak non-conference schedule where they play UTSA, SFA and Rice.
I really can't answer your second question because there are still quarterback competitions going on and half of these guys, we have never seen play before. If I had to say I would probably go with Kansas State. Skylar Thompson has been the guy alongside Alex Delton the past couple years and with Delton now at TCU, the depth of that room certainly took a good hit. It appears that either Nic Ast or John Holcombe will back him up and Nic is a walk-on.
@KBehr68 asks: Your way too early kickoff temperature prediction and weather forecast for the November 16thIowa State vs Texas matchup?
Duke: Are we getting a little ahead of ourselves here KBehr? There is a LOT of football to be played before then. With that said, I hope the weather is nice if I plan on covering that game and making the trip up to Ames.
@SimonSaysSport asks: OU and Texas both go 10-2. Big 12 misses out on playoffs. OU loses to Baylor and OSU and Texas loses to TCU and ISU. Thoughts? I see it happening. The Big 12 will beat up on each other.
Duke: In your scenario, either Texas or Oklahoma would have another loss since they play each other. So, in that case, if either team has two losses or more, I don't think they would get into the playoffs. A two loss Big 12 team making the playoffs? The CFB Committee would have a stroke if that happened. I think the teams with the best chance to make the playoff are Oklahoma, Texas, Iowa State and TCU. Out of those four, I think TCU may be on the outside looking in while Iowa State and Texas have very tough road schedules. I can see both Iowa State and Texas with two losses heading into their November matchup. The loser would likely be eliminated from a Big 12 title birth but with each team with two losses already, I would say both would be on the outside of the playoff picture. Now leaves only Oklahoma. Look at their schedule. Very manageable non-conference slate and they get Iowa State and TCU at home. Plus, they play Texas in Dallas as always. Their toughest true road game is at either Baylor or Oklahoma State. If the Sooners can get past Texas, I think they have a great shot at not only making the Big 12 title game but a possible playoff berth as well. I think the Sooners can go 11-1 and get into the playoffs like last season.
@LHuenfeld asks: What first year head coach do you think will be the best this season?
Duke: I have probably answered this before, but I am going with Texas Tech head coach Matt Wells. With Alan Bowman healthy at quarterback and a very experienced offensive line, I think their offense will be just fine in Lubbock. Of course, they always have good wide outs as well. Defensively they will have some question marks but out of all the other teams with new coaches (WVU, K-State and Kansas), I think Texas Tech is the only team with a new head coach in the Big 12 that will make a bowl game. In fact, I think I have Texas Tech going to the Cheez-It Bowl this year. All hail the mighty Cheez-It Bowl.
@PetittFarms asks: Rank the coaches for each program to most likely win a chess match.
Duke: I don't even know how to play chess myself so I have no idea who in the hell would be good at it. Yes, that's right, I am a grown ass man who doesn't know how to play chess. Do I need to go to therapy? Am I a dumbass? The answer is probably yes.
**We now have FREE Big 12 Forums here at Heartland College Sports. Go sign up here and join our conversation! **