Big 12 News
Les Miles Will Not Name a QB Starter Before Indiana State Game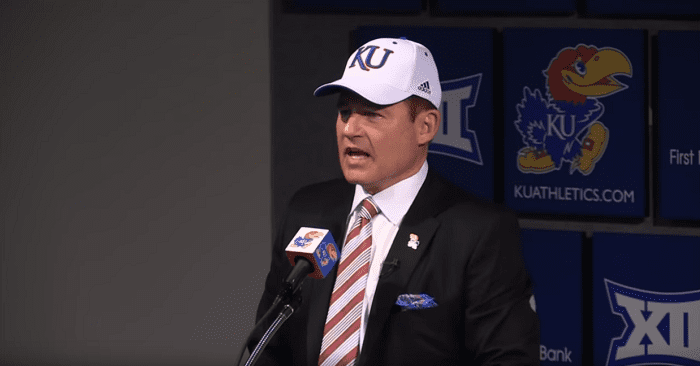 The Kansas Jayhawks are in the midst of a rebuild, but most importantly, they're still trying to figure out who is going to be the starting quarterback to open the 2019 season. New head coach Les Miles announced on Monday morning that KU will not name a starter before the first game against Indiana State.
Meantime, Miles said the QB competition will continue through the week and that it's entirely possible both quarterbacks could end up playing in the opener.
The Jayhawks are down to Carter Stanley and Thomas MacVittie. Stanley has played in 16 games the past two seasons in Lawrence, including two starts. Last year, he completed 34-of-47 passes, good for a 72 percent completion rate, throwing for 304 yards and three touchdowns, plus 21 carries for 38 yards. In 2017, he threw for 1,108 yards passing, four touchdowns and 91 rushing yards. His 418 passing yards against Kansas State marked the fifth best single-game performance in KU history.
As for MacVittie, he was the No. 8 pro-style quarterback in the Class of 2016 and went to Pittsburgh, where he didn't play in two seasons. He transferred to the JUCO level and played at Mesa CC, where he threw for 1,064 yards and 16 touchdowns in six games. He was rated as the No. 2 pro-style quarterback by JCGridiron.com and earned a three-star rating.
KU opens up the season against Indiana State on Saturday as a 4.5-point favorite.
**We now have FREE Big 12 Forums here at Heartland College Sports. Go sign up here and join our conversation! **