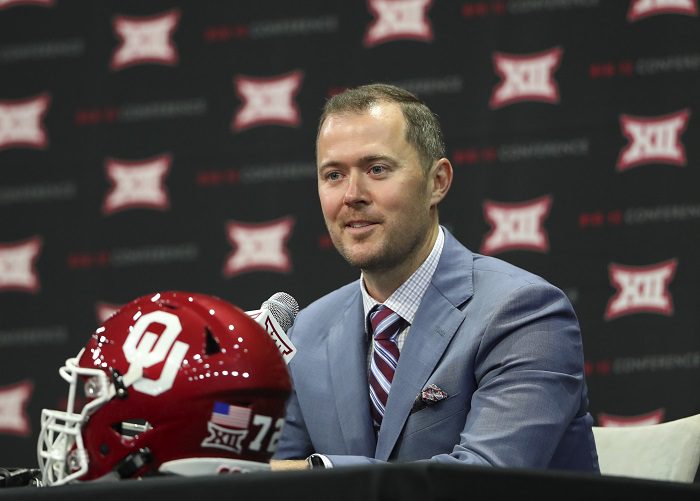 It's officially the first week of the college football season and we already have some drama in the Big 12. Oklahoma Sooners head coach Lincoln Riley announced that he is not releasing a depth chart for Sunday's game against Houston.
In an OU media guide, Riley put the emoji eyes where his depth chart is supposed to be.
This is great work. pic.twitter.com/V3KxgK8mxv

— George Stoia III (@GeorgeStoia) August 26, 2019
Well, Dana Holgorsen, the new head coach at Houston and former West Virginia coach who knows Riley well from his Big 12 days was not too pleased and said in his press conference on Monday, "I've always released a depth chart. Why they don't put one out? It's kind of silly to me. If they aren't putting one out, I ain't putting one out."
Frankly, I don't blame Holgorsen for being annoyed by this and not releasing a depth chart. "It's kind of silly" is actually a wildly polite way for Holgorsen to put it.
So what is Lincoln Riley's excuse for his lack of a depth chart? He insists it's not about strategy and playing things close to the vest, saying, "Not strategic. Just, once again, this is a big week for us."
His implication is that there are still position battles being worked out. That's fine. But then you know what you do, you utilize this word, "or", that every other coach in America utilizes when he's not sure who is going to be starting at a given position. It's done all the time. Heck, it's been done this week, just look at Iowa State's depth chart and all the "or's".
Iowa State depth chart for UNI is out. pic.twitter.com/jmJ1wGlL9F

— Chris Williams (@ChrisMWilliams) August 26, 2019
It just seems unnecessarily petty from Lincoln Riley. Maybe it's something personal between him and Holgorsen we don't know about. Maybe it's not. But even Nick Saban doesn't do this, and if there is anyone who could get away with it, it's him.
In fact, this is another reason for why it's long overdue for the NCAA to start requiring depth charts from college football coaches. Betting is a huge part of the sport and as gambling continues to be legalized around the country, the NCAA and the NFL can't hide the fact that it's not a big part of their sports. The NFL is required to release an injury report at the end of the week. College teams aren't yet, but the least they should be required to release is their depth chart.
It's right for the fans, the media and most importantly, it's just good sportsmanship and decency, which is what collegiate athletics is supposed to be about. Right, Lincoln Riley. [Insert eye emojis here… or would that be the eye ::roll:: emojis?]
Powered by RedCircle
**We now have FREE Big 12 Forums here at Heartland College Sports. Go sign up here and join our conversation! **