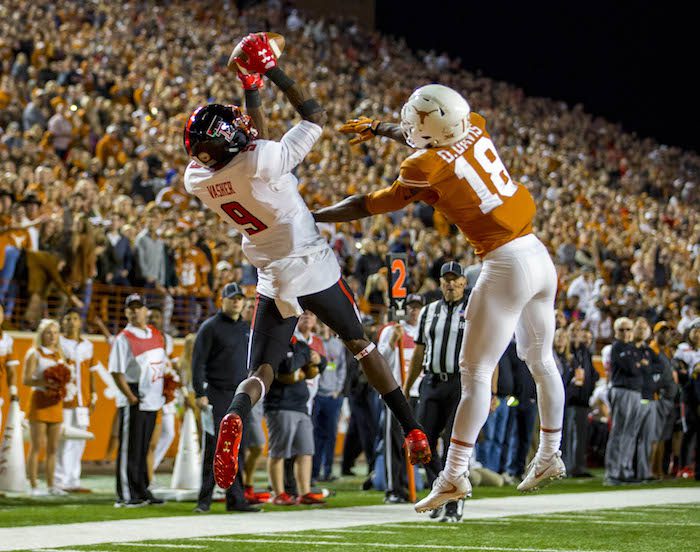 Welcome to the HCS Big 12 mailbag. This mailbag is for all you football junkies out there who root for a Big 12 school who not only have questions about your team, but other teams in the conference as well. So, join me, grab a cold brew or your favorite drink and relax as I answer all your Big 12 questions in my mailbag. For those interested, I will send out a tweet (@Derekduke25) every Monday at noon until last call (No, not 2 AM) at 8 PM CT for you to send in your questions to be answered every Tuesday right here at Heartland College Sports.
I will pick the best question for each mailbag and label it as my question of the week. The winner gets a free HCS Koozie to keep your beer cold (Unless you like it warm, but that's just plain wrong). I want to thank each one of you who submitted a question this week and for those reading, I am glad you could join me. I am doing this on Monday evening and of course this mailbag wouldn't be nearly as fun without a cold beverage right next to me choice? A classic old fashioned. Before I begin, I want to thank everyone who submitted a question and Cheers! IT'S GAME WEEK!!
@LongHornFrenzy asks: Give us your week one picks for the Big 12.
Duke: First off, thank you as always for supporting this mailbag. You go all the way back to when I started this mailbag over a year ago. Also, for those who don't know, this man provides the best Aggie meltdown screenshots and keyboard tears on the internet and I thank you for that. However, this week is very just BLAH. I know it is opening weekend for the Big 12 but there really isn't a matchup outside of Oklahoma and Houston that really excites me. I mean, opening weekend excites me but you know what I mean. Now, my answer is going to be a little boring because I see Oklahoma State taking care of business on Friday and Oklahoma doing the same on Sunday. Those are the only two power five match ups in the conference this weekend. All the other schools play FCS or group of five opponents and I think the other eight schools also take care of business this weekend. The entire Big 12 will go undefeated this weekend. 
@ShinerRyan asks: Which Big 12 team or teams should be on upset alert in week one?
Duke: Always glad to have a Shiner, Texas native in the mailbag. There aren't many of us "Shiner folk" to begin with so it's always cool to hear from people back home. However, like I mentioned in the previous question, I have the Big 12 going undefeated this opening weekend but I will say there are two teams that could be on upset alert. Houston may give Oklahoma a run for their money in a potential shootout game but the other one to keep an eye on is the West Virginia/James Madison matchup. James Madison is supposedly one of the favorites to win the FCS national title and they take on a rebuilding West Virginia team with a brand-new head coach in Neil Brown. I think the Mountaineers will win but that seems to be a popular week one upset depending on who you ask.
@RPTexan asks: Senor Duke, many years the "Player of the year" in September is not the end of the year player of the year. Who do you think might have a great first half of the year, but not win player of the year in the Big 12?
Duke: I feel like I must go quarterback here. I don't know the current streak, but it might as well be labeled as the quarterback award much like the Heisman trophy has become. With that said, I will go with a quarterback. Now, what I am about to say may shock some people, but I think Oklahoma quarterback Jalen Hurts could maybe fit that criteria you just mentioned. Don't get me wrong, I think Jalen will be fine at Oklahoma, but I could see his first half season stats a lot higher than what his second half will be simply because of the Sooners schedule. Oklahoma plays Houston, South Dakota and UCLA in the non-conference. Houston will be decent but overall, it isn't exactly a tough non-conference slate. Then, to kick off conference play they host Texas Tech and travel to Kansas. I could see Oklahoma scoring a lot of points in those first five games before their meeting with Texas in Dallas. Again, Jalen Hurts will be good but the schedule for them is backloaded like crazy.
@mister_brain asks: Call, your shot now. What's going to be the biggest conference upset of the season?
Duke: There are many goes to go with this, but it depends on what you consider an upset. For instance, Texas loses to Iowa State on the road. Is that really an upset? Not in my book. Another popular one would be Texas at Baylor but the more and more I look at Texas Tech, the more I like their chances at surprising some folks. Alan Bowman is healthy, and I think he is one of the best quarterbacks in the conference. They bring back their entire offensive line and while their running backs aren't great, they are more than serviceable. As for wide outs, they grow them on tress in Lubbock. Also, defensively they have some experience and while they aren't exactly a defensive juggernaut, I really like their secondary. So, with all that said, I think my "Call Shot" will be Texas Tech beating Iowa State in Lubbock on October 19th. Iowa State will be fresh off a visit to Morgantown and then will have to travel to Lubbock. That's tough no matter who you are. Some others I considered were, Kansas beating Kansas State and Baylor beating Oklahoma or Texas at home.
@ALBtris asks: Which Big 12 team will be undefeated going into November?
Duke: Damn man, we still must get through September and October before then! I don't really see any team outside of Oklahoma having a great shot at that now. I mentioned earlier that the Sooners have a very backloaded schedule and it really starts when they meet Texas in the Cotton Bowl in the second weekend of October. If they can get through that they play Kansas State and West Virginia to close out the month of October. I think they have the best shot at being undefeated come November. 
**We now have FREE Big 12 Forums here at Heartland College Sports. Go sign up here and join our conversation! **