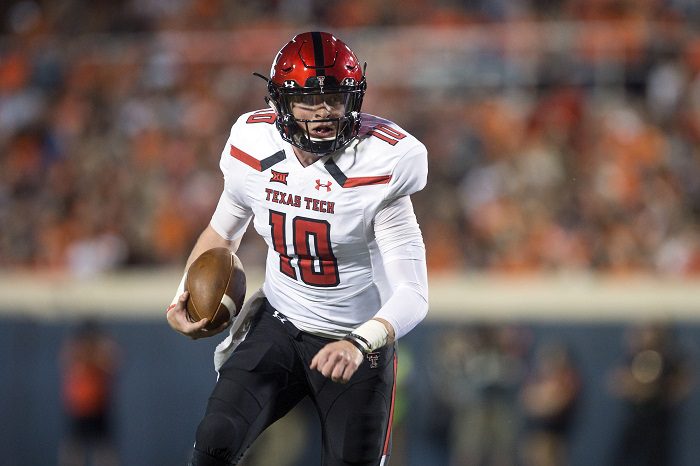 Here is everything you need to know about the season opening match up in our Montana State vs. Texas Tech Preview.
Game Info
3 p.m. CT, Saturday, Aug. 31, 2019, Jones AT&T Stadium, Lubbock, Texas
TV: Fox Sports Net, Fox Sports Southwest, Fox Sports Go (Eric Collins, Max Starks)
Away Radio: Bobcat Sports Radio Network (Jason Alvine, Zach Mackey)
Home Radio: Texas Tech Sports Network; Sirius 134/XM 199 (Brian Jensen, John Harris, Chris Level)
Fun Facts: The last time Texas Tech lost a home season opener came in 1999 when North Texas upset the Red Raiders 23-14. The last time a coach lost their regular season debut was in 1987 during a 40-16 loss at No.8 Florida State. Spike Dykes was the coach for both of these. In two meetings, Montana State has yet to score against Texas Tech.
Key Players
Texas Tech
WR Erik Ezukanma
A four-star prospect out of Timber Creek High School in Keller ISD, Ezukanma is a redshirt freshman who beat out sophomore transfer R.J. Turner at the X Receiver position. Ezukanma already has one touchdown to his name, a 44-yard reception against Lamar. Tech is generally known as "Wide Receiver U" and he could be the next in line.
RAIDER Tyrique Matthews
Why not go with another freshman? Matthews has forced the OR against two-year letterman Riko Jeffers. Unlike Ezukanma, he's a true freshman and Tech was his only Power Five Conference offer. To be in a battle for a starting position against an experienced junior during a new regime says a lot about Matt Wells' trust in Matthews. If he gets the opportunity against Montana State, he will need to make the most of his opportunities to prove himself.

Montana State
RB Isaiah Infanse
Infanse set a Montana State freshman record of 1,025 rushing yards during the 2018 season. He's one of eight offensive starters returning which includes four of the five offensive lineman. Two of those lineman are 6-foot-6 and achieved postseason honors one season ago. Another interesting thing to note is last year's quarterback is pulling a Joel Lanning by switching to linebacker. This typically means a better quarterback is taking over the reins. With a solid core around him, there's no telling how many yards the 1,000-yard freshman could run for.
SAFETY Jahque Alleyne
Alleyne returns after leading the Big Sky Conference with five interceptions one season ago. This is a Virginia Tech transfer who played a pivotal part during a playoff victory over Incarnate Word by being a part of two fumbles.

Key Storylines
Texas Tech
This is Matt Wells debut with the Red Raiders. He takes over a program with a fanbase that has been broken since Mike Leach was controversially fired after the 2009 regular season. Since Leach's departure, Texas Tech has not won more than seven regular season games and is 10-25 at home against Big 12 teams. While many will assume Texas Tech waltzes to a victory, this is a must-win for Matt Wells. While Tommy Tuberville and Kliff Kingsbury struggled, the one thing fans could count on was a victory over non-Power Five programs. After the firing of Kingsbury, there was supposedly a push from major donors to bring Leach back. Wells made waves at Big 12 Media Days with a strong first impression at the podium. However, a loss to an FCS team here will kill all hope for Tech fans and the Leach supporters will never be stronger. By the way, Leach continued his push for compensation from Tech again on Twitter Monday.
MONTANA STATE
The Bobcats would like to at least score a field goal in this game. Sure, these two teams haven't met since 1939. However, Montana State was shut out in both meetings. The bobcats return four of their five offensive lineman from a team that defeated Incarnate word, coached by former Texas Tech receiver Eric Morris, in the first round of the 2018 FCS Playoffs. This experienced Bobcats program understand there is a new face on the home sidelines. They would love nothing more than to give Texas Tech its second loss to an FCS school, and the first since North Texas State upset Tech in 1988.
Prediction
Texas Tech 56 Montana State 13
Tech will likely roll out of the gates with a touchdown just based on pure adrenaline and having a healthy Alan Bowman throwing again. For a brief while, they'll probably struggle after that with a new system in place. When the Red Raiders pull it all together though, the talent alone will allow Matt Wells to cruise to a victory in his Texas Tech debut. The only reason I don't predict more points for Tech is because the starters will likely be benched by the start of the fourth quarter.
Powered by RedCircle
**We now have FREE Big 12 Forums here at Heartland College Sports. Go sign up here and join our conversation! **