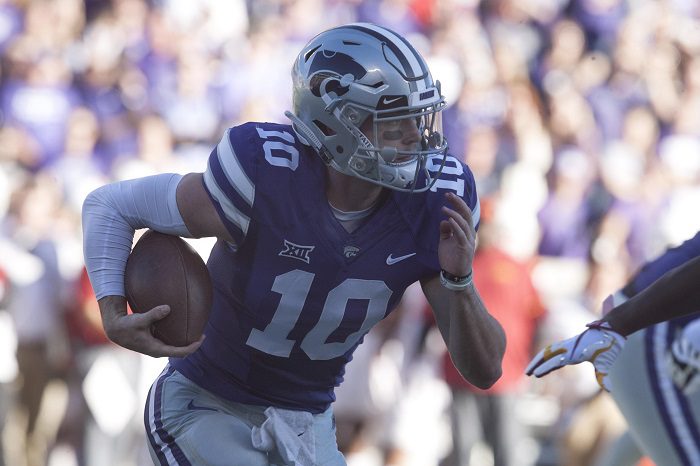 Here is everything you need to know about the upcoming Big 12 game in our Kansas State vs. Nicholls preview and prediction.
Game Info
6 p.m. CST, Saturday, August 31st, Bill Snyder Family Stadium, Manhattan, KS
TV: ESPN+ (Drew Fellios, Mike Golic Jr.)
Radio: K-State Sports Network (Wyatt Thompson), Sirius Channel 111, XM Channel 200
Fun Fact: If Kansas State can win on Saturday against Nicholls, it will be the 200th victory for Kansas State inside Bill Snyder Family Stadium.
Key Players
Nicholls
QB Chase Fourcade
Fourcade returns as one of the top players in his conference after leading Nicholls to a conference title last season. On the year, he threw for 2,930 yards and 21 touchdowns, while adding 13 touchdowns on the ground and 659 yards rushing. He's on plenty of FCS preseason watch lists and All-American lists as well.
DL Sully Laiche
Laiche started 13 games last season, earned three all-American honors and was an all-conference first-team selection after finishing the season with 17 tackles for loss and 8.5 sacks. His 25.5 sacks in three seasons makes him the active leader at the FCS level. While Kansas State has all seniors on its offensive line, it does have some new faces and their focus will need to start with Laiche.
Kansas State
RB James Gilbert
Kansas State is not deep at the running back position and the starting job is now in the hands of Ball State transfer James Gilbert. Gilbert will get first crack at the job and he gets an FCS opponent to try and ease him into the Power 5 level. Last season he rushed for 659 yards and seven touchdowns at Ball State. I don't expect one workhorse to emerge, but if Gilbert can kick off his K-State career in impressive manner, it will be a sigh of relief for Wildcat Nation.
MLB Elijah Sullivan
Sullivan has been a hyped player since his arrival in Manhattan, but in 2018 dealt with setbacks and injuries. He received a medical hardship last season after suffering a season-ending injury and only playing in three games. It was the year Sullivan was supposed to burst into the scene after playing a back up role his first two seasons on campus. I'll be watching Sullivan to see if he's 100% healthy and ready to be an upperclassman leader that Kansas State typically has a handful of each season.
Key Storylines
Nicholls
Run, run and run some more. Last season, Kansas State gave up 4.9 yards per carry, which was the second-worst mark in the Big 12 behind only Baylor (5.4). Nicholls returns its dual-threat QB mentioned above, plus its top two running backs from last season in Dontrell Taylor and Kendall Bussey. Nicholls will be on the road in a tough environment and if it can get the run game going early, they might have a shot at an upset.
Kansas State
The Wildcats need to get Skylar Thompson going early and make him comfortable. It's officially his team and he had all the swagger in the world in the offseason to prove such. Work him in with his wide receivers like Dalton Schoen and Wykeen Gill and try to exploit a Nicholls team not used to a Power 5 environment. Plus, Nicholls' pass defense was worse than its run defense last year, which ranked tops in the conference. Let the passing game open up the running game and allow the new running backs to get comfortable. I'm not predicting or expecting air raid, but something that exploits your opponent's weakness and give your team the ability to settle in seems to make sense.
Prediction
Kansas State 27, Nicholls 14
The Wildcats will be juiced up for their first ever game under new head coach Chris Klieman. Nicholls comes in with a Top 25 FCS ranking and lots of players with experience, but Kansas State has the veteran offensive and defensive lines that will ultimately be the decision makers in this season-opening match up in Manhattan. Chris Klieman moves to 1-0.
Powered by RedCircle
**We now have FREE Big 12 Forums here at Heartland College Sports. Go sign up here and join our conversation! **