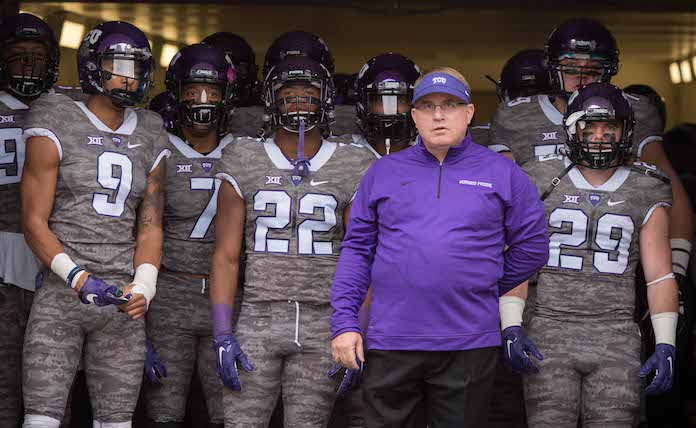 Here is everything you need to know about the upcoming Big 12 game in our TCU vs. Arkansas-Pine Bluff preview and prediction. 
Game Info
7 p.m. Central Time, Saturday August 31st, 2019, Amon G. Carter Stadium, Fort Worth, Texas.
TV: FSN
Radio: TCU Sports Network (PxP: Brian Estridge)
Fun Fact: TCU hasn't lost a true home opener since the 2001 season when they fell to Northwestern State 27-24 in overtime at Amon G. Carter Stadium.
Key Players
Arkansas-Pine Bluff
WR DeJuan Miller/RB Taeyler Porter
Miller had a sensational freshman season for the Golden Lions last year. He led the team with 56 catches for 801 yards and 6 touchdowns. Although there weren't a whole lot of bright spots for his team last season, he certainly was a diamond in the rough for them. Meanwhile, his teammate Taeyler Porter led the SWAC in rushing last season with 1,220 yards and 9 touchdowns.
DE Jalen Steward
Jalen was the main man on his defense and although they struggled badly, Jalen had a solid 2018 season racking up 16 tackles for loss and 7 sacks. Again, there weren't many positives (If Any) on this defense but it is good to have someone who can make some plays up front.
TCU
Quarterbacks Alex Delton and Max Duggan
Although Alex has officially been named the starter, we will get to see true freshman Max Duggan after a few series. Both guys have separated themselves from the rest of the bunch however, these two will still probably battle it out. The good news is that there will be an actual game so we can see these guys up close and see how they handle themselves with thousands of people in the stands and against an opposing defense (No matter how bad they are on the other side). Maybe someone separates themselves here but again, it would be hard to take away a lot from a glorified scrimmage like this.
LB Garret Wallow
With Ty Summers gone, Garret Wallow will have to lead this linebacker group. Wallow is an excellent player in his own right, but I won't be so worried about his play. Why? Because he is one of the best linebackers in the Big 12 and most importantly, I want to see how he leads this defense from a leadership standpoint. I am sure he will be making play after play out there but someone must take the reins at linebacker group, and I think Garret will be that guy.
Key Storylines
Arkansas-Pine Bluff
Pray, pray and pray. In the last four years, this program hasn't won more than 2 games in a single season. Not to mention, this defense is downright bad. They gave up over 43 points a game last season. Again, prayer is key here.
TCU
While the quarterback battle will be all the rage, I don't think we are going to see a lot of passing here simply because the Frogs can be vanilla on offense and still dominate both lines of scrimmage. Hell, I could play quarterback for TCU because I wouldn't have to do much outside of handing the ball off.
Prediction
TCU 58, Arkansas-Pine Bluff 9
Do I really need to explain myself here?
Powered by RedCircle
**We now have FREE Big 12 Forums here at Heartland College Sports. Go sign up here and join our conversation! **