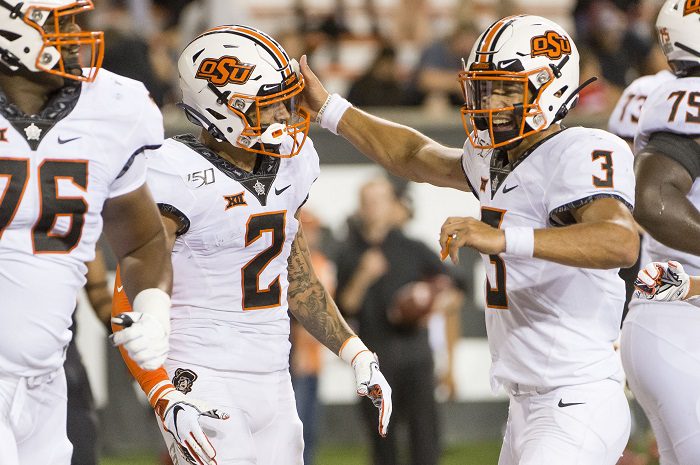 Oklahoma State took care of business late Friday night as they opened the 2019 season with a 52-36 win in Pac-12 country against the Oregon State Beavers. Sure, Oregon State is a rebuilding program under second-year head coach Jonathan Smith, but it is always good to start off your season on the right track no matter who's your opponent. While running back Chuba Hubbard had a career day on the ground, it was redshirt freshman quarterback Spencer Sanders who everyone had their eyes on. 
Oklahoma State went into the game planning on playing both redshirt freshman Spencer Sanders and redshirt senior Dru Brown. Well, that didn't happen as Spencer Sanders trotted out on the field first and never looked back. Sanders led the offense to seven-straight drives that ended up in points and helped put 52 up on the scoreboard. While running backs Chuba Hubbard and LD Brown scored the first two touchdowns in the first half, Spencer got to show off his arm as he was able to find All-Big 12 wide out Tylan Wallace for two touchdown passes. He also added another touchdown pass in the second half, this time to C.J. Moore. 
Not only did Spencer show off his arm talent, he put on an absolute show on the ground displaying his athletic ability with the ball in his hands. Sanders torched the Beavers defense with over 100 yards rushing and it seemed like every time he hit the corner, he had room to make the defense pay because of his speed. When it was all said and done, Spencer Sanders finished the game going 19 for 24 through the air with 203 yards and 3 touchdowns while adding 109 more yards on the ground.
What is crazy in all this is that Spencer Sanders wasn't the only player who had a career day against the Beavers. Running Back Chuba Hubbard showed the entire west coast that he is one of the best backs in the country as he ran for 221 yards and 3 touchdowns. Not to mentioned All-Big 12 wide receiver Tylan Wallace who caught 5 passes for 92 yards and two touchdowns. 
Overall, the Cowboys didn't skip a beat on offense, but it was evident that the defense still needs a little tweaking. There were a few times where the defensive front struggled against the run game, but I will give them some credit because in the first half, they only gave up 16 points which is good if you compare that to what they did last season. Sure, it took them a series or two to get adjusted but that's expected in these season opening games. Of course, those things will need to get cleaned up defensively, but the good news is that they have two more cupcake games against McNeese State and Tulsa to figure things out before they travel to Austin to take on the Longhorns. 
But most importantly, the Cowboys have found their quarterback. As we still need to see more of his passing abilities, one thing is for certain: Spencer Sanders is a threat to run the football playing quarterback which is something that hasn't been seen in Stillwater since JW Walsh was playing. Also no disrespect to JW, but Spencer has a much higher ceiling and if he can start making more strides as the season goes on, this Oklahoma State team will be a dangerous one that nobody should be taking lightly. 
**We now have FREE Big 12 Forums here at Heartland College Sports. Go sign up here and join our conversation! **