Big 12 News
Big 12 Football Players of the Week: Jalen Hurts, Hasan Defense Lead the Way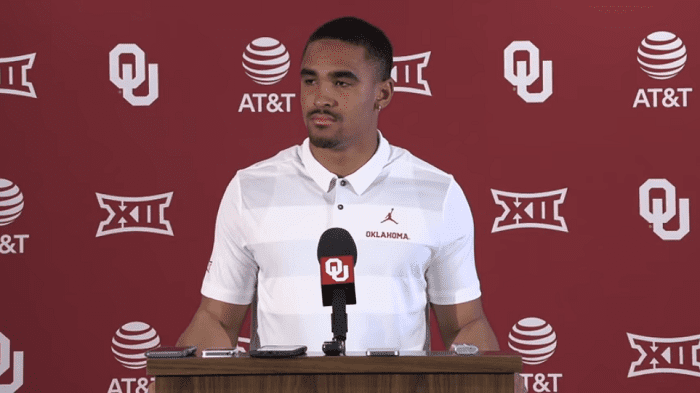 It's time to name our Big 12 Players of the Week as we look at the top performances on offense, defense and special teams. Yes, there are always several players to debate, but we try to make this as fair as we can, while backing up our decision with stats and facts.
Big 12 Offensive Player of the Week: Oklahoma QB Jalen Hurts
Hurts set an Oklahoma record for total yards in Sooners debut with 508 total yards, breaking Baker Mayfield's 2015 record of 396 yards (vs. Akron in 2015), helping OU beat Houston 49-31 in the season opener in Norman. He also joined Kyler Murray as the only other Oklahoma player with 300 passing yards and 100 rushing yards in a game. Good company. The only downside to Hurts' incredible start to his OU career is another bad hot take from Fox Sports 1's Skip Bayless.
Big 12 Defensive Player of the Week: Kansas CB Hasan Defense
Defense had the only pick-six of the week for Kansas in what turned out to be a crucial six points in a 24-17 win over Indiana State at home on Saturday afternoon. KU was missing star RB Pooka Williams and desperately needed to get the Les Miles tenure off with a win. A loss to an FCS opponent, even without the team's best player would have been very embarrassing. Defense's 57-yard return for a score was the first points of the game and got the crowd into it and gave the team some momentum that it carried for most of the afternoon. While there are certainly other players with big defensive days, statistically speaking, in the Big 12, the meaning behind Defense's big play and the moment allow him to take the cake for a feel-good story in Week 1.
Big 12 Special Teams Player of the Week; TCU K Jonathan Song
TCU is having its issues trying to figure out who is going to be the quarterback in Fort Worth. The good news is the team has kicker Jonathan Song to bail them out when needed. Against Arkansas-Pine Bluff, Song made a school-record-tying five field goals. Song hit from 24, 36, 19, 34 and 38 yards, never missing one on the afternoon. As the games get closer and more competitive in Big 12 play, having a reliable kicker like Song will be even more appreciated in Fort Worth.