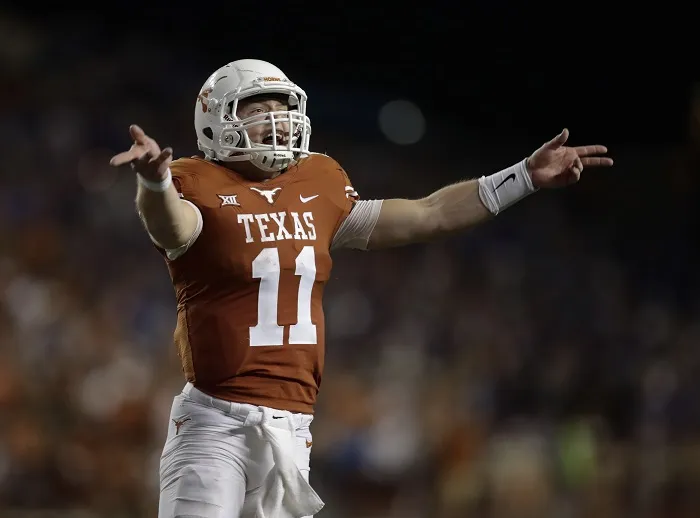 I hear it all the time, "Who has the best conference in college football?" SEC? Big 10? ACC? What about the Pac-12? Very rarely are you going to hear the words "Big 12" coming out of someone's mouth in that conversation. Whether you do it or not, there are plenty of folks out there who love to bash the Big 12 conference (cough, Paul Finebaum, cough). Opening weekend has come and gone and in the Big 12, there is never just a normal weekend and that once again proved to be true this past weekend. From good games, to eye sores, there was some good, some bad and some downright ugly.
The Good
Oklahoma State (Beat Oregon State 52-36)
If you stayed up late like I did, then you saw an offensive firework show on Friday Night. In fact, I think by the time I was done with my recap for this game, it was about 2 AM central time but that doesn't matter. Why? Because redshirt freshman quarterback Spencer Sanders shined as he went 19/24 for 203 yards and 3 touchdowns through the air while also rushing for 109 yards. He showed off not only his athletic abilities but his arm talent as well. Sanders wasn't the only guy who had a career day either as RB Chuba Hubbard rushed for a career high 221 yards and 3 scores. Not to mention, All-Big 12 wide out Tylan Wallace who caught 2 touchdowns passes as well. The offense for Oklahoma State looks dangerous (In a good way) but the defense still needs a little work. 
Kansas (Beat Indiana State 24-17)
Let me get some of the not so great out of my chest here. The rushing game without Pooka Williams struggled and it never truly got going at any point. RB Khalil Herbert did a decent job but the holes up front weren't there often. Now, on to QB Carter Stanley. He made his mistakes (Especially the fumble in the endzone) but when his team needed him most, he made a great touchdown throw to wide out Daylon Charlot to help the Jayhawks go up 24-17 with just 2:20 left in the game. Defensively, I thought Kansas looked fine. Without the Kansas offense giving up some free points, the defense only gave up 10 points. Sure, they gave up some yardage but overall, they did more than their fair share to help win this game. Overall, it wasn't the most glamorous of victories, but at Kansas, you can't be picky when you win. Enjoy it Jayhawks fans, as the Les Miles era starts 1-0. 
Texas Tech (Beat Montana State 45-10)
While QB Alan Bowman threw for 436 yards and 2 scores, it was the rushing attack that stole the show here. Running backs Armand Shyne, Ta'Zhawn Henry and SaRodorick Thompson combined for 210 rushing yards and 3 touchdowns as they helped cruise the Red Raiders to victory. Not to mention that Texas Tech defense that allowed only 10 points which is something that hasn't happened in Lubbock that often. Also, they allowed Montana State to only go 2 for 16 on third down and shut the Bobcats offense down. This is a great start to the Matt Wells campaign as the Red Raiders get their first win since October 20th of last season to end a five-game losing streak.
West Virginia (Beat James Madison 20-13)
You may be thinking, "Derek, they beat an FCS by seven points at home, how is that good?" Well, James Madison isn't just any FCS team. They are one of, if not the favorite to win a national championship at the FCS level. The Mountaineers defense stepped up on Saturday and only allowed one touchdown against JMU while the other six points came from field goals. They did a good job of keeping the Dukes offense in check and got 3 turnovers in the process, so you must like that if you are a Mountaineer fan. On the flipside, the offense was lackluster. The ground game was non-existent as they rushed for a whopping 34 yards on 24 carries. That put more pressure on QB Austin Kendall who had a decent debut with 260 passing yards and 2 touchdowns.
Baylor (Beat Stephen F. Austin 56-17)
How about the Baylor defense? I know it's a cupcake game, but I saw a lot of good things from that Bears defense. No big plays given up and through three quarters, they gave up only 7 points before allowing 10 more in garbage time. That was good to see because they gave up way too many big plays last season. QB Charlie Brewer had a solid game throwing for 199 yards and 3 touchdowns. Also, how about WR RJ Sneed? He caught 2 touchdown passes and looks to take on a big role this season. But the star of this game wasn't through the air. It was on the ground as Baylor tore the Lumberjacks up for a combined 268 yards and 4 touchdowns. Our own Matthew Postins is an SFA alum who was at the game and unfortunately, he couldn't drink on the sidelines, but I am sure he could have used a couple after the game.
Kansas State (Beat Nicholls 49-14)
The Wildcats really impressed me on Saturday. I thought they would win by one or two scores and they came out swinging on Saturday night. QB Skylar Thompson looked confident and managed the game well but how about that Kansas State rushing attack? They steamrolled Nicholls to a tune of 361 rushing yards and 5 rushing scores. RB James Gilbert led the attack with 115 yards and a score, but it was a more of a collective effort that helped do that. Also, give some credit to that Kansas State offensive line for paving running lanes. Defensively, the Wildcats shut out Nicholls in the first half before giving up a couple scores when the game was well in hand.
Texas (Beat Louisiana Tech 45-14)
I have seen some people call this a "Sluggish" or "Sloppy" win which to me is funny considering this is one of the biggest wins for Texas in a while in terms how much they won by. Texas hasn't beaten opponents by 30 or more very often in the last few years and in fact, they last time they beat an opponent by 30 or more was back in the 2017 season when they Beat Baylor 38-7. Terry Bradshaw should take his foot out of his mouth because Sam Ehlinger was fantastic throwing for 276 yards and 4 touchdowns. Not to mention wide receiver Brennan Eagles who had a career day hauling in 2 touchdown passes. Sure, the defense gave up way too many passing yards but when you only give up 14 points, it is hard to complain. This was a good win to head into next weekend when the Longhorns host LSU, which is also where College GameDay is heading.
Oklahoma (Beat Houston 49-31)
What a game for the Sooners. I must start with QB Jalen Hurts. Hurts was superman in this game as he piled up 508 yards (332 passing/176 rushing) and 6 touchdowns (3 passing/3 rushing). He picked up right where Baker Mayfield and Kyler Murray left off. The offense didn't skip a beat as Lincoln Riley's offense toasted the Houston defense to a tune of 686 yards and 49 points. Also, Jalen Hurts becomes only one of two players who have thrown for over 300 yards and 3 passing touchdowns as well as rush for over 150 yards and 3 rushing scores in the last 15 years. Not a bad debut huh?
All this offensive talk shouldn't shadow what the Sooners defense did in Alex Grinch's debut as the DC. Ok, the defense gave up 241 rushing yards, but they kept the Cougars passing offense in check. Hell, they only gave up 10 points at halftime. That doesn't happen as often as it should with this program. While the had some bad moments (Especially all the penalties that kept drives alive), the energy and effort looked much better Sunday night. Energy and effort that was non-existent last season and in previous years. Remember, this defense was statistically last in nearly every category imaginable last season. This is no overnight fix. Rome wasn't built in a day and neither is the Oklahoma defense. But this was a big step in the right direction.
The Bad
TCU (Beat Arkansas-Pine Bluff 39-7)
I get TCU won by 32 points at home, but they should have won by at least 50 on Saturday night because it was a sloppy performance overall by the TCU offense. The defense was great which is no surprise, but I am not sure where to start with this offense. How about the seven fumbles on the night. That's right, SEVEN fumbles. Luckily the Horned Frogs only lost two of those but still, there is no excuse to put the ball on the ground that many times. QB Alex Delton struggled completing less than 50% of his passes but he did somehow manage to lead TCU in rushing with 67 yards. QB Max Duggan came in and looked better than Delton but he still made a few mistakes out there but that's expected from a true freshman. The ground game was good as they rushed for 200 yards but between the fumbles and mediocre quarterback play, it was a sloppy performance by the offense. I have been on record saying this but if TCU decides to keep rolling with Alex Delton at quarterback, then they will have another mediocre season. I know I am being blunt but that's just how I feel.
The Ugly
Iowa State (Beat Northern Iowa 29-26 in 3 OT)
I am almost at a loss for words here. It's not often when a team wins, and they end up in the ugly column, but this is one of those rare exceptions. First off, the defense is excluded from this topic. They played more than good enough to win in the first four quarters to the point that this game shouldn't have even went to overtime. Iowa State had six offensive drives in the first half that resulted in just a measly three points. Then up 10-6, Brock Purdy fumbled the football as he attempted to throw it and instead it was picked up for a scoop and score for UNI to take a 13-10 lead heading into the fourth quarter. Luckily, Iowa State hit a field goal with a minute left to help send this game into overtime. 
There, both teams traded blows until the third overtime. In the third overtime the Cyclones were down by a field goal needing a touchdown to win. As they were driving down towards the goal line, RB Sheldon Croney Jr. fumbled the football at the 1-yard line and somehow QB Brock Purdy was able to recover it. On the following play, Croney took it in for the score to win the game. Offensively, this was a disaster. The stats look good but watching it, there were so many times were drives would stall due to self-inflicted things whether it was penalties, dropped passes or just mental breakdowns. The Cyclones didn't look like a Big 12 contender on Saturday and we will see if that can change before we get into conference play.
**We now have FREE Big 12 Forums here at Heartland College Sports. Go sign up here and join our conversation! **