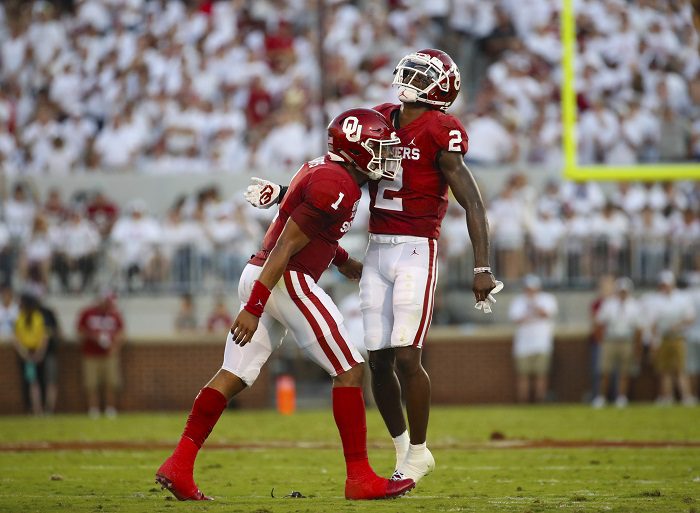 Baker who? Kyler who? That's what OU fans are saying as they walk out of Gaylord Memorial Stadium on Sunday night following a season-opening 49-31 win over the Houston Cougars.
Jalen Hurts, who was our Big 12 Preseason Offensive Player of the Year pick, is the latest transfer quarterback to take over as the signal caller for the Oklahoma Sooners and has huge shoes to fill as he follows two Heisman Trophy winners and No. 1 draft picks in Baker Mayfield and Kyler Murray.
But of Hurts was feeling the pressure in trying to be the next in line on this list, he sure didn't show it. OU's first drive went three plays and 61 yards for a touchdown, ending with Hurts' 14-yard hook up to Jeremiah Hall. From there, it felt like the route was on. Following a missed field goal, OU then put together a methodical 11-play, 89-yard drive that was capped off with Hurts scoring on a one-yard run.
Next drive, the fireworks started. Houston had a massive breakdown in its secondary, resulting in Hurts throwing a 45-yard dart to CeeDee Lamb for a touchdown and a 21-0 lead at the 8:09 mark in the second quarter.
#Hurts2Lamb – we will see plenty of this in 2019. #BoomerSooner pic.twitter.com/XbDay89Woj

— Heartland College Sports (@Heartland_CS) September 2, 2019
Hurts' only real blemish came on the following drive when after a 15-yard run he fumbled the ball, which was recovered by the Cougars. Houston converted that turnover into a field goal and the Sooners led 21-10 going into the half. Hurts finished his night going 20/24 with 332 passing yards and three touchdowns, while racking up 176 rushing yards on 16 carries and another three touchdowns.
Hurts set an Oklahoma record for total yards in Sooners debut with 508 total yards, breaking Baker Mayfield's 2015 record of 396 yards (vs. Akron in 2015). He also joined Kyler Murray as the only other Oklahoma player with 300 passing yards and 100 rushing yards in a game. Good company.
After the game, Hurts told ABC, "It was kind of sloppy at times, we've just got to do better." If the expectations were not met by this offense, then watch out. Hurts is a man on a mission.
But not to be overlooked in the first half was defensive coordinator Alex Grinch's new-look defense in Norman. It was high-flying and full of swagger, something this side of the ball had not seen in a long time in Norman. Linebacker, and Preseason Big 12 Defensive Player of the Year, Kenneth Murray was all over the field, finishing the game with a team-best 13 tackles. It was his 10th game with double-digit tackles in the past two seasons.
The final score and box score does not tell the whole story, but the Sooners defense shut down D'Eriq King, Houston's quarterback who had 50 touchdowns in 11 games last season. While he did get into a bit of a flow in the second half, he was under pressure and erratic most of the game, finishing with 167 passing yards, 103 rushing yards and three total touchdowns, with most of those coming after OU went up 35-10 halfway through the third quarter.
Sure, this OU defense is going to be facing a higher caliber of offensive lines (and offenses) in Big 12 play, but if this front seven can live up to the hype, then OU can absolutely go from a College Football Playoff contender to a National Title contender. It was never a question of talent on this side of the ball, as the Sooners had plenty of four and five-star players on defense, but the execution and development had not been there in recent seasons.
As the Sooners begin their third season under Lincoln Riley's guidance, with a third quarterback and new defensive coordinator, it's remains clear this is still OU's conference to lose.
**We now have FREE Big 12 Forums here at Heartland College Sports. Go sign up here and join our conversation! **