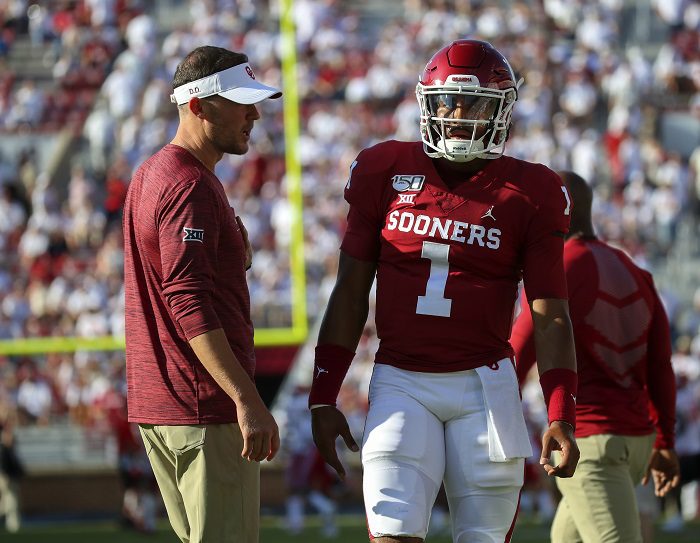 Here is everything you need to know about the Oklahoma Sooners and their home game with South Dakota on Saturday.
Game Info
6 p.m. Central Time, Sunday, Sept. 7, 2019, Gaylord Family – Oklahoma Memorial Stadium, Norman, Okla.
TV: TBA (probably SoonerSports.com or something like that)
Radio: KOMA 1520 AM & KRXO 107.7 FM; FREE ONLINE: TuneIn.com
Key players
South Dakota (0-1)
WR Kody Case. The redshirt sophomore may have a beach-bum haircut but there's nothing beach-bum about his game. In his season debut against Montana last week he caught 11 passes for 144 yards and two touchdowns. That's the kind of explosion the Coyotes need as Case had 42 career catches in two seasons entering 2019.
LB Jack Cochrane. After finishing last year second on the Coyotes with 82 tackles, the junior started 2019 with a flourish with nine tackles and an interception. He's a rangy linebacker with good coverage skills who is likely to get some face time with players like Jalen Hurts and Trey Sermon on Saturday.
QB Austin Simmons. An honorable mention all-MVFC honoree last year, he led the Missouri Valley and ranked fourth nationally in FCS with 3,124 yards passing during the regular season. That yardage total was the second highest in South Dakota history. He started the season against Montana with 246 yards passing, 2 touchdowns and an interception in the Coyotes loss to the Grizzlies.
Oklahoma (1-0)
QB Jalen Hurts. What more is there to say about Hurts' debut on Sunday night? Well, Hurts had 508 total yards on the evening, the fifth-most for a single player in OU history. He threw for three touchdowns and he rushed for three touchdowns. He was 20-of-23 passing for 332 yards, along with 176 yards rushing on 16 carries. What is he going to do for an encore? If the game goes the way I think it will, Hurts won't put up those kinds of numbers because he won't play the entire game.
WR Charleston Rambo. The young wide receiver made quite the impression on Hurts and the Oklahoma coaching staff on Sunday, as he caught three passes for 105 yards and a touchdown. Is the redshirt sophomore ready to break out? He had just eight receptions a year ago. If he does, that could be a huge boon to the Sooners and their receiving corps.
LB Kenneth Murray: After Sunday's game Murray talked about how defensive coordinator Alex Grinch has "uncomplicated" the Sooners' defensive scheme. Murray showed up in a huge way in his 2019 debut with a team-leading 13 tackles (seven solo), half-a-sack and 2.5 tackles for loss. It wasn't just the production. It was the WAY he did it that impressed observers. He attacked ball carriers. He produced big hits. He was in the right place at the right time.
DT Neville Gallimore: The weight Lattimore shed during this offseason has made him a quicker player and Sunday's game was proof of that. I watched from the end zone in the first half as Lattimore consistently shed blockers and pursued Houston quarterback D'Eriq King in the backfield. It didn't lead to big numbers (he had just one tackle, which was also a sack). But he was in the backfield all evening, and that's what the Sooners want defensively.
Key storylines
South Dakota
The Coyotes are coming off a 4-7 season, but in 2018 they were competitive with Kansas State in a 27-24 loss in Manhattan. The year before that, in 2017, the Coyotes won eight games and reached the second round of the FCS playoffs, losing to Sam Houston State. But that playoff berth was the first in program history for the Coyotes, so their next step is to try and produce winning on a consistent basis. The loss to Montana wasn't a huge surprise. The Grizzlies have been a consistent Top 25 team in FCS.
Oklahoma
Something to keep in mind going into the South Dakota game is how the OU defense played overall. Sure, they had some lapses in the second half and even their coordinator, Alex Grinch, admitted that. But what those that follow the Sooners want is overall improvement, and the seeds are there. The offense flew faster to the football, took better lines to ball carriers and overall made fewer mistakes. Houston did end up with 408 yards, but much of that came in the second half. At halftime the Cougars had just 87 total yards. That win was something for this defense to grow on.
Prediction
Oklahoma 62, South Dakota 17. Expect the starters to get a lot of time on the bench in the second half. OU should have this in hand by halftime, if their performance against Houston is any indication.
Powered by RedCircle
**We now have FREE Big 12 Forums here at Heartland College Sports. Go sign up here and join our conversation! **