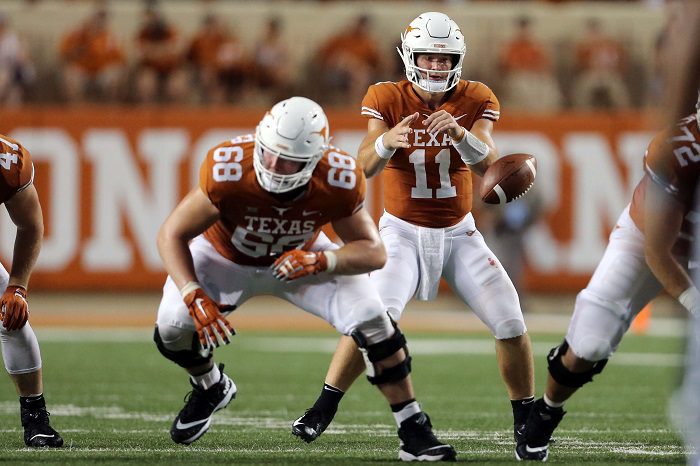 Here is everything you need to know about the upcoming Big 12 game in our Texas vs. LSU preview and prediction.
Game Info
6:30 p.m. Central Time, Saturday September 7th, 2019, Darrell K. Royal-Texas Memorial Stadium, Austin, Texas.
TV: ABC
Texas Radio: Longhorn Radio Network (PxP: Craig Way)
Spread: LSU -5
Fun Fact: Since 2013, Texas has only gone 2-0 in their first two games once (2016). Also, since Tom Herman has taken over at Texas (2017-Present), he is 8-2-1 against the spread as an underdog.
Key Players
LSU
QB Joe Burrow
While he had his up and downs last season, there is no doubt Joe Burrow is LSU's best quarterback in years. After years of struggling in the passing game, it appears that the Tigers have someone who can throw the ball a little bit. In fact, last week against Georgia Southern, Joe had five touchdowns passes in the first half. Since hiring former New Orleans Saints offensive assistant Joe Brady as the passing game coordinator, LSU has shifted their offense to a modern spread approach to help get them out of the stone age. I am sure Joe Burrow has been thrilled so far with the hire and with some running back questions on offense, Joe will likely have to throw the football plenty if he wants his team to win this one.
OLB K'Lavon Chaisson
He is without a doubt the Tigers best pass rusher on the edge. After a great freshman season back in 2017, K'Lavon missed almost the entire 2018 season due to a torn ACL. Now back from injury, he looks to terrorize the Texas offense all game long. Also don't think the Longhorns forgot about his comments on Texas quarterback Sam Ehlinger early in the week as he said, "I don't find him too much of a threat, that's not a shot at him but he uses his legs more than his arms."
Texas
QB Sam Ehlinger
I am sure Sam already has the quote from K'Lavon Chaisson posted in his locker as he just got done taking the one from Terry Bradshaw down. It is kind of funny for someone to say that as Sam has thrown for 27 touchdowns in his last 14 games. Of course, we all know what Sam can do in the run game, especially in the red zone but let's not get too carried away here with the Tebow comparisons. Sam is a much better passer than Tebow. But at the end of the day, it doesn't matter whether he uses his arms or his legs and do you know why? It's because Sam Ehlinger is a good quarterback period. Also, with all the injuries at running back, Sam could see plenty of carries in this game.
LB Joseph Ossai
Since LSU is taking on a more modern spread approach, I thought it would be good to key a player like Joseph Ossai for the Texas defense. Ossai is the best edge rusher the longhorns have, and he showed plenty of flashes last week against Louisiana Tech. While he may not have padded the stat sheet, he showed why he is so highly regarded in that ball game. Much like K'Lavon Chaisson for LSU, Joseph Ossai will have to be that disruptive force for the Texas defense to make Joe Burrow uncomfortable.
Key Storylines
LSU
Stop the run. Don't let Texas wear down your defense and control the game at home. Make the offense work for their points. As the road team, the best thing you can do is jump out to an early lead and take the crowd of one hundred thousand plus out of the game. If they believe Sam Ehlinger isn't someone who can beat them with is arm, then make him sling the ball around as much as possible. Don't let him escape the pocket and make him earn every yard.
Texas
I think Texas needs to find out just how good this "Spread offense" truly is. Is it that much different or was the Georgia Southern game a fluke due to the talent difference? Texas needs to pressure LSU quarterback Joe Burrow and with an LSU offensive line that struggled to protect Joe last season, get to him as much as possible. I am sure Todd Orlando has something up his sleeve for this one.
Prediction
LSU 31, Texas 27
At the end of the day, the defenses will dominate in this game. I don't think either team will have more than 130 rushing yards and both teams will force the opposing quarterbacks to beat them with their arm. With the injuries Texas has at running back now, I think even more pressure will be put on Sam Ehlinger to perform and against a top team like LSU, I am not sure if he will be enough to put them over the top. Also, while Texas has talent at corner, they are still young and outside of Jalen Green, I am not sure who Texas can rely on against the LSU wide outs. I think LSU has the better team overall and the Tigers will escape Austin with a win.
Powered by RedCircle
**We now have FREE Big 12 Forums here at Heartland College Sports. Go sign up here and join our conversation! **