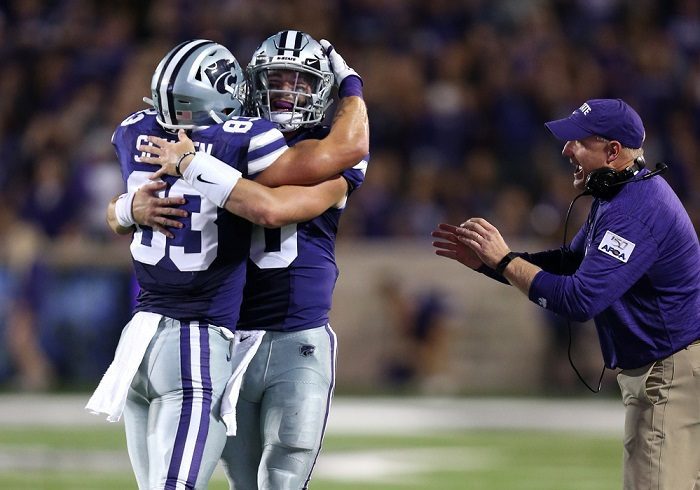 Chris Klieman is one game into his tenure as the Kansas State Wildcats head coach, but the more I hear from him, and the more we get to learn about his style on and off the field, I couldn't help but wonder whether or not Klieman is basically a modern-day Bill Snyder?
What triggered this thought was a quote of Klieman's I read from GoPowerCat, where he was asked about allowing cameras in the locker room, to which Klieman said, "We've got a great fan base. We have people that really want to be a part of these guys' story, these guys' journey. In the right setting, I think it's a great thing and something for our fans and people to be a part of the journey that these guys are going on, I think it's pretty cool."
First off, could any K-State fan imagine the day where your head coach would be cool with cameras in the locker room?! That is as anti-Bill Snyder as it gets. But despite his different approach to today's media landscape, as Klieman got going in Game No. 1 on Saturday against Nicholls, and yes it was Nicholls, it was also clear that he is not looking to turn Kansas State football into something it isn't. It's this unique combination of keeping the elements of what makes Kansas State great, while bringing in into the college football world of 2019.
The Wildcats piled up 361 rushing yards and four different players scored rushing touchdowns. Klieman and QB Skylar Thompson's bro-mance continued, with Thompson tossing for 212 yards and two scores. They were efficient, scoring on their first four drives and going 10 of 12 on third downs, while holding the ball for over 41 minutes on offense. Oh, and K-State had just two penalties for 20 yards. Read that box score and that's basically a Bill Snyder-coached team in its prime.
Now, let's go back exactly one year to Week 1 of the 2018 season when Kansas State needed two late scores to beat South Dakota. The Wildcats lost the turnover battle 4-0 and had 13 penalties for over 100 yards. The team was inconsistent and that theme continued throughout the season.
Meantime, on the recruiting trail, Klieman has Kansas State off to a nice start in 2020 with the 42nd ranked class in the nation and No. 6 class in the Big 12. Every single player that's committed to K-State is a three-star, hopefully overlooked, prospect, from Kansas, Missouri, Colorado and Texas. That was always part of Snyder's recruiting plan in finding the three-star diamonds in the rough, and of course with the JUCO route as well.
Obviously, athletic director Gene Taylor knew what he was looking for when he hired Klieman, and I've been high on this hire since the announcement and my hunch was only affirmed after being at the spring game in April. So while I'm not trying to overreact to one game against an FCS team, much of what took place on Saturday night confirms that Klieman appears to be the perfect guy to take over for a legend.
After the win, Skylar Thompson said, "All cylinders were firing today. I had a lot of fun today."
If things continue to progress as is, there will be plenty of cylinders firing and fun being had in Manhattan in 2019 and beyond.
Powered by RedCircle
**We now have FREE Big 12 Forums here at Heartland College Sports. Go sign up here and join our conversation! **