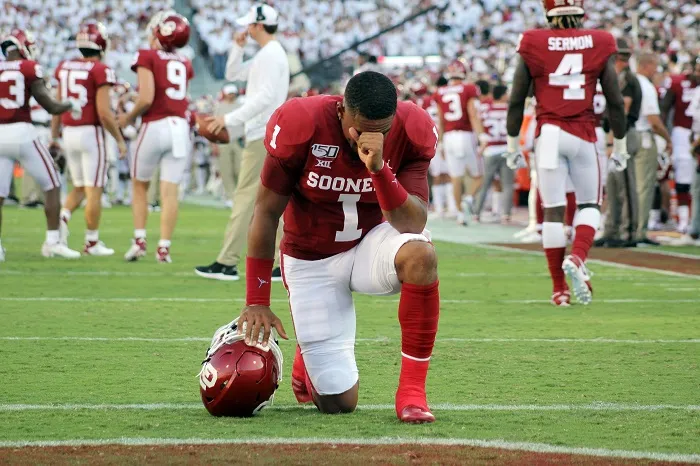 There was a point during postgame of Oklahoma's win over Houston that I wanted to walk up to Jalen Hurts, put my arm around him and say, "Hey, Jalen, it's OK to smile. You're not at Alabama anymore. They don't mind a little swag here in Norman.
I'm not sure it would have made much of a difference. But, to clear the air, Hurts DID smile Sunday night.
Just before pregame ended I was sitting on the north end zone getting ready to shoot the game for the College Football America Yearbook. As I sat there, Hurts made his way over and knelt to pray. He knelt there for 30 seconds. Then, he stood up, looked into the end zone crowd and, to no one in particular, smiled, winked and put his helmet on.
The smile, to me, conveyed something that Hurts said alluded to after the game.
He belonged there. Not in Norman, necessarily, although if you're going to transfer to another blue blood after living life in the pressure cooker of Alabama, Oklahoma isn't a bad place to land. It was more Hurts' desire to once again be a starter on the game's biggest stage. And after nearly two years in exile Hurts played not just like he belonged, but like he was making up for lost time. 
He had 506 total yards against Houston. He threw for three touchdowns and he rushed for three touchdowns. It seemed almost absurd, and it was no less absurd than those of us in the media room post-game trying to figure out where Hurts' performance ranked in Oklahoma history. Oklahoma provide this note after the game for context:
"His 508 yards of total offense (332 passing, 176 rushing) were the most by a player in an OU debut, surpassing the previous mark of 396 total yards by Baker Mayfield against Akron in 2015 (388 passing, 8 rushing). It was also the most by any OU player in a season opener and the fifth-most total yards by a player in program history."
Hurts obliterated the Bake Show's debut record. And Mayfield sat for a year learning the offense that frankly fit him like a glove. Hurts had less than nine months. Granted head coach Lincoln Riley knows how to set up his players for success. But Hurts played with pent-up energy, the likely result of losing his job in Alabama to a freshman and having to sit a year after losing the starting job before the 2018 season.
It's almost as if his mission Sunday night was to remind the rest of the country that he's pretty good at this. Mission accomplished.
Watching him from the end zone that first half I saw the running instincts that made him so hard to defend at Alabama in 2016 and 2017, when he led the Crimson Tide to the national championship game two straight year. That was before his sub-par first half in the 2017 title game led head coach Nick Saban to move to freshman Tua Tagovailoa in the second half. You know the rest. They were the same running skills that we saw in last year's SEC Championship game, when Hurts — who played the good soldier all season after losing the starting job — rescued the Tide when Tagovailoa went down with an injury.
Hurts rushed for 176 yards. That's amazing in a non-option system. The only quarterback in OU history with a better rushing game was Thomas Lott in 1976, who ran for 195 yards in Barry Switzer's wishbone attack.
When Hurts threw, Riley chose to put him in high-percentage situations. Remember — Hurts is still learning this offense, so the opportunity to allow him to get his feet wet in his first game, with positive reinforcement, was paramount for a player that hadn't started in 20 months. Hurts threw 23 times and completed 20. His long touchdown pass to CeeDee Lamb in the first half — one that I watched develop from the end zone — were an example of how Hurts' instincts may be improving behind center. He moved with the pocket, stepped up when he found an opening and hit the wide open Lamb streaking down the middle of the field (even Lamb said, after the game, that he couldn't believe how wide open he was). Hurts wasn't always the most patient passer at Alabama, but if he's added patience to his toolbox, well, that makes him so much more dangerous at the position.
That relationship between Hurts and Riley looks solid, too. I could see it after that first touchdown drive. Try to imagine Nick Saban walking with his quarterback with a smile on his face, as Riley was, even after a positive drive. That just doesn't happen. But there they were walking down the sideline, as comfortable as Riley and Mayfield were two years ago, or as comfortable as Kyler Murray (who was there on the sideline, by the way) and Riley a year ago.
We waited quite some time to talk with Hurts after the game. But it was worth the wait. For the first time I can remember the college player wore nicer clothes than the head coach. Riley showed up in his usual coaching gear and visor. Hurts showed up like he was headed for church after the game, nattily attired in a vest with a blue tie and white dress shirt with the sleeves rolled up. And that's when I realized that Hurts has swag, it's just a different kind. It's the kind that needs little affectation. It's the kind of swag that quietly walks into the room but demands your undivided attention.
Perhaps I should have seen that coming. When I was at Big 12 Media Days the players were already raving about Hurts' leadership and how he was conveying his experience at Alabama to his teammates. Hurts had been where they wanted to go — the national championship game. They already viewed him as a leader, as someone to learn from, as someone to emulate.
So Hurts wasn't animated post-game. So he treated each question as an "On to Cincinnati" type of response. So he didn't smile when he talked to Holly Rowe. Hurts is giving the Sooners what they need — a proven leader behind center who has been there and done that.
And the Sooners are giving Hurts something he's wanted for nearly two years — a chance to be the man once again.
Powered by RedCircle
**We now have FREE Big 12 Forums here at Heartland College Sports. Go sign up here and join our conversation! **