Big 12 News
Matthew McConaughey Named Guest Picker for College GameDay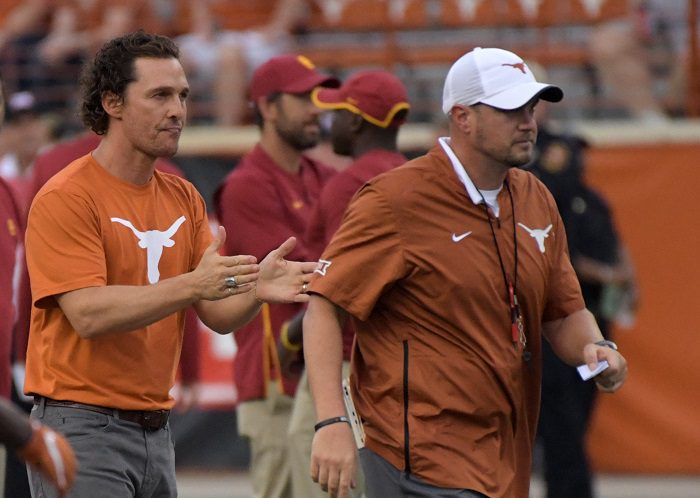 With Texas set to host its first College GameDay in ten years, the guest picker is going to be a fairly obvious choice: movie star Matthew McConaughey. McConaughey tweeted the news on Thursday.
Dear Longhorn Nation, LSU is coming to our backyard on the 40 and its time to get it on!!! I'll be the guest picker on ESPN's @CollegeGameDay this Saturday before the game. ESPN at 8am CT. OWN IT. Hook Em, mcConaughey

— Matthew McConaughey (@McConaughey) September 5, 2019
The Texas Longhorns host the LSU Tigers on Saturday in the biggest college football game of the season thus far.
The Longhorns beat Lousiana Tech on Saturday night and LSU hammered Georgia Southern, both as expected, setting up a top-ten match up in Austin.
College GameDay was a part of a Texas game last season for Texas vs. Oklahoma, but that game was, as usual, held in Dallas at the Cotton Bowl. But this is the first time the show is heading to Austin in ten years, when Texas Tech played at No. 2 Texas on September 19th, 2009, a game the Longhorns went on to win 34-24.
Interestingly enough, despite Texas' tradition, the Longhorns have only appeared in 16 College GameDay shows, ranking 19th, far behind Oklahoma's 36 (4th) and Alabama's 46 (1st).
The trash talk has also been real all week, with former LSU and current NFL running back Leonard Fournette with some harsh words for the Longhorns.
Texas vs. LSU will air on ABC on Saturday, September 7th, at 6:30 CST.
Powered by RedCircle
**We now have FREE Big 12 Forums here at Heartland College Sports. Go sign up here and join our conversation! **