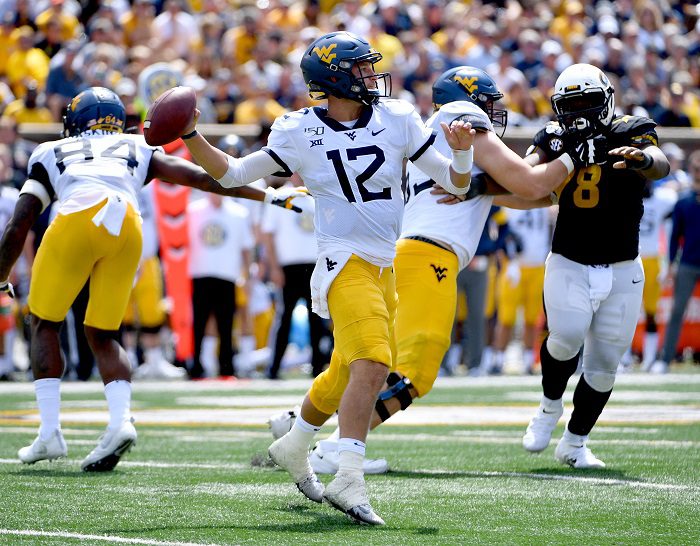 "West Virginia has got to get the running game going." This was my quote on the Heartland College Sports podcast (go rate, review and subscribe!) before picking the Mountaineers to lose to Missouri, but to cover the two-touchdown spread.
Unfortunately, that was not the case, and head coach Neal Brown opened his press conference after WVU got blasted by Missouri 38-7 on Saturday afternoon in Columbia by saying, "What's up, crew? Did you have a better day than I did?" Barring personal tragedy, the answer had to be yes.
The Mountaineers struggled mightily, continuing their inability to run the ball that began in Week 1 against James Madison. The Mountaineers finished with 30 rushing yards on 32 carries, good for .9 yards per carry, below last week's average of 1.4 yards per rush.
Sure, Mizzou has a really good defensive line and it was one of my biggest concerns for the Mountaineers heading into this game, but I thought some of the mojo from the second half would carry over into this weekend's road match up.
The Mountaineers also threw three interceptions, two coming from starter Austin Kendall, who sure did not look like someone who Lincoln Riley insisted was in a quarterback battle with Kyler Murray during the 2018 offseason. Kendall's first interception was a five-yard pass that just missed his receiver high left and was not close. The next interception came on the following drive. Both interceptions led to touchdowns for the Tigers, who were off and running with a 17-0 lead. Mizzou added two more scores before the half and the route was on with a 31-0 lead heading into halftime.
The second half went even more poorly for the WVU offense. The first few drives went as follows: Punt (-1 yards), punt (seven yards), punt (-7 yards) and a pick six from Jack Allison, who came into the game for a drive and made Austin Kendall look like Will Grier.
Brown encapsulated the unit's play well, commenting, "The offense was a mess until the fourth quarter, when we finally got physical for the first time in two games. … Where does it go from here? I'm not sure. Time will tell."
Time is certainly something WVU is going to need much more of before this team is winning at a consistent level in the Big 12. The defense didn't fare much better, giving up over 230 rushing yards to the Tigers, with Larry Rountree III leading the way with 99 yards on 18 carries and a touchdown.
Brown went on to say, "I'm very disappointed in our performance but I'm not discouraged."
It's only two games into the season, but it's hard to not be a fan and be discouraged by what this team has looked like thus far. That being said, even the most optimistic WVU fan had to understand this was a team heading for a rebuild. Sure, you could find scenarios where the Mountaineers made a bowl game, but this tough non-conference schedule is one of the reasons I thought the "under" on five wins for WVU seemed like the right bet. Neal Brown is the right man for the job, and the ceiling is higher than it was under Dana Holgorsen, but it's going to take time.
And based on the first two games, even five wins is starting to look like a reach in 2019.
**We now have FREE Big 12 Forums here at Heartland College Sports. Go sign up here and join our conversation! **