Baylor Bears
Big 12 Football Players of the Week: Sam Ehlinger, Jordyn Brooks Lead the Way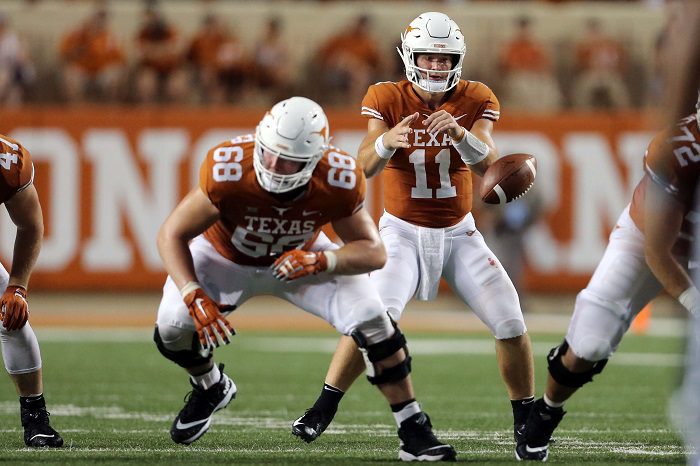 It's time to name our Big 12 Players of the Week as we look at the top performances on offense, defense and special teams. Yes, there are always several players to debate, but we try to make this as fair as we can, while backing up our decision with stats and facts.
Big 12 Offensive Player of the Week: Texas QB Sam Ehlinger
Sure, Texas would've liked the win over LSU, but none of it can be blamed on quarterback Sam Ehlinger. He completed 31 of 47 passes for 401 yards, with four touchdowns and zero interceptions. He also carried the team on he ground, piling up 60 yards on 19 carries with a running TD. Ehlinger now has eight passing touchdowns, two rushing scores and zero interceptions two weeks into the season.
Big 12 Defensive Player of the Week: Texas Tech LB Jordyn Brooks
Jordyn Brooks continues to be all over the field for the Red Raiders defense. He led the team with 11 tackles, which was also the most tackles of any player on a winning Big 12 team on Saturday. He's become a leader on this defense which is turning some heads in the early season, admittedly against mediocre competition. As Derek Duke writes in this week's Good, Bad and Ugly, "[Texas Tech] gave up only three points and allowed just 131 yards of offense to UTEP. How about this crazy stat, in their first two games Texas Tech has held opponents to just 3 for 31 on third down." Much of this can be credited to the play of Brooks.
Big 12 Special Teams Player of the Week: Baylor PR Grayland Arnold
Arnold had a 73-yard punt return in the second quarter for the Bears against UTSA, putting the route on with a 28-0 lead. The Bears are off to a 2-0 start and the contributions aren't just coming from the offense, but the defense, and even special teams, is having its moments. Let's now see it against stiffer competition.
Powered by RedCircle
**We now have FREE Big 12 Forums here at Heartland College Sports. Go sign up here and join our conversation! **