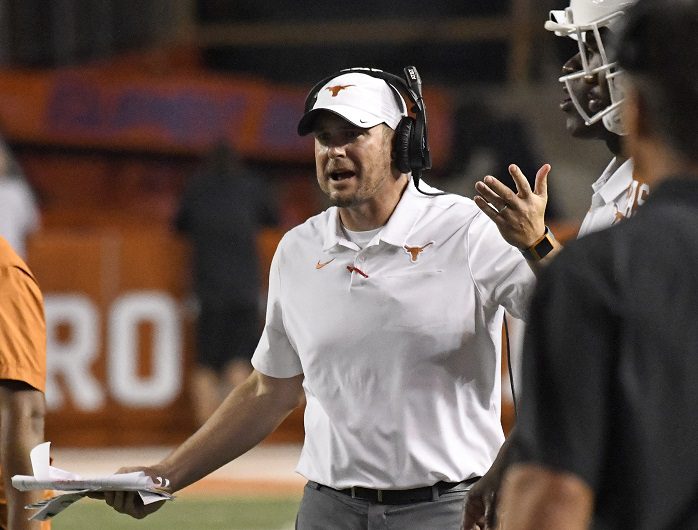 I hear it all the time, "Who has the best conference in college football?" SEC? Big 10? ACC? What about the Pac-12? Very rarely are you going to hear the words "Big 12" coming out of someone's mouth in that conversation. Whether you do it or not, there are plenty of folks out there who love to bash the Big 12 conference (cough, Paul Finebaum, cough). Week two has come and gone and in the Big 12, there is never just a normal weekend and that once again proved to be true this past weekend. From good games, to eye sores, there was some good, some bad and some downright ugly. Keep in mind that TCU and Iowa State were off.
The Good
Kansas State (Beat Bowling Green 52-0)
After rushing for 361 yards last week against Nicholls, the Wildcats followed that up with rushing for 333 yards on Saturday against Bowling Green. RB James Gilbert led the way once again with 103 yards on just 8 carries. QB Skylar Thompson managed the offense very well play completing 10 of his 13 passes and had 2 passing scores both to WR Malik Knowles. By the way, I know just two games have been played against sub-par opponents, but you are now looking at the number one rushing offense in the entire country heading into week three. As for the defense, not much more you can say besides "They were really good in this game." They held Bowling Green to just 140 yards, 0-11 on third down and most importantly, pitched a shut-out. Next week, the Wildcats will travel to SEC country to take on Mississippi State in Starkville.
Baylor (Beat UTSA 63-14)
Just like Kansas State against Bowling Green, the Baylor run game was the highlight of this mismatch. The Bears ripped the roadrunners for a tune of 368 rushing yards on the day led by backup QB Gerry Bohanon, RB Trestan Ebner and RB John Lovett. By the way, I know Baylor has played cupcakes up to this point, but the Bears have the number five rushing offense in the country heading into their bye week. Meanwhile QB Charlie Brewer didn't light up the passing sheet but he did manage to throw for 3 touchdowns that all went to WR Denzel Mims. Defensively, the Bears did what they needed to do by shutting UTSA out until garbage time when they were up 49-0. No defensive breakdowns for Baylor and no big plays given up for scores. That's what you want to see if you are a Baylor fan.
Oklahoma State (Beat McNeese State 56-14)
After an A.J. Green pick six to put the Cowboys up 7-0 early, the Cowboys offense sputtered coming out of the gate as their first two drives started off with a punt and a Dillon Stoner fumble. Then the offense picked up scoring touchdowns on three out of their last four drives to take a 28-0 lead into halftime as they never looked back. QB Spencer Sanders shined throwing for 250 yards and 3 touchdowns and led the team in rushing with 51 yards. Meanwhile, WR Tylan Wallace once again showed why he is one of the best wide outs in the entire country as he had 180 receiving yards and 3 touchdowns to finish his day. The Cowboys defense looked better this week and I know the opponent wasn't great, but the Pokes held McNeese State scoreless in the first half before allowing a couple scores when the game was well in hand.
Oklahoma (Beat South Dakota 70-14)
Not much to say here. We all know the score would be similar to this beat down the Sooners gave out. Quarterbacks Jalen Hurts, Tanner Mordecai and Spencer Rattler all lit up the Coyotes defense with a combined 423 yards through the air and 6 touchdowns. Meanwhile, Oklahoma ran for a whopping 310 yards with Rhamondre Stevenson leading the way with 104 yards and a score. Also, it was cool to see all three freshman receivers score between Theo Wease, Trejan Bridges and Jadon Haselwood. Not to mention, CeeDee Lamb who had a monster game with 144 yards and a touchdown as well. As for the defense? They looked good given the opponent and how about Bookie with that pick six?
Texas Tech (Beat UTEP 38-3)
While Texas Tech didn't win by more than I thought they would, beating a group of five team by 35 points is more than good enough for me. QB Alan Bowman didn't have his best performance but he still managed to finish with 260 yards and 3 touchdowns. The run game was alright with 160 yards on the ground as no back had more than 50 yards rushing with the carries being split. It was also nice to see WR T.J. Vasher catch two touchdown passes as well. Once again, I must praise this Texas Tech defense. They gave up only three points and allowed just 131 yards of offense to UTEP. How about this crazy stat, in their first two games Texas Tech has held opponents to just 3 for 31 on third down.
The Bad
Texas (Lost 45-38 to LSU)
It wasn't all bad for Texas considering QB Sam Ehlinger had a huge game with 401 passing yards and 5 total touchdowns against a "Top of the line SEC defense". Plus, wide outs Devin Duvernay and Brennan Eagles had career games combining for 270 receiving yards and 3 touchdowns. However, the mistakes on offense mounted up as Texas had two drive opportunities to score inside the LSU five-yard line but came up short on two fourth down drives and one was a bad drop by RB Keaontay Ingram. Outside of the first quarter, the Texas offense moved the ball well but as you will soon see, that was not the problem for Texas. It was this Texas defense and more specifically the secondary that got torched last night. LSU QB Joe Burrow racked up 471 passing yards and 4 touchdowns against the Longhorn defense including a crucial third and long completion that went for a 61-yard touchdown to put the Tigers up 45-31 with just a little over two minutes left to play.
LSU had three wide outs (Justin Jefferson, Ja'Marr Chase and Terrace Marshall Jr.) that combined for a whopping 433 yards and 4 touchdowns. I think it's time for Texas to burn those "DBU" shirts now. Also, I thought on the most important third down of the game (Third and long for LSU with a little over 2 minutes left to play with Texas down by 6), DC Todd Orlando made a huge mistake brining pressure and left his corners out to dry. I am no defensive guru, but I thought that was just one of the many mistakes Texas made on Saturday night. The good news is that Texas can still reach their goal of winning a conference title, but their playoff chances took a hit by losing this one at home (If they ever had a playoff chance depending on who you ask). 
The Ugly
West Virginia (Lost 38-7 to Missouri)
Wow. I picked West Virginia to finish eighth in the conference back at Big 12 Media Days and now I am wondering if I maybe had them ranked too high. Neal Brown said this was going to take some time to get going where it needs to be, but my goodness, this was tough to watch on Saturday. Not exactly how I wanted to start my day in the Big 12, but I watched almost every second of this game. Let's start with the defense (it's not like it was much better than the offense). After forcing Missouri to punt on their first drive, the Mountaineers defense gave up five-consecutive scoring drives allowing the Tigers to rack up 31 points at the half. I know the offense didn't help at all, but the defense was just flat worn out heading into halftime. Missouri let off the gas pedal a bit in the second half, but West Virginia did shut them out since their only score was from a Jack Allison pick six.  
Offensively, this was an eye sore and then some. I must start with this run game. After for rushing for only 34 yards on 24 carries against James Madison last week, the Mountaineers followed that up by rushing for 30 yards on 32 carries. West Virginia has one of the best backfields in the entire Big 12, yet the offensive line isn't capable of opening up running lanes. It's a sad sight to see, that's for sure. As for QB Austin Kendall, he had a very rough game. He had some pressure on him, but he threw two costly picks in the first half to really put them behind. Overall, the offense had a total of 171 yards in this game. That's not going to get it done and if the Mountaineers continue to struggle running the football, then even more pressure will be put on Austin Kendall to move the offense. That appears to be a recipe for disaster right now. I hope Neal Brown can get something going with this offense soon. For the fan's sake. 
Kansas (Lost 12-7 to Coastal Carolina)
After picking Kansas to win by double digits, I must say that I feel like a complete moron now. I'll start by saying this, the defense wasn't all that bad for Kansas. They allowed too many rushing yards but holding your opponent to just 12 points? That's more than enough to win a game, especially at home. So, kudos to the Jayhawk defense for doing their part in this game. As for the offense, this was a complete disaster. After marching down the field on the first drive and scoring a touchdown thanks to a Khalil Herbert 41-yard touchdown run, the offense went scoreless on their last eight drives to finish the game. How in the hell does that happen? I mean QB Carter Stanley had two backbreaking interceptions and the offense was about as stale as a month-old loaf of bread that may or may not be sitting on my counter as I type this. Not to mention going 0 for 3 on fourth down conversions.
Ok, the running game wasn't all that bad with Pooka Williams Jr. and Khalil Herbert, but this offense had no life and I honestly have no clue what exactly the game plan was from this coaching staff. This game was handed to the Jayhawks on a silver platter and yet they still found a way to blow the game. Also, I am now starting to wonder how bad is backup quarterback Thomas MacVittie? Could he have been any worse than Carter Stanley in that game? Is Carter Stanley the best quarterback on that roster? Is he a guy that can win ballgames? Well, we are about to seriously find out as Kansas has a date on the road against Boston College on Friday night.
Also, I want to mention the HORRENDOUS clock management on the Jayhawk staff. They faced a fourth and four on the Coastal Carolina 17-yard line down by five with over 14 minutes to go left in the game. Keep in mind the Jayhawks have two timeouts left. Kansas calls a timeout; Coastal Carolina calls a timeout and what do the Jayhawks do? Call their last timeout to make it three consecutive timeouts. Whether they were going to kick or not, how in the hell do you waste your final two timeouts in that scenario? Unfortunately, we can no longer blame David Beaty for this poor performance I watched. I don't know who I am more disappointed in on Saturday night, me for watching this entire game or Les Miles.
Powered by RedCircle
**We now have FREE Big 12 Forums here at Heartland College Sports. Go sign up here and join our conversation! **