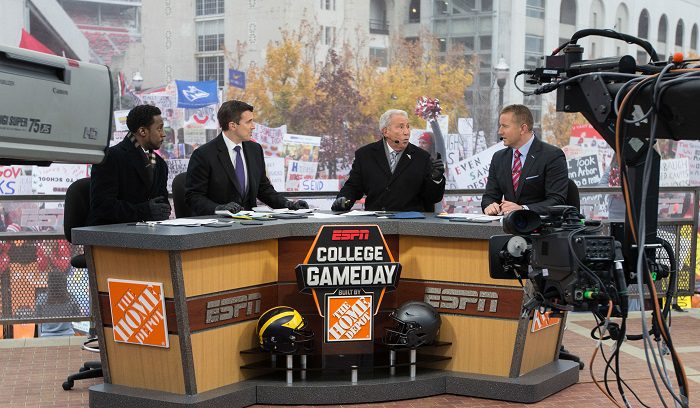 For a second-straight week, College GameDay is heading to a Big 12 game. As first reported by Randy Peterson at the Des Moines Register, GameDay is heading to Ames, Iowa for the Week 3 match up between Iowa State and Iowa.
This past weekend, the show was in Austin, Texas for the highly-anticipated match up between Texas and LSU. Matthew McConaughey was the guest picker and the signs were pretty fantastic as well. Iowa State fans will need to figure out how to top them.
But for the Cyclones, this has been a game they've circled on the calendar for several months in hopes that the popular show would end up in Ames. The other best option appeared to be Clemson and Syracuse, who were both ranked in the Top 25 coming into the week, but Syracuse was blown out by Maryland on Saturday.
For Iowa and Iowa State, both teams are ranked and undefeated, with the Hawkeyes beating Miami Ohio and Rutgers, while Iowa State got by Northern Iowa in Week 1 and had a bye week in Week 2.
The thought of Kirk Herbstreit, Lee Corso, Desmond Howard and Rece Davis sitting in Ames has to make any reasonable Big 12 fan smile. Who honestly thought we'd ever see the day? Even most Cyclones fans have to admit this is not something they thought they'd see any time soon. All of this remains a testament to what Matt Campbell has built in Ames in just a few years.
I'm just overly curious as to who is going to be the guest picker this weekend?
**We now have FREE Big 12 Forums here at Heartland College Sports. Go sign up here and join our conversation! **