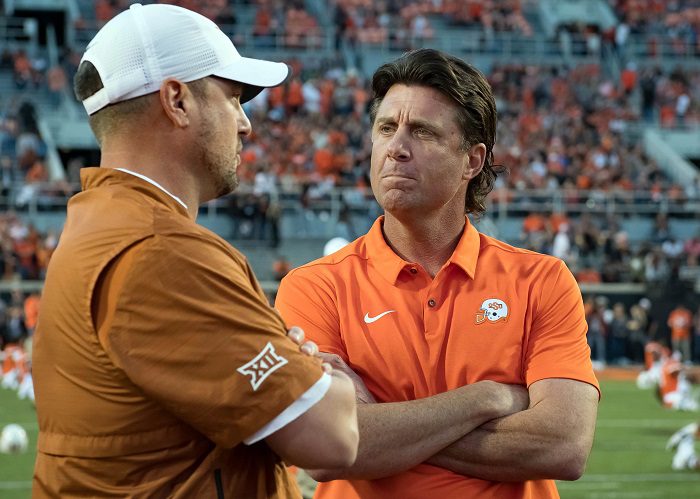 Ah yes, it's that time of year when the Big 12 Football Power Rankings return to Heartland College Sports. A reminder that these can flux drastically from week to week. These are not supposed to be a mirror image of that week's standings. It's based on the previous week's performance and the opponent when compared to the rest of the conference. So with Week 2 in the books, let's get into this week's Big 12 Power Rankings.
1. Oklahoma Sooners (Last Week: 1)
After the Sooners took care of business against South Dakota 70-14, there was no reason to move OU out of the top spot. The Sooners continue to look like the team we expect: a stud quarterback (speaking of which, how about Jalen Hurts with more touchdowns this season, 9, than incompletions, 7) and an embarrassment of riches at the offensive skill positions. It also looks like the defense is starting to improve, however we need to see this unit against better competition than what that's been thus far. And unfortunately, UCLA isn't the impressive competition we need to see to know how much impact Alex Grinch is having on his side of the ball.
2. Oklahoma State Cowboys (Last Week: 3)
Oklahoma State takes the No. 2 spot by a single point after rolling McNeese State 56-14. It seems that the consensus amongst HCS voters was that the Pokes still technically have the best win in the conference thus far. It was hotly debated, but for now, Mike Gundy gets his team into our Top 2. Tylan Wallace continues to show why he is possibly the best wide out in America with 180 receiving yards and three scores, while Spencer Sanders keeps getting comfortable and is providing the dual-threat ability (250 passing yards, 51 rushing yards), that the Pokes aren't necessarily used to seeing.
3. Texas Longhorns (Last Week: 2)
The Longhorns fall to the No. 3 spot this week by a single point behind Oklahoma State. Texas lost a shootout to LSU 45-38 on Saturday night in Austin. Sam Ehlinger was named our Big 12 Offensive Player of the Week, but that was not enough as the defense had a lot of issues, especially in the secondary. Granted, Joe Burrow and the LSU offense is legit, and this team might be a National Title contender. As I said in this week's Big 12 Week 2 podcast, this game tells me more about LSU than it does about Texas.
4. Baylor Bears (Last Week: 4)
The Bears have the softest non-conference schedule in the Big 12, but they're doing what they're supposed to do. They piled up over 360 rushing yards against UTSA on Saturday and the defense didn't allow a single point until garbage time. Plus, there was a quality special teams play as well with a Grayland Arnold 73-yard punt return for a touchdown, earning him our Player of the Week honors. It's tough to get a feel for what exactly the future holds for this team, but so far, Baylor fans have to be thrilled.
5. Kansas State Wildcats (Last Week: 5)
The next three teams were separated by a combined three points in our polls (these Power Rankings are ranked by all five HCS contributors). Speaking of fan bases who have to be thrilled, are they saying, "Bill Who?" yet in Manhattan. I kid, don't worry K-State fans. But the Wildcats have scored over 100 points in two games, something that took them six games to do last season. No, I don't expect this pace to continue, but this team has a different edge to it that was missing the final couple of years under Snyder. There's no denying that and it's really fun to watch.
6. Texas Tech Red Raiders (Last Week: 6)
The Red Raiders are another team that hasn't played the best schedule, but has done everything it can possibly to do appease the fan base. They gave up only three points and allowed just 131 yards of offense to UTEP in a 38-3 win. How about this crazy stat, as noted by Derek Duke in our "Good, Bad and Ugly", in their first two games Texas Tech has held opponents to just 3 for 31 on third down. The Red Raiders step up the competition coming up with a trip to Pac-12 country to take on the Arizona Wildcats.
7. Iowa State Cyclones (Last Week: 7)
The Cyclones were the most hotly-contested team in the rankings this week. They were as low as eight in some rankings and as high as three. The Cyclones had an off week after barely beating Northern Iowa in Week 1. But this season can really get on the right track this weekend with College GameDay heading to Ames, or should I say, #CollegeAmesDay, as Iowa State hosts rival Iowa, who Matt Campbell is looking to beat for his first time since arriving in Ames.
8. TCU Horned Frogs (Last Week: 8)
The Horned Frogs also had Week 2 off following a Week 1 win over Arkansas-Pine Bluff. We'll learn plenty about TCU this weekend when the Horned Frogs go on the road to take on Big Ten opponent Purdue. The Boilermakers lost their season opener against Nevada, but bounced back last week vs. Vanderbilt, so this one will be a good challenge for the Horned Frogs.
9. West Virginia Mountaineers (Last Week: 9)
There was no debating the last two teams in the rankings. The Mountaineers were the consensus No. 9 team in the rankings after getting smoked in Columbia by Missouri. The Mountaineers averaged .9 yards per carry and don't exactly look like a team ready to keep up with Big 12 offenses this season. This is a rebuild for Neal Brown. And while some are upset at the reoccurring joke of, "Dana Holgorsen knew when to skip town," the reality is he did time his departure well. But I'd rather go through a season like this with Brown, who can take this team to new heights, than listen to Holgorsen's worn-out shtick all season long.
10. Kansas Jayhawks
Yikes. KU scored on its first drive against Coastal Carolina and never scored again in a 12-7 loss. Then, Coastal decided to celebrating in the visiting locker room and smack around a Jayhawk piñata. The defense looked halfway decent, but we've seen this Carter Stanley show before and it's not pretty. The Jayhawks will be an underdog the rest of the way this season and maybe Les Miles is starting to realize what a project this program is going to be to rebuild.
Powered by RedCircle
**We now have FREE Big 12 Forums here at Heartland College Sports. Go sign up here and join our conversation! **