Uncategorized
Jalen Hurts' Success at Oklahoma Shouldn't Surprise Anyone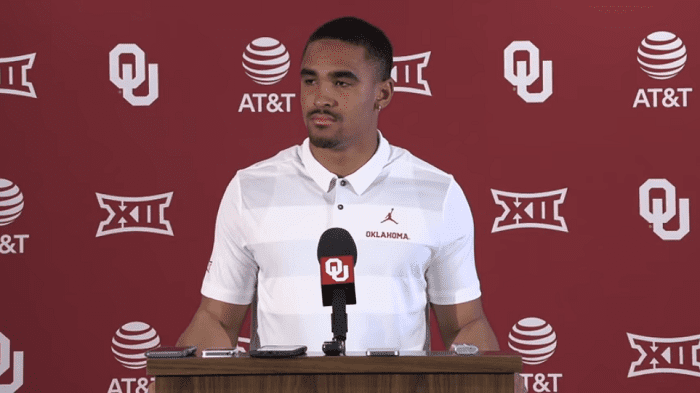 On August 31, 2019, Jalen Hurts put on a show, passing for three touchdowns and rushing for three more in what was a record-setting performance. But the light within Hurts didn't suddenly come on. It's been on—whether we've seen it or not—for his entire college career.
Fast Out of the Gate
In 2016, Jalen Hurts arrived on The University of Alabama campus ready to step into his role as a Crimson Tide quarterback. Hurts didn't waste any time establishing his leadership and capabilities as quarterback, leading the Tide to the CFP National Championship game (where they lost to the Clemson Tigers 35-31).
In 2017-2018, his sophomore year, it was more of the same quality play fans had come to expect from Hurts, and the Tide once again landed in the national championship game. Then, there was an unexpected and sudden sea change: Hurts was pulled at halftime and replaced by true freshman Tua Tagovailoa. Fortunately—or unfortunately, depending on your view—this freshman wasn't average. He was spectacular, leading the Tide to a down-to-the-wire 26-23 victory and solidifying his place as a contender for the starting QB position, despite Hurts history, experience, and dedication to the team. For Hurts, it was a crushing blow, though he handled it with grace, patience, and maturity beyond his years. Despite speculation and plenty of opportunities, he decided not to transfer but to stay with the Crimson Tide for another year.
Moments of Doubt
At that moment, everyone wondered what would become of Hurts. Would he lose his starting position? Would he transfer if Tua took over the starting role? The days and weeks following the game left most questions unanswered, though one thing was apparent: Hurts showed no ego, no selfish demands, and no impulsive moves. He took it in his stride, at least on the outside.
As fate would have it, he'd have at least one more chance to shine in a Crimson Tide uniform.
Fast forward to the 2018 SEC Championship game against Georgia. There was a notable lull in Tua's performance; things weren't clicking. Quite bluntly, the offense was a pure mess, riddled with sacks and broken plays. By the dawn of the 4th quarter, the Tide looked like it was slipping away. As the team gathered on the sidelines and broke huddle, it was Hurts who'd be jogging out to line up behind center. In what was a pleasant but ironic shock to most, the veteran Hurts was back in action at one of the most critical moments of the season, reversing the role from the previous year. This time, it was Hurts who would need to lead the team out of the hole that Tua had dug them. And that he did, leading the team to a comeback victory, celebrated by endless confetti and a beautiful SEC Championship trophy.
The moment was bittersweet for Bama fans, knowing that Hurts had done the Tide a great service sticking around for the entire season and that he would likely transfer at season's end. Ultimately, Hurts did transfer to Oklahoma, who named him the starting quarterback going into the 2019-2020 season.
A New Beginning
As Hurts lashed the Houston defence in the Sooners' first game, news feeds lit up with excitement and, again, pleasant shock. Apparently, no one had expected such a standout performance. However, those who played with him at Alabama, and those who'd played against him, shouldn't have been the least bit stunned. After all, Hurts had been an elite college quarterback from the time he arrived at Alabama. But what many fans and analysts remember most is the fall, that moment in the CFP against Clemson in 2018 when nothing—no pass, no draw play, no quarterback keeper—seemed to work out in the Tide's favor.
The point, though, is that the staggering and discombobulated play in that game was never indicative of Jalen's ability. It was an outlier game, a culmination of mishaps unlikely to occur again (at least to that magnitude). His performance in Week 1 was no fluke. In fact, Hurts should be a top pick for this year's Heisman trophy. The truth is that the Jalen Hurts that fans saw account for six touchdowns in a Sooners jersey is the same Jalen that's been around all along. With a cordial parting of ways with Alabama and a new college home where coaches believed firmly in his talent, Hurts was given everything he needed: another opportunity to lead and compete. As the first votes were tallied in the Heisman race, it was Hurts' name at the top, selected by a barrage of sports media members and analysts.
So, if Hurts explodes again this weekend—and even if he wins this year's Heisman—don't be surprised. It's been in the making for years, and this time around may be Jalen's ultimate redemption.