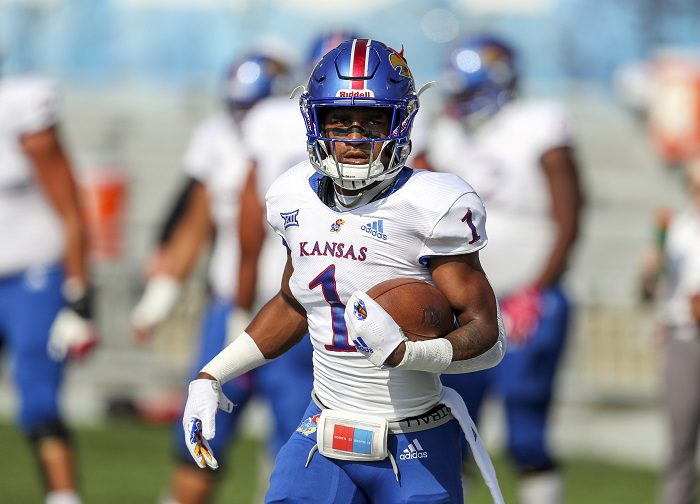 Here's everything you need to know about the upcoming Big 12 match up in our Kansas vs. Boston College preview and prediction.
Game Info
6:30 p.m. Central Time, Friday September 13th, 2019, Alumni Stadium, Chestnut Hill, MA
TV: ACC Network
Away Radio: Jayhawks Radio Network (PxP: Brian Hanni)
Spread (open): Kansas +18.5
Fun Fact: This is the first-ever meeting between the Kansas Jayhawks and Boston College Eagles.
Key Players
Kansas
QB Carter Stanley
After the Week 2 loss to Coastal Carolina, Stanley said, "Me personally, I let the team down today." This is true. Stanley had a rough day, going 13 of 19 for 107 passing yards and two interceptions as the Jayhawks scored on their first drive on a Khalil Herbert touchdown and never again. Les Miles confirmed Monday that Stanley is the starting quarterback, so that means its up to the QB to look more like the guy in Week 1 vs. Indiana State who went 20 of 29 for 241 yards, two touchdowns and zero interceptions.
LB Dru Prox
Prox is one of those rare players who was recruited to KU out of high school and is quietly developing into a very nice player for the Jayhawks. Through two games, he has 20 tackles, 1.5 tackles for loss and one sack. 10 of his 11 tackles against Coastal Carolina were solo. Prox will need to be busy on Friday night trying to wrap up A.J. Dillon.
Boston College
RB A.J. Dillon
Dillon is the Boston College offense. He was a First-Team All-ACC selection in 2018, finishing with 1,108 rushing yards and 10 touchdowns in ten games, becoming the first player in BC history to rush for over 1,000 yards in his first two seasons. He's taking care of business so far this season with 167 rushing yards and 63 receiving yards, with four total touchdowns through two games.
LB Max Richardson
Richardson finished last season with 76 tackles, good for third on the team, with nine tackles for loss and 2.5 sacks. He's looking to do even more damage this season. Richardson had 10 tackles against Virginia Tech in the season opener and last week against Richmond, Richardson finished with six tackles, 2.5 tackles for loss, and .5 sacks.
Key Storylines
Kansas
The problem has not been the defense, which has held it's own, it's been the offense. Les Miles is standing by Carter Stanley, for now, but another performance like last week vs. Coastal Carolina, and Miles will have to take a serious look at Thomas MacVittie. Boston College led the ACC with 20 interceptions last season (granted many of those players are gone), and after throwing two last week against Coastal, Stanley has to take care of the ball. BC was the 10th-ranked passing defense in the ACC last season, so Stanley may find himself with an opportunity or two. Also, getting Pooka Williams going early is key. He was suspended from the first game, so his opener was last week against Indiana State and he finished with 22 carries for 99 yards. Richmond got blown out by BC last week, but did run for over 200 yards, so let's see if KU can get it going.
Boston College
Run Dillon all day. Dillon must be licking his chops looking at what CJ Marable (who? I know) did against KU last week with 24 carries for 148 yards, good for over six yards per carry with one touchdown. This comes one week after Indiana State, as a team, rushed for 146 yards and nearly four yards per carry.
Prediction
Boston College 35, Kansas 14
Kansas hits the road against an underrated ACC team and it won't be pretty. Dillon is obviously the star of the Eagles, but their quarterback, Anthony Brown, is a talented multi-year starter who has six total touchdowns and zero interceptions on the season. KU is headed for another rough season, while BC has already piled up wins against Virginia Tech and a solid FCS program in Richmond. BC takes care of business.
Powered by RedCircle
**We now have FREE Big 12 Forums here at Heartland College Sports. Go sign up here and join our conversation! **