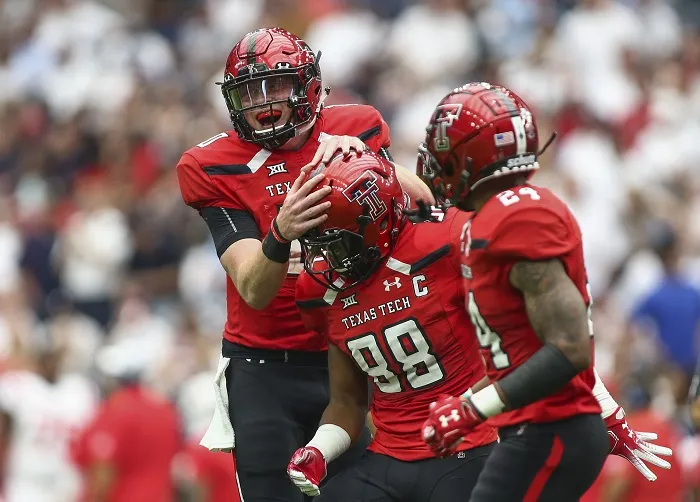 Here is everything you need to know about the Power 5 match up in our Texas Tech at Arizona preview and prediction.
Game Info
8:30 p.m. CT/7:30 p.m. MT, Saturday, Sept. 14, 2019, Arizona Stadium, Tucson, Ariz.
TV: ESPN (Jason Benetti, Rod Gilmore, Quint Kessenich)
Away Radio: Texas Tech Sports Network; Sirius 105/XM 200 (Brian Jensen, John Harris, Chris Level)
Home Radio: Arizona IMG Sports Network, Sirius 78/XM 198 (Brian Jeffries, Lamont Lovett, Dana Cooper
Texas Tech Head Coach: Matt Wells (45-34 overall, 2-0 at Texas Tech)
Arizona Head Coach: Kevin Sumlin (92-51 overall, 6-8 at Arizona)
Series History: Tech leads 26-4-2. Tech won the most recent matchup 24-14 in Lubbock during the 1989 season. These two teams were once rivals when they dominated the Border Conference from 1932-1955. Tech mostly dominated with a 15-1-1 record against the Wildcats before departing from the Border Conference in 1955.
Series in Tucson: Tech leads 12-3-2, with Arizona winning the most recent matchup 35-19 in 1988.
Opening Line: Texas Tech -2
Moneyline: Texas Tech -175/Arizona +155
Over/Under: 74 ½
Fun Facts: Texas Tech dominated the Border Conference with nine championships, including seven during its final 10 seasons as a member. Arizona secured three championships in 1935, 1936 and 1941. The first game of this series was played in 1932 with an attendance of 3,500. The game in 1988 featured a crowd of 46,334 fans.
Key Players
Texas Tech (2-0, W VS. UTEP 38-3)
QB Alan Bowman
Call it a cop out. Sure, I picked the player with a few Heisman whispers going on right now. There's a reason I picked Bowman this week. Yes, Northern Arizona scored 41 points on the Wildcats defense. However, there is a Wildcat who is leading the defense making a name for himself among the nation's leaders in interceptions. I'll tell you more about him in Arizona's key players. Arizona has six interceptions total this season As for quarterback play though, the perfect name for this rivalry is the Wild, Wild West. Why? Because with Kevin Sumlin and Texas Tech in the house together, the guns will be firing on all cylinders. It's only fitting for two schools located in a desert region.
LB Jordyn Brooks
He is our Player of the Week for Week 2 as he was the only player on a winning team with double digit tackles. It really wasn't even close. While Texas Tech should win this game in a somewhat easy fashion, Tech's defense must step up. Arizona has scored 103 points in its first two games. Even during their loss, they still put up 38 on the scoreboard. Kevin Sumlin runs an air raid offense, and the leadership for Texas Tech's defense has never been more crucial. Turnovers will be key and whichever defense is gassed first is the defense that is likely to lose.
Arizona (1-1, W VS. Northern Arizona 65-41)
QB Kahlil Tate
He is Mr. Everything for Arizona. Tate makes and breaks this team. In his career, Tate has thrown for 4,863 yards and 48 touchdowns. He's also thrown 22 interceptions, including two against Hawaii this season. He also has over 1,500 career rushing yards, placing him in company with Jalen Hurts as the only active Power 5 quarterbacks to surpass both marks.
CB Jace Whittaker
He leads the nation with three interceptions, which is half of Arizona's total on the season. Whittaker is a senior and he also has six tackles on the season, all of which are unassisted. This is the Wild, Wild West and the gunslingers will be dueling. If Whittaker gets his hands one or two of Bowman's passes, that might do Tech in.

Key Players
The Border Conference Rivalry Renewed
Texas Tech
The Red Raiders need to win this game for a variety of reasons. First off, it would give them a 3-0 mark in non-conference play. Assuming Tech will beat Kansas and West Virginia, that gives them five victories. Just to be bowl eligible with a sixth win, they'll need to score at least one more victory over an opponent that they will likely enter the game as underdogs against. A loss to Arizona means two victories. The last thing Matt Wells needs is to give his fan base any reason to doubt him. As if the Red Raiders who read my previews aren't sick of this already, each of the three previous regimes (all of whom have stirred controversy within the fanbase) have finished their first slate of non-conference games undefeated. Matt Wells needs to do the same to keep the grumbling to a minimum. Granted, Spike Dykes opened his first regular season at No.8 Florida State. Finally, if Bowman is going to push for a Heisman campaign, he must do so against Arizona. The Wildcats are 126th in pass defense after giving up 436 yards in the air to Hawaii and 373 yards to FCS school Northern Arizona. If provided the opportunity, Bowman could light up the secondary for 500 yards. Bowman's career high is currently 605 passing yards against Houston in 2018. Patrick Mahomes holds the Texas Tech record with 734 yards against Oklahoma in 2016. It's also worth noting B.J. Symons tossed for 661 yards on the road to defeat an Eli Manning-led Ole Miss team in 2003.
Arizona
Sumlin's seat may start heating up soon. Utah is ranked just outside the top 10 in the AP Poll. USC recently showed life with an impressive comeback to upset Stanford. Colorado is now 2-0 with a victory over Nebraska. Herm Edwards secured four votes in the AP Poll for Arizona State. Additionally, they play Washington, Stanford and Oregon this year. If the Wildcats finish non-conference play 1-2, another losing season is likely. Khalil Tate graduates this season, so his talent may go to a collegiate wastebin. On the other hand, if the Wildcats beat Tech and then make run in the Pac 12 South, Tate's Heisman campaign will also be in full swing.
Prediction
Texas Tech 59 Arizona 56
Texas Tech's defense may be good, but it hasn't been tested against a passing offense yet. This is going to be a duel of gunslingers in the desert. Tech's offense has failed to score as many points as it probably should in each of its first two games, but as mentioned earlier, Arizona is 126th in passing yards allowed. Tech is a Kliff Kingsbury team with Wells running the show. Kevin Sumlin runs the same style of air raid. I don't think Tech slows down its offense too much just because there is a new coaching staff on the sidelines. There will be points. Both defenses are going to be gasping for air by the end of the night. You have two potential Heisman contenders chunking the ball around. It's going to be fun. It's going to be wild. Someone will probably come from behind. The insanity will be real. In the end, Tech has the better defense and that is the difference in this ballgame.
Powered by RedCircle
**We now have FREE Big 12 Forums here at Heartland College Sports. Go sign up here and join our conversation! **