Big 12 News
Tom Herman's Wife Trolls LSU Fans Calling Her Cell Phone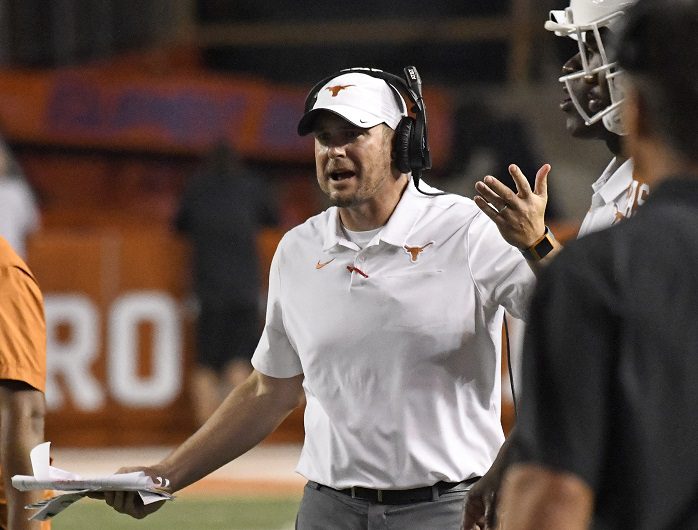 After last weekend's thrilling Texas-LSU game in Austin, the feud is not yet over. Since then, we've had LSU accuse Texas of not having air conditioning in the visitor's locker room. Texas has denied those allegations.
Now, LSU fans apparently got Texas head coach Tom Herman's wife Michelle's cell phone number and started calling her. Well, she appears to be getting the last laugh as she spoke Spanish back to the prank caller. The caller was angry, dropped a racial slur or two, and eventually hung up. Since then the tweet was deleted by Twitter for "violating the company's rules". But I was able to grab a screen shot of it before it was taken down.
The tweet was likely taken down because you could see the entire phone number of the LSU fan (we cut the image to not show the number), which was causing quite a bit of conversation in Herman's mentions. Texas fans were planning their revenge again the random LSU pranker, with lots of late night calls in the works.
Michelle Herman has enjoyed getting involved in some controversy in the past. She famously fired back at cheating allegations made by a former colleague of Tom Herman's at Ohio State, Zach Smith, with a witty tee-shirt.
Needless to say, Texas vs. LSU gave us everything we could've hoped for (minus a Texas win) and then some. These two teams are set to meet again in Baton Rouge in 2020, but if they decided to play again during a bye week this season, I wouldn't mind one bit.
Powered by RedCircle
**We now have FREE Big 12 Forums here at Heartland College Sports. Go sign up here and join our conversation! **