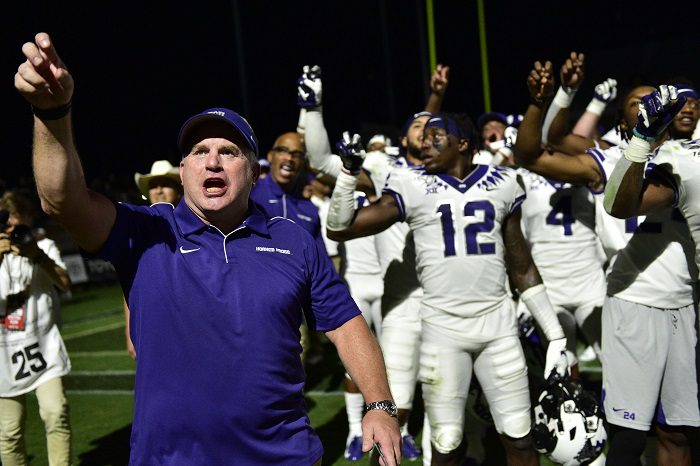 I hear it all the time, "Who has the best conference in college football?" SEC? Big 10? ACC? What about the Pac-12? Very rarely are you going to hear the words "Big 12" coming out of someone's mouth in that conversation. Whether you do it or not, there are plenty of folks out there who love to bash the Big 12 conference (cough, Paul Finebaum, cough). Week three has come and gone and in the Big 12, there is never just a normal weekend and that once again proved to be true this past weekend. From good games, to eye sores, there was some good, some bad and some downright ugly. Keep in mind that Baylor was off this weekend.
The Good
Kansas (Beat Boston College 48-24)
I don't say this often, ok maybe ever but HOW ABOUT THEM JAYHAWKS? What a win for Les Miles as he helped Kansas snap a 48-game road losing streak against power five opponents that dated all the way back to 2008. Also, it was the largest road win for a 20-point underdog in a game between two power five teams. Broken streaks aside, Kansas played one hell of a game. After struggling to stop the BC run game and down 17-7, the Jayhawks went on to outscore Boston College 41-7 in the final three quarters. QB Carter Stanley threw 3 touchdown passes and 2 of them went to WR Andrew Parchment. However, it was the defense and rushing attack that beat down the Eagles in the second half as Kansas running backs Pooka Williams Jr. and Khalil Herbert combined for 308 rushing yards and 2 scores.
The Jayhawk staff got creative on offense using fake screens and handoffs which helped open the offense more as receivers were wide open as well as big holes for the backs to run through. This game made me wonder, how in the hell did Kansas lose to Costal Carolina at home? Oh well, pop open some champagne Jayhawks fans and enjoy it.
Kansas State (Beat Mississippi State 31-24)
I just got done with Kansas but how about Kansas State folks? What a victory in "SEC" country to make Paul Finebaum shed a few tears. I know the Wildcats turned the ball over three times (not to mention the fumbled punt returns) but to get a win in Starkville was huge not only for Kansas State but for the Big 12. The run game was solid nearly all game long averaging over 4 yards a carry but what really impressed me was the way this team responded from those mistakes. Down 24-17 in the fourth quarter, Kansas State's Malik Knowles took a kickoff back 101 yards before Skylar Thompson hit Dalton Schoen for a score with about five minutes left to play to take a 31-24 lead. Overall, it was one hell of a win for this program and for Chris Klieman. I don't care what anyone says but this team is better than I thought they were. Do not overlook this team this season and as of right now, they are my surprise Big 12 team through the first three weeks. Oh, and don't forget about Skylar Thompson trolling a former SEC player.
West Virginia (Beat NC State 44-27)
Heading into this game, I didn't have a lot of questions about the Mountaineers defense considering how bad the offense has been through the first two games. Then suddenly, Saturday happened, and I didn't even recognize this team. West Virginia put up 21 points in the first half which is 18 more points than they scored in the first two first halves combined (Against James Madison and Missouri). QB Austin Kendall had a nice day tossing 3 touchdown scores while the ground game FINALLY got going. After rushing for less than 70 combined yards in their first two games, the Mountaineers strung together a 173-yard performance on the ground led by Kennedy McKoy. Meanwhile WR Sam James had a monster day with 155 yards and score. After a 21-21 tie at the break, West Virginia went on to outscore the Wolfpack 23-6 in the second half. The only question I have is that is this the real 2019 West Virginia team?
Oklahoma State (Beat Tulsa 40-21)
This one could have easily went into my bad column, but I will get to that in a minute here. This game got weird quickly. After going up 17-0 in three straight scoring drives, the Cowboys were sitting pretty and looked like they would cruise to an easy victory. Then the Pokes offense went scoreless on four out of their last five drives to end the first half while Tulsa roared back scoring three touchdowns to take a 21-20 lead over Oklahoma State at halftime. I don't know what exactly was said by head coach Mike Gundy, but it worked. Maybe he should say whatever he said at halftime and spew it out before every game because the Cowboys defense buckled down shutting out the Tulsa offense while the offense finally cranked back up scoring 20 points in the second half. While QB Spencer Sander didn't have his best day, it was the Cowboys run game that carried them to victory as they racked up 337 yards on the ground with Chuba Hubbard leading the way with 256 yards and 3 touchdowns. Overall, it was a sloppy game by both teams as Oklahoma State finished the game with 9 penalties and 2 turnovers while Tulsa committed 17 penalties. Yikes. Hopefully this was a good learning experience for the Cowboys.
TCU (Beat Purdue 34-13)
I know Purdue played with a few back ups including their quarterback but when TCU completes a total of 8 passes for 75 yards and wins by 21 on the road, that's damn impressive. Both Alex Delton and Max Duggan got snaps at quarterback but most of their work was handing the football off as both Darius Anderson and Sewo Olonilua rushed for over 100 yards a piece. In fact, the Horned Frogs rushed for a whopping 346 yards and averaged 6 yards a carry. While the run game was fantastic, the Horned Frog defense took it to another level and showed why Gary Patterson is a defensive genius. TCU held Purdue to just 23 rushing yards on 25 carries and 204 total yards of offense. In fact, Purdue didn't score their first touchdown of the game until 3:40 left in the game. Sure, TCU may still have some quarterback issues, but they left West Lafayette, Indiana with the most important thing. A victory.
Texas (Beat Rice 48-13)
If you were looking for a letdown after the LSU loss, then you were sadly disappointed because Texas wasted no time hammering down their foot on the gas pedal here. Texas QB Sam Ehlinger was great going 23/27 for 279 yards and 3 touchdowns and his favorite target in this one was freshman wide out Jake Smith who caught 6 passes for 75 yards and 2 scores on the night. Meanwhile, the run game looked nice with Keaontay Ingram scoring twice and his backup (for now) Roschon Johnson made some plays as well. Defensively, this game was a shut out until about mid-fourth quarter and I know it was a bad Rice team, but this defense needed a confidence boost after last weekend.
Oklahoma (Beat UCLA 48-14)
This game was a blowout after the first quarter. There isn't a lot to say here besides, Oklahoma is good, and UCLA is bad. QB Jalen Hurts had another career day with 289 passing yards and 3 touchdowns through the air while on the ground, he rushed for 150 and a score. Overall, the run game went for over 300 yards and wide out Charleston Rambo had himself a day with 116 receiving yards and 2 touchdowns. On defense, that was exactly what you wanted to see on that side of the ball. They held UCLA to just 14 points, got 4 sacks and did a great job of not allowing any big plays. Before I am done here, I just want to say how embarrassing it was for UCLA. I mean, you had to practically give away tickets to this game yet, there was more Sooners fans there and not to mention all the empty bleachers with pom-poms on them. What a sh*t show Chip Kelly is running there. 
The Bad
Iowa State (Lost to Iowa 18-17)
I wrote about this one already on the site, but everything was set up perfectly for the Cyclones. You had GameDay there, drinks, plenty of loyal fans and more yet mother nature had to chime in before this one was over. Early in the second quarter, Iowa State had a 7-3 lead before there was a weather delay. Two weather delays and almost three hours later, it was FINALLY back to football. When it came down to it, Iowa State was down a point with under five minutes to play. The offense went down the field and wound up on the Iowa 39-yard line. The Cyclones went for it on fourth down and while it appeared the drive would be extended due to a pass interference call, there was another penalty for holding against the Cyclones to replay the down. Purdy ended up overthrowing his target and Iowa took over with about two minutes left.
After the defense did their job, Iowa State was going to get another crack at winning the game with a minute and a half left deep in their own territory and no timeouts. However, another costly mistake ruined that chance due to a miscommunication on the punt return which resulted in an Iowa State player accidentally touching the ball only for Iowa to recover and run the clock out to victory. While the defense I thought played well enough to win the game, the Iowa State offense looked bland at times as both of their touchdowns were long plays due to a trick play and the other a 73-yard touchdown pass. There were too many times Iowa State had drives going that resulted in a punt and not to mention the mistakes that were made late. While I still worry about the offense, this team still has their goal in front of them which is trying to get a shot at playing for a Big 12 title.
The Ugly
Texas Tech (Lost 28-14 to Arizona)
What in the hell happened last night in the desert? Texas Tech had ten offensive possessions in the first half that resulted in, wait for it, seven points. What? That's not the Texas Tech offense led by Alan Bowman I know. Bowman by no means had his best game and in the first half, he threw two interceptions. Out of those ten first half possessions, five of them went just five plays or less. Meanwhile, the Tech defense was trying to keep them in the game but after getting torched for over 300 rushing yards on the day (Thanks Khalil Tate), it was tough to stay up past midnight to watch. The second half didn't go much better as Alan Bowman got shaken up on a hit but was able to come back in the game. Give credit to Arizona because they held the ball for nineteen minutes and forty-eight seconds in the second half controlling the clock. I felt like the Tech offense got a little too impatient because the run game wasn't all that bad as they ran 25 times for over 4 yards per carry. They got a little to pass happy at times and it put them in some third and longs that you don't want to face on the road. There is a lot to learn from this not just from the players but from the staff as well.
Powered by RedCircle
**We now have FREE Big 12 Forums here at Heartland College Sports. Go sign up here and join our conversation! **