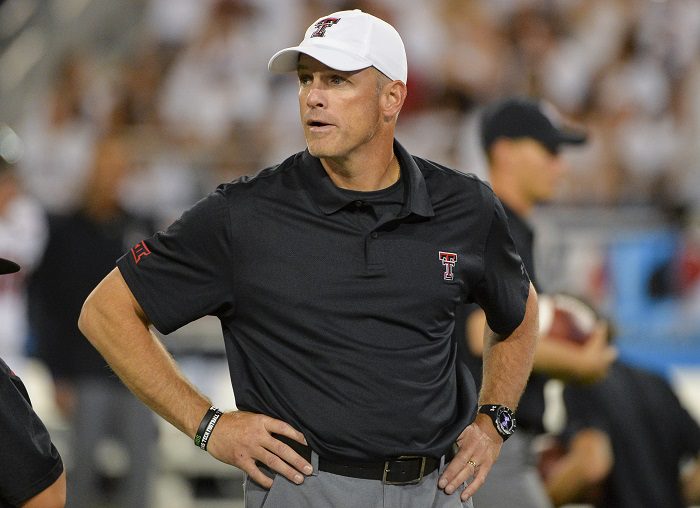 It's hard to believe that Texas Tech is appearing to be more of a "defensive" school than an "offensive" school, but three games into Matt Wells' tenure, that argument can certainly be made.
Wells and offensive coordinator David Yost have created an offense that has failed scoring expectations in three games. This time, it cost the Red Raiders an arguably must-win game against Arizona for bowl eligibility.
Alan Bowman struggled at the quarterback position against an Arizona team that entered the game 126th in the FBS for passing yards allowed. The statistics may sound good, but they are a lot prettier than how Tech looked. Bowman finished 30-for-55 with 311 yards. He was never sacked and hit just once. The experienced offensive line provided excellent protection for Bowman. However, he still just managed one touchdown pass to go alongside his two interceptions.
Unfortunately, I don't feel like this is a Bowman problem right now. We all saw just how talented Bowman is when he played under Kliff Kingsbury as a true freshman. In fact, had he not received a brutal hit from West Virginia that caused a collapsed lung, Kingsbury is probably still Tech's head coach. Bowman outdueled Heisman winner Kyler Murray later in the year and the Red Raiders had eventual Big 12 Champion Oklahoma on the ropes. This was a game where Bowman finished the first half 21-for-25 for 227 yards and two touchdowns. That placed him on pace for over 450 yards and four touchdowns against a team who advanced to the College Football Playoff. Earlier in the season, Bowman lit Houston up for 605 yards and four touchdowns.
All of a sudden, Bowman is struggling to lead this offense into the end zone. Against UTEP, Tech could only scrounge up 38 points. This was a home game, and yet Tech could only score four more points against the Miners than Houston Baptist did when opening the season in El Paso. One could make the argument that Houston Baptist has a better offense than Texas Tech this season. Is that for talent? Not at all. Tech doesn't lack talent. It's the play calling that can be fairly questioned through three games. If any side of the ball should be experiencing trouble, it should be the defense. Tech lost its most experienced talent in Dakota Allen and Jah'Shawn Johnson due to graduation. The Red Raider defense also received a major blow when Justus Parker was deemed ineligible. That's three key starters right there, and yet Tech's defense has been the shining star of the team so far.
Yet, Tech's offense can only scrounge up 14 points against a team who gave up over 80 in two games against Hawaii and FCS team Northern Arizona. Looking ahead, the Big 12 is shaping up to be a gauntlet of a schedule for all teams, but Texas Tech won't have any gimmes this season. Kansas just scored 48 points at Boston College. Kanas State scored a victory at Mississippi State. West Virginia's offense woke up against North Carolina State. Add in the fact that Iowa State is a defensive stalwart which Tech's offense will likely struggle against. Tech may be the doormat this season. If Wells and Yost do not get this offense going soon, then they will be in for quite a wrath from a fan base that's been broken and divided since 2010.
Tech must find answers and it must start Sept. 28 against Oklahoma.
Powered by RedCircle
**We now have FREE Big 12 Forums here at Heartland College Sports. Go sign up here and join our conversation! **