Big 12 News
ESPN's Kirk Herbstreit Lists Two Big 12 Teams as His Top Week 3 Performers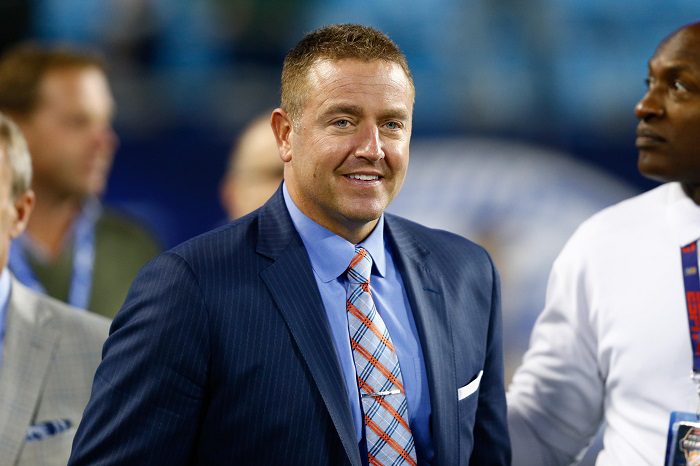 Kansas was the shock of the college football world in Week 3, coming from ten points down in the first quarter to outscore Boston College 41-7 the rest of the way for a 48-24 victory. Kansas won its first Power 5 road game since 2008 and for that, the Jayhawks received plenty of praise from some of the biggest names in college football, including ESPN's top analyst Kirk Herbstreit.
As he does each Monday, Herbstreit announced his top performing teams of the week and who found themselves at the top? None other but the Kansas Jayhawks.
My top performances of WEEK 3
Teams
1-@KU_Football
2-@UCF_Football
3-@ASUFootball
4-@Temple_FB
5-@KStateFB
Coaches
1-Kirk Ferentz Iowa
2-Chris Creighton Eastern Michigan
3-Gary Patterson TCU
4-Lyle Hemphill DC Wake Forest
5-Troy Calhoun Air Force

— Kirk Herbstreit (@KirkHerbstreit) September 16, 2019
Oh and let's not forget that Herbstreit did have the Kansas State Wildcats, who beat Mississippi State on Saturday, in his No. 5 spot. It was the first time since Week 10 of 2006 that both KU and Kansas State won FBS games on the same weekend.
New head coaches Les Miles at Kansas and Chris Klieman at Kansas State both deserve enormous credit for how the season has gone for both teams thus far. Kansas has looked serviceable, outside of the debacle against Coastal Carolina, while Kansas State is off to a 3-0 start and sitting just outside the Top 25 after three games. The state has Kansas has had a tough few years in football. Kansas is going on over a decade of being terrible and K-State has been on a downward trajectory in the final seasons under Bill Snyder.
It's only September and things can certainly change, but college football fans across the state of Kansas should be excited by the season thus far.
Overall, it was part of an excellent weekend for the Big 12 Conference, which went 7-2 and won big Power 5 games against ACC, Big Ten and SEC opponents, with many on the road.
**We now have FREE Big 12 Forums here at Heartland College Sports. Go sign up here and join our conversation! **