Big 12 News
Report: Auburn's Richest Booster is Targeting Bob Stoops, if Tigers Don't Beat Alabama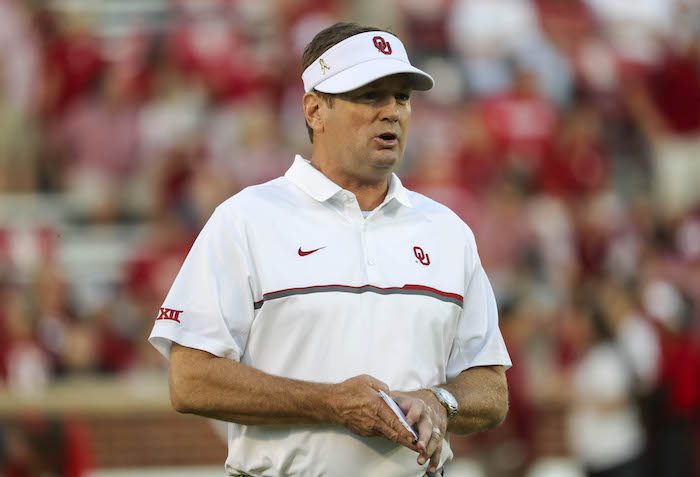 It seems like for as long as Bob Stoops is not coaching college football, his name will be tied to openings. The most recent one comes from a credible, but relatively coy, sports insider, known on Twitter as Sports by Brooks. He tweeted out Tuesday night that he "has learned that the richest man in the state of Alabama, Auburn superbooster Jimmy Rane, is targeting Bob Stoops to replace Gus Malzahn if the latter fails to beat Alabama this season."
Source: SportsbyBrooks has learned that the richest man in the state of Alabama, Auburn superbooster Jimmy Rane, is targeting Bob Stoops to replace Gus Malzahn if the latter fails to beat Alabama this season. #Auburn #BobStoops #JimmyRane #GusMalzahn

— Sports by Brooks (@SportsbyBrooks) September 18, 2019
Ever since Bob Stoops retired from the Oklahoma Sooners over two years ago, his named has been linked to openings. But this past offseason he agreed to become the next head coach of the XFL franchise in Dallas. That league does not begin play until 2020.
This is also not the first time Stoops' name has been linked to Auburn. Stoops denied a report last year that said he had met with people representing the program at some point during the season, telling USA Today, "I haven't talked to anybody from Auburn. I haven't met with anybody…nor am I set to talk to anybody. It's just foolish speculation…that has no basis to it."
Stoops spent 18 seasons as the Oklahoma Sooners head coach, which included a 190-48 record, 10 Big 12 Championships, 2x National Coach of the Year, plus the 2000 National Championship.
**We now have FREE Big 12 Forums here at Heartland College Sports. Go sign up here and join our conversation! **