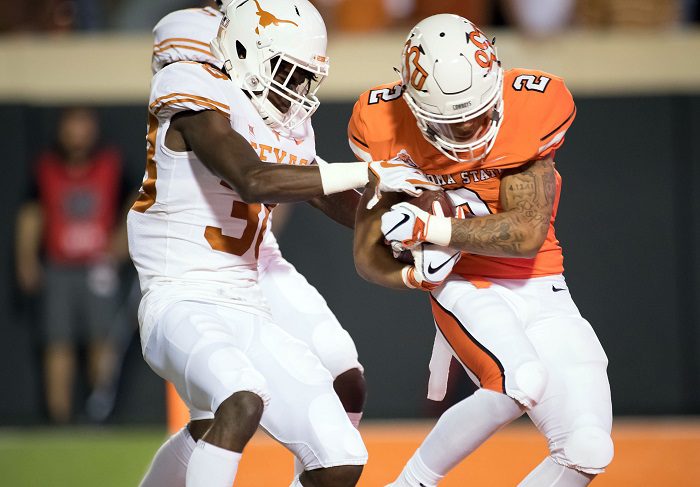 Here is everything you need to know about Saturday's showdown between Oklahoma State and Texas.
Game Info
6:30 p.m. Central Time, Saturday, Sept. 21, 2019, Darrell K. Royal-Memorial Stadium, Austin, Texas.
TV: ABC (Chris Fowler, Kirk Herbstreit, Maria Taylor)
Radio: Oklahoma State: Cowboy Radio Network, Sirius 105, XM 201, Internet 964; Texas: Longhorn IMG Radio Network, Sirius 135, XM 199 and Internet 953.
Opening line: Texas -9.5
Key players
Oklahoma State (3-0)
QB Spencer Sanders: Sometimes, that redshirt season means the world. Take Sanders, the ballyhooed QB recruit who had to watch last year as the Cowboys could have used him at the position. But the wait has been worth it. With a 181.8 pass efficiency rating (No. 14 in the nation and No. 3 among freshmen), he's led the Cowboys to an undefeated start and a nice road win over Oregon State. Entering Saturday's game he's in the Top 25 in FBS in in passing efficiency, yards per attempt, passing TDs and points responsible for. Now he gets a taste for starting in a Big 12 game in one of the biggest venues in the league.
WR Tylan Wallace. The 2018 All-American and Biletnikoff Award finalist is, well picking up right where he left off. In three games his 265 yards after the catch leads the nation. He has three plays of 60 or more yards, and he's the only player in the country who can say that. He leads the country in receiving yards, receiving touchdowns and receiving yards per game. Granted, none of the Cowboys' three opponents had a secondary as good as Texas does. But it only takes one slip to give Wallace the daylight he needs to do some serious damage.
LB Amen Ogbongbemiga. You know, this guy could be playing Canadian college football (they have that, you know?). But, no, Ogbongbemiga was good enough to play in the lower 48 and he's shined so far this season. He's averaging two tackles for loss per game, good for No. 7 in FBS. He is also OSU's second-leading tackler so far this season with 25. Last week against Tulsa he was dangerous, finishing with 1.5 sacks, 2.5 tackles for loss and eight total tackles. He has the speed to track down any ball carrier and the strength to get to the quarterback.
CB A.J. Green. The senior has 29 career starts under his belt and six career interceptions, but he returned one to the house for the first time in the season's second game against McNeese State. The Second-Team All-Big 12 performer a year ago has been a constant on OSU's back line for two years and appears primed to vie for first-team honors in 2019.
Texas (2-1)
QB Sam Ehlinger. Texas is 2-1 with its loss to LSU, but Ehlinger is not the problem. He is one of three FBS quarterbacks with at least 10 touchdown passes and no interceptions in 2019 (the others are Alabama's Tua Tagovailoa and Oregon's Justin Herbert. In the last two games, especially the last five quarters he played against LSU and Rice, he led the Longhorns to eight touchdowns in nine drives. He's been as efficient as they come in the Big 12, and if Oklahoma's Jalen Hurts wasn't putting up such gaudy numbers the talk would likely be about Ehlinger.
WR Devin Duvernay. Looks like the senior, overshadowed going into this season by Collin Johnson, wants to make sure NFL scouts don't forget his name. His first three starts this season have been unforgettable. But the LSU game was his coming out party, as he had career highs in catches (12), receiving yards (154) and receiving touchdowns (2) in the loss to the Tigers. Eleven of those receptions came in the second half. His 27 catches in the season's first three games makes him the first Longhorn to accomplish that feat in a decade.
DB Caden Sterns. Sterns is still replaying a few plays in his head from the LSU game, but he remains one of the Longhorns' quality players on their last line of defense. He has 17 tackles this season, with a career-high of nine against those Tigers. He's building nicely on a 2018 in which he was the Big 12's Defensive Freshman of the Year, the seventh Texas player to earn that honor. He's be looking to spy on OSU quarterback Spencer Sanders all night — when he's not keeping his eye on OSU wide receiver Tylan Wallace.
DB D'Shawn Jamison. He's listed as a defensive back, but his real value is as a returner. Against Rice he became just the fifth Longhorn to return both a kickoff and punt for a touchdown in the same game. He also returned a kickoff for a touchdown against Kansas State last year. If the Cowboys get a little sleepy on special teams, Jamison has the rare speed to make them pay for it.
Key storylines
Oklahoma State
The Cowboys have had the Longhorns' number lately, even though Texas leads the all-time series, 24-9. The Cowboys, of course, won last year's game in Stillwater, an upset on national television, 38-35. But the Longhorns haven't beaten the Cowboys, home or road, since the Longhorns won, 28-7, in 2014. In fact, the Cowboys have won the last five meetings in Austin, and they're the only team in college football history to do it. Head coach Mike Gundy is 7-7 against Texas. Running back Chuba Hubbard will be key in this game for the Cowboys as they'll want to establish the run early and often, despite the prowess of Wallace in the passing game.
Texas
There is little shame in the Longhorns losing to LSU in a showdown of Top 10 teams. Texas remains in the nation's Top 12, but with Big 12 play now upon us the Longhorns will be looking to make a statement to the rest of the country that it remains one of the teams to beat in this conference. The injury front looks good for Texas. They rested wide receiver Collin Johnson with a hamstring injury last week and it appears he's on target to start on Saturday. The same appears to be true for offensive lineman Zach Shackelford. USA Today had both listed as probable for the game.
Prediction
Texas 37, Oklahoma State 34
I have to believe that the Longhorns will finally get off the losing tip against the Cowboys. But it won't be easy. The Cowboys have proven themselves to not only be their usual great offensive team, but they have some pieces on defense that weren't there a year ago that are starting to pay off. Home field hasn't meant much to Texas in this game lately, but the urgency of winning their Big 12 opener so soon after losing to LSU will likely play a role in them getting over the hump and winning this one.
Powered by RedCircle
**We now have FREE Big 12 Forums here at Heartland College Sports. Go sign up here and join our conversation! **