Big 12 News
Kansas State AD Gene Taylor Responds to Fan Complaining About ESPN+ (ESPN Plus)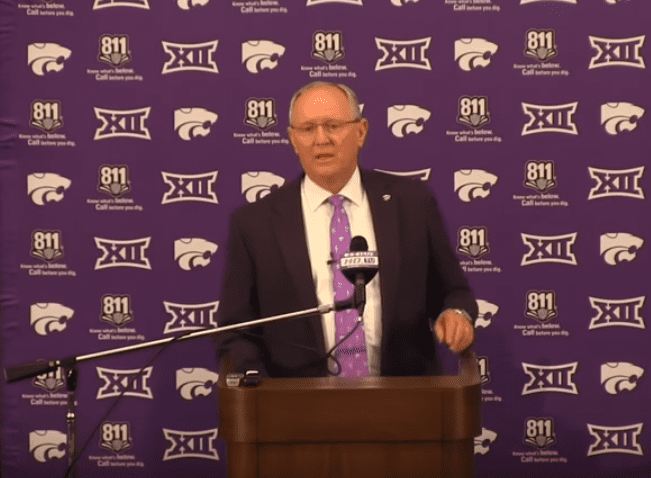 Complaining about ESPN+ (ESPN Plus) is the cool thing to do these days. After it was announced this week that Oklahoma State vs. Kansas State was going to air on ESPN+ next week, the grumpy fans came out of the woodwork and the conference had to go on and explain its decision.
People are all worked up emotionally, but thankfully someone involved has a sense of humor, and that someone is Kansas State athletic director Gene Taylor. After K-State reporter Kellis Robinett said he would give $5 to someone who had the best question for his Q&A (a clear shot at those unwilling to pay for ESPN+), one fan wrote the following to Robinett, while tagging Taylor.
I would pay more for a livestream of @KSTATEADGT trying unaided to livestream a game on ESPN+ than I would pay to watch the game itself. That's not really a question.

— Jordanian Football Superfan (@The_FelixRex) September 19, 2019
Maybe the fan was trying to indirectly get at Taylor and complain about the fact that he needs to pay to see his team play the Pokes next week (also the fan was assuming Taylor isn't very tech savvy!). Good thing is, Taylor responded, but did not take the bait.
Watch it on my phone via the app or grab my remote and go to the ESPN+ app on my TV. I even have used a laptop and connect to my TV when I used to watch games on ESPN3. Occasionally had some help 😊🤷‍♂️ https://t.co/GssQ8DfOD5

— Gene Taylor (@KSTATEADGT) September 19, 2019
I understand that many fans already have a big cable bill they foot every month, mostly for channels they never watch, but this is really where things are going in viewing of college sports, or all sports for that matter, in years to come. Everything will be a la carte eventually. So, while it sucks, just know that this won't be changing. I think it'll be for the best. I've already cut my cable cord and have no problem paying for ESPN+ because the amount I pay for TV is less than half of what it was. And moving forward everyone will pay for what they want and what they use and the most-quality content will win out. It's just some growing pains that will take some getting used to.
So I suggest signing up, and the good news is with our link below you can sign up for $4.99 per month or $49.99 per year, cancel at any time, and help out an independent Big 12 platform. Win, win!