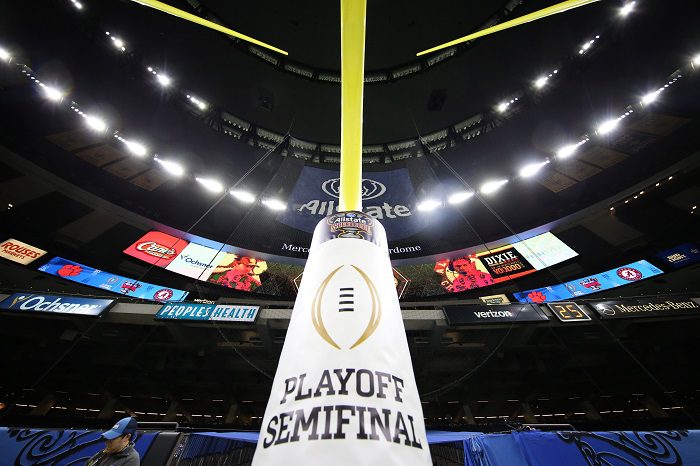 The postseason is the ultimate celebration for teams to celebrate their hard work through the course of the year. As we all know, the postseason for college football features a four-team playoff and several bowl games. Each conference has agreements with certain bowl games to send their respective teams to. Many websites use projections to show where they predict each team to go. Instead of projections, here is a version more similar to "bracketology". This is a live look at where teams would be if the season ended today.
In this first version, you'll notice some odd quirks. First off, its early in the season. There are teams in bowl games simply because they played FCS schools. For example, New Mexico and UTEP are slated to play in the New Mexico Bowl currently. Both of them are 1-1. Their conferences had some slots to fill, and .500 teams are considered "bowl eligible". We don't expect these two teams to make bowl games. UTEP's victory came during a 36-34 home game against a terrible Houston Baptist team. New Mexico's opponent is actually a solid FCS program, but still isn't very impressive. The Lobos survived Sam Houston State 39-31 in Albuquerque.
Another quirk is the lack of College Football Playoff rankings. I used the AP Poll to determine the rankings. Thus, three SEC teams are currently in the playoffs. Oklahoma fans should not get worked up too much. The Sooners are fifth and at least two of those teams are guaranteed a loss. If the Sooners run the Big 12 table, they should be in the College Football Playoff.
This page is dedicated to the Big 12 Conference, thus you will only see the College Football Playoff match ups and the bowls with Big 12 teams in them. For a full list of projections, check out our FREE message boards. Let me know your thoughts on them, whether you love them or hate them. Go ahead and chastise me. I can take it. If you love them, I also accept virtual hugs. Alas, below is where your favorite team stands.
Peach Bowl Semifinal: No.1 Clemson (3-0) vs. No.4 LSU (3-0)
Fiesta Bowl Semifinal: No.2 Alabama (3-0) vs. No.3 Georgia (3-0)
Sugar Bowl, Big 12 Champion vs. SEC Champion
No.5 Oklahoma (3-0) vs. No.9 Florida (3-0)
-Oklahoma is here because they are the highest ranked Big 12 team.
-Florida is the fourth highest ranked team in the SEC. With three teams in the College Football Playoff, the Gators currently receive the nod here.
Alamo Bowl, Big 12 No.2 vs. Pac-12 No.2
Kansas State (3-0) vs. Southern California (2-1)
-Kansas State is in the No.2 slot because they are undefeated and have played more games than TCU. They edge Oklahoma State by receiving more votes in the AP Poll.
-The Trojans are the leader of the Pac-12 South, thus they receive the Pac 12's next selection.
Camping World Bowl, Big 12 No.3 vs. ACC first tier selection
Oklahoma State (3-0) vs. North Carolina State (2-1)
-The Cowboys are ahead of TCU simply because they have played more games than TCU.
-The ACC picks its best matchups in the first tier of bowls. I didn't want to place North Carolina State against another Big 12 team, but it seemed like the most likely spot.
Texas Bowl, Big 12 No.4 vs. SEC first tier selection
No.25 TCU (2-0) vs. Ole Miss (2-1)
-This shows the difference between "projections" and what you are looking at right now. TCU would likely be projected for a better bowl. However, because this is based purely on results so far in the season, TCU lands here for a lack of games played.
-Ole Miss has already lost to Memphis. The SEC can't be embarrassed much more by the Rebels, thus they can use that excuse when the Horned Frogs destroy Ole Miss.
Liberty Bowl, Big 12 No.5 vs. SEC first tier selection
Baylor (2-0) vs. Kentucky (2-1)
-Baylor scores the Liberty Bowl because they are undefeated.
-The SEC can use the "basketball school" moniker if Baylor defeats Kentucky. It's all about how the SEC can spin their losses.
Cheez-It Bowl, Big 12 No.6 vs. Pac-12 No.7
No.12 Texas (2-1) vs. Colorado (2-1)
-Texas is this low because they lost to LSU. They are in this bowl because they are the highest ranked 2-1 team. Again this is purely based on results and polls thus far.
-Nothing to explain on Colorado. They would be the No.7 slot right now. The only way they aren't in the Cheez-It Bowl is if the bowl committee decided to select another team after the top six picks were made.
First Responders Bowl, Big 12 No.7 vs. Conference USA selection
Kansas (2-1) vs. UAB (2-0)
-The Jayhawks are here simply because they won at Boston College. This trumps West Virginia's victory over North Carolina State in Morgantown. Texas Tech's victories came against non-Power Five foes at home.
-Conference USA places their champion against a Power Five Conference school.
Birmingham Bowl, SEC second tier selection vs. American Athletic Conference selection
*The Big 12 fills in for the SEC here as the SEC used three teams in the College Football Playoff.
West Virginia (2-1) vs. Temple (2-0)
-The Birmingham Bowl could theoretically pick from the following: Army, BYU, Illinois, Indiana, Texas Tech, West Virginia.
-The bowl does not want Texas Tech because they've already played in the Birmingham Bowl.
-The bowl chooses West Virginia because they are a Power Five team known for traveling well.
-Temple scores the Birmingham Bowl based on the snowbird effect of people from the northeast traveling south for the holidays, and its undefeated record.
Camelia Bowl, MAC selection vs. Sun Belt selection
*The Big 12 fills in for the MAC as the conference could not fill its commitments.
Texas Tech (2-1) vs. UL Monroe (1-1)
-To be honest, we're giving Tech the benefit of the doubt. This is under the assumption that the bowl picks a Power Five school over Army and BYU. Tech also gets picked over Illinois and Indiana because its fan base is generally known for being more into football than basketball powers Illinois and Indiana.
-UL Monroe gets in because they are .500 and the Sun Belt has an agreement with the bowl.
Left out: Iowa State.
-Iowa State is likely in a bowl game based on projections. They get left out here because they are the only .500 team in the Big 12 Conference, which means the conference is out of bowl agreements. As mentioned above, UTEP and New Mexico likely miss out on a bowl this year. That shores up two more spots. In recent history, many 5-7 teams also wind up going to bowl games based on APR scores and lack of bowl eligible teams. At a .500 record, Iowa State is almost guaranteed a bowl slot.
**We now have FREE Big 12 Forums here at Heartland College Sports. Go sign up here and join our conversation! **