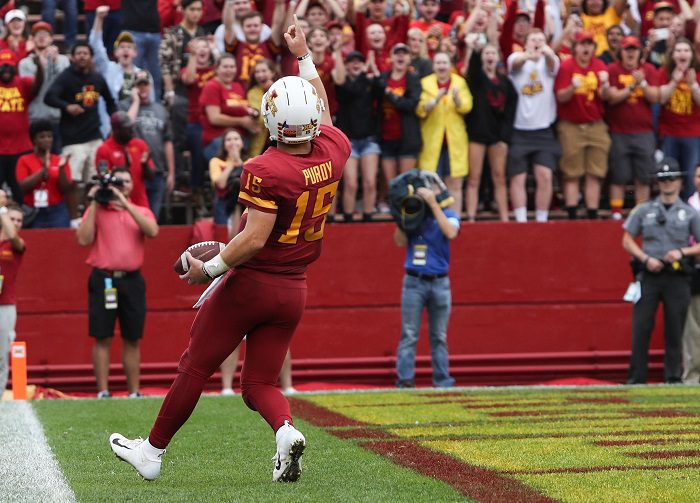 The Cyclones needed this. Iowa State fans needed this. It was a blowout win to close out what many would call a frustrating non-conference schedule.
There was the near-loss against FCS Northern Iowa to open up the season, then the disappointment of Cy-Hawk last week. But all those frustrations came out on Saturday afternoon in a 72-20 win over Louisiana-Monroe on Saturday in Ames. Entering the game, Iowa State's 15 points per game in regulation ranked 125th of 130 FBS schools. Well after Saturday, that average has been bumped up.
The Cyclones ended the game scoring on 11-straight drives dating back to the second quarter. But it didn't start off great for Iowa State. The Cyclones went interception and then fumble to start the game. It was the first play of the game when Iowa State QB Brock Purdy got picked off by Corey Straughter. ULM was set up in the Iowa State red zone and kicked a field goal. But after a late penalty, ULM had to re-kick from five yards back and missed the field goal. However on Iowa State's next drive, Brock Purdy fumbled after an accidental collision in the back field with his teammate Kene Nwangwu.
The Cyclones then forced a turnover on downs against the Warhawks and were off to the races. Six plays and 69 yards later, Purdy ran seven yards for the first score of the game and Iowa State went up 7-0. Then it was Lawrence White picking off Caleb Evans and setting up the Cyclones' second touchdown of the day, which was also a Brock Purdy seven-yard run for a 14-0 lead late in the first quarter. The Cyclones closed out the half going touchdown, field goal, field goal. The big play of the three series was a 73-yard hook up from Brock Purdy to Tariq Milton for a score.
After coming out of halftime with a 27-13 lead, the second half was more of the same. Big plays for Brock Purdy, who connected with Deshaunte Jones for an 84-yard touchdown that put the Cyclones up 41-13 with 8:37 to play in the third quarter. Purdy finished his day with a career-high 435 passing yards, going 21/27 with three touchdowns and one interception. He also ran for 75 yards on nine carries with three touchdowns.
Even highly-touted back up quarterback Re-al Mitchell got in on the action with a nine-yard touchdown pass to Sean Shaw Jr. which gave ISU a 55-20 lead and two drives later it was Mitchell showing off his wheels, running 29-yards for the score, putting the finishing touches on the 72-20 win.
The Cyclones now get ready for Big 12 play with an important game on the road in Waco next week to take on the Baylor Bears. Kick off is set for 2:30 P.M. CST.
**We now have FREE Big 12 Forums here at Heartland College Sports. Go sign up here and join our conversation! **